Strange day. I spent a lot of it planning my own funeral, which will, as is traditional, be an event at which I will be present but not paying any attention, if you get my meaning.
The thing is, it's no good saying: Look, I don't care, do whatever you like. If you say that, you are liable to cause endless arguments and at the very least uncertainties among your loved ones about "What he would have wanted". So, you have to say what you want, even if you aren't actually that bothered.
Plus, although I say I'm not bothered, I can imagine plenty of scenarios which even the thought of would bother me, so a period of introspection was called for. Just saying "Do whatever you want" would be very selfish, in a bad way. Saying exactly what I want is selfish in a good way.
Apparently David Bowie (the old blog seems to be back working again without any
Screen of the Red Death) had a very private cremation, followed by a more public ceremony at which celebs took it in turns saying how great he was. But not being that great myself, I figure the people present at my funeral ceremony would appreciate knowing that this is the actual funeral. If they suspect that the real funeral, the one I was actually burnt at, was earlier, they might not want to be at the later pretend funeral. So, just the one event for me, and everyone will see me being fed into the incinerator room. It's what I would have wanted.
And now, my Designated Best Friend is in my front room, chucking superfluous paper into supermarket bags: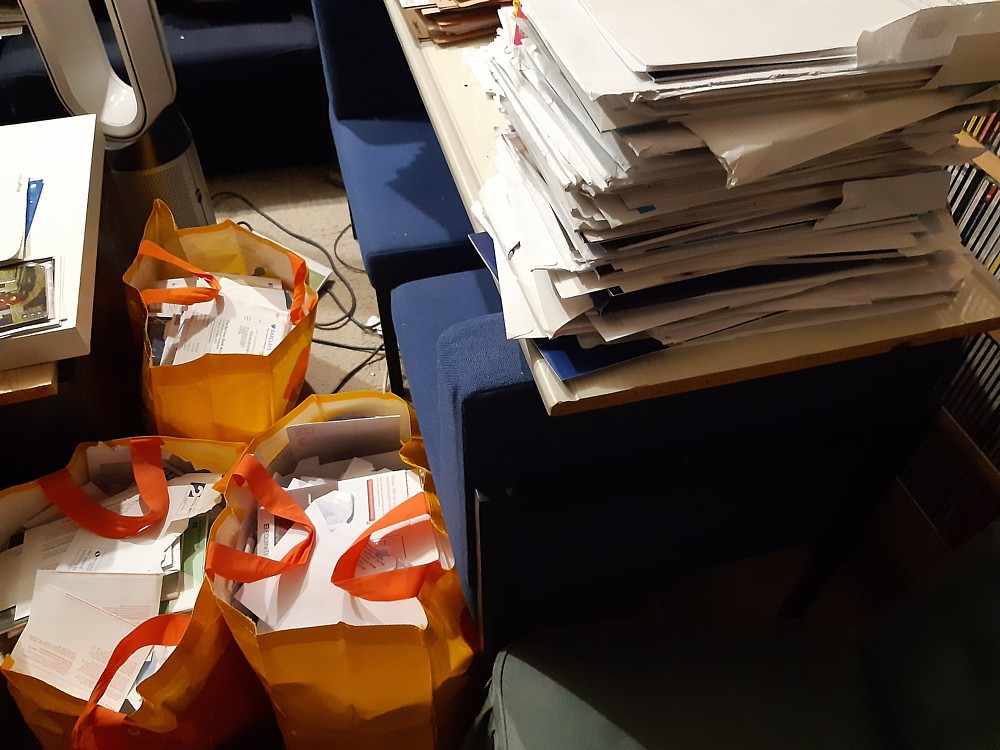 Since that photo was photoed, three SIX more entire bags of totally obsolete bumph have accumulated.
In other funerial news, earlier today GodDaughter2, the one who has just finished learning how to sing, accepted the job of being in charge of my pathologically huge classical CD collection, when I am dead and burnt. So, if you love classical CDs, and even if you hardly now know me, leave a comment that this is a list you'd like to be on. Don't wait for me to die before expressing such interest. Think of my beloved CDs not as inanimate objects but as a colossal pack of puppies each of which I am seeking a good home for. If I can die knowing that my CDs will be well cared for and listened to, rather than just thrown into about three skips, well, … that's what I would have wanted and meanwhile do now want. GD2 herself leads too mobile a life just now to be wanting such responsibilities, and in any case CDs are, for her, absurdly twentieth century and completely superfluous to requirements. But if you, like me, feel differently, then like I say, get in touch, now.
A good day. Good not merely because it was pleasurable, but because I got some difficult and important things decided and done. And because other such things were done for me, by various loved ones. The least these people should be getting from me is a description of what I would have wanted, even if it is a bit of an effort to work out what that might be.