Before everything went arse over tits up in the air into the melting pot and threw a spanner out of the frying pan into the pigeons, they were talking about a new London Thing Cluster, to go here:

Here being between Tate Modern and all the South Bank Music Things.
Here is what was still being reported early in May:
One of South London's biggest landmark brutalist buildings is to be replaced by blocks of flats which will tower above the South Bank and Tate Modern on the Thames.

IBM's former offices at Sampson House, on Hopton Street, Southwark, is being demolished to make way for Bankside Yards, one of the capital's largest regeneration projects – with 1.4 million sq ft of shops, hotels and flats.

Developers Native Land have today announced they have appointed four British architectural practices to develop designs for four buildings within Eastern Yards, part of the £1billion Bankside Yards.
That "landmark" brutalist building, Sampson House, was duly demolished soon after that was written. I know this, because it was one of the things I was looking for on a walkabout I did on May 30th. (Next on my list that day was some statues – later I chanced upon this.) By then, Sampson House was gone.
Also gone, quite a while before then, Ludgate House.
Sampson House is really rather splendid, if you like that sort of thing, which I do in moderation. It was built in the late seventies. I don't recall any big public fight to preserve it, and if that's right, I am rather surprised, what with the row that erupted not long ago in aid of another landmark brutalist building.
Ludgate House, on the other hand, is a somewhat more anonymous product of the late eighties. By then, concrete exteriors were out and the era of totally glass exteriors was upon us. I think it looks pretty good, but only in a way that lots of other similar buildings do. I'll somewhat miss it.
I went looking for photos of these two ex-buildings in my photo-archives. After much searching, I finally came upon this, photoed in August 2016: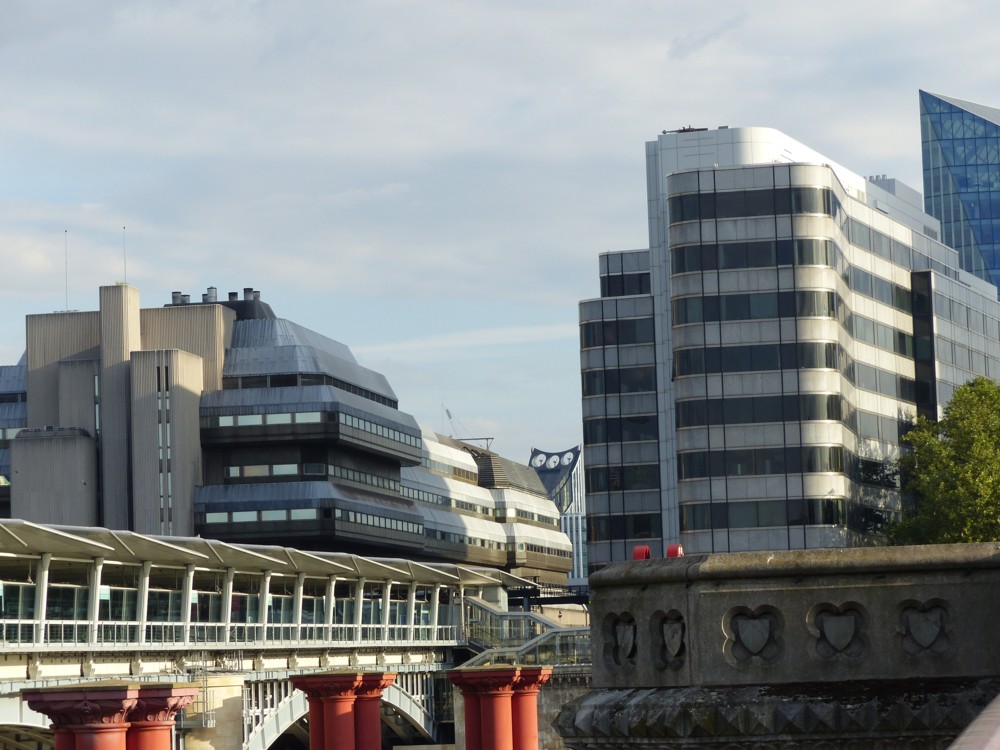 On the left, Sampson House, and on the right, Ludgate House. Top right, you can just see the spikey top of 240 Blackfriars.
But I don't think that even that photo was me truly photoing Sampson House and Ludgate House. I was photoing Strata, the Thing with the holes in the top. At the time, Sampson House and Ludgate House merely happened to be making the gap through which Strata could be seen, in the distance.
Here is another photo I took of Sampson House and Ludgate House: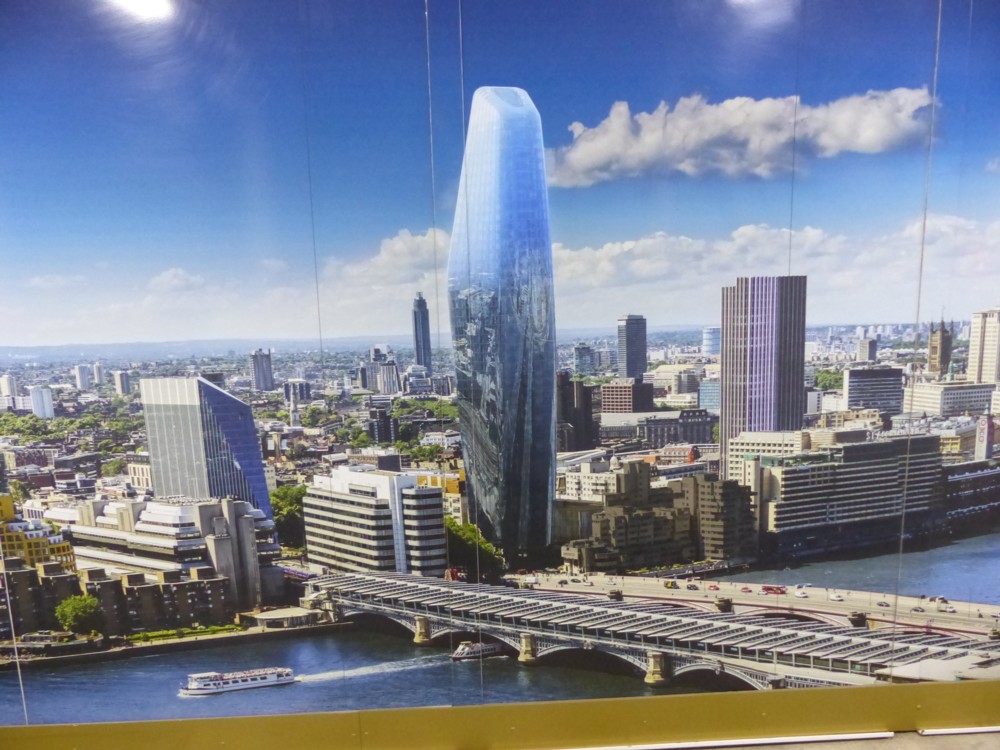 That shows where they both were very well. But again, what I was photoing there was a fake photo of One Blackfriars, on the edge of the site where they were going to build it. Sampson House and Ludgate House just happened to be present. But I didn't care about them, which is why they are leaning over. One Blackfriars is vertical. That's what I was photoing.
Here are some more Sampson House and Ludgate House photos I've photoed over the years, in each case showing me concentrating on something else:
Photo 1: a strange bus; 2: a sign about One Blackfriars; 3: 240 Blackfriars from the top of the Tate Modern Extension: 4: Random reflections in One Blackfriars; 5: 240 Blackfriars, as seen from the south end of Blackfriars railway station, the one on the bridge; 6: A very blurry view of, well, London, through a window at the top of the Walkie-Talkie; 7: One Blackfriars takes shape, viewed from the Tate Extension; 8: Tate Modern photoed with maximum zoom from the top of the Shard.
As you can tell from this list, I was as obsessed with One Blackfriars and 240 Blackfriars as I was indifferent to Sampson House and Ludgate House.
But another thing that always distracted me, whenever I was in the vicinity of these two buidings, was this: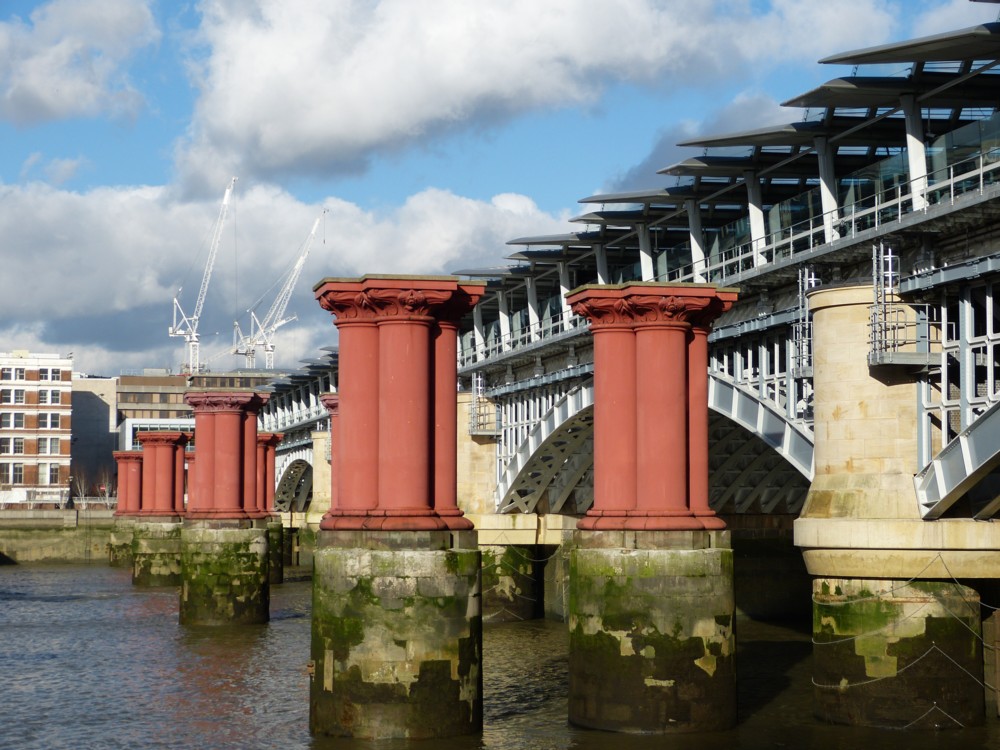 So much more intriguing to photo and ponder, especially when they were making themselves useful.
Finally, also photoed on the 30th of last month, a recent addition to the Thing Cluster, rising up near where Sampson House used to be, …: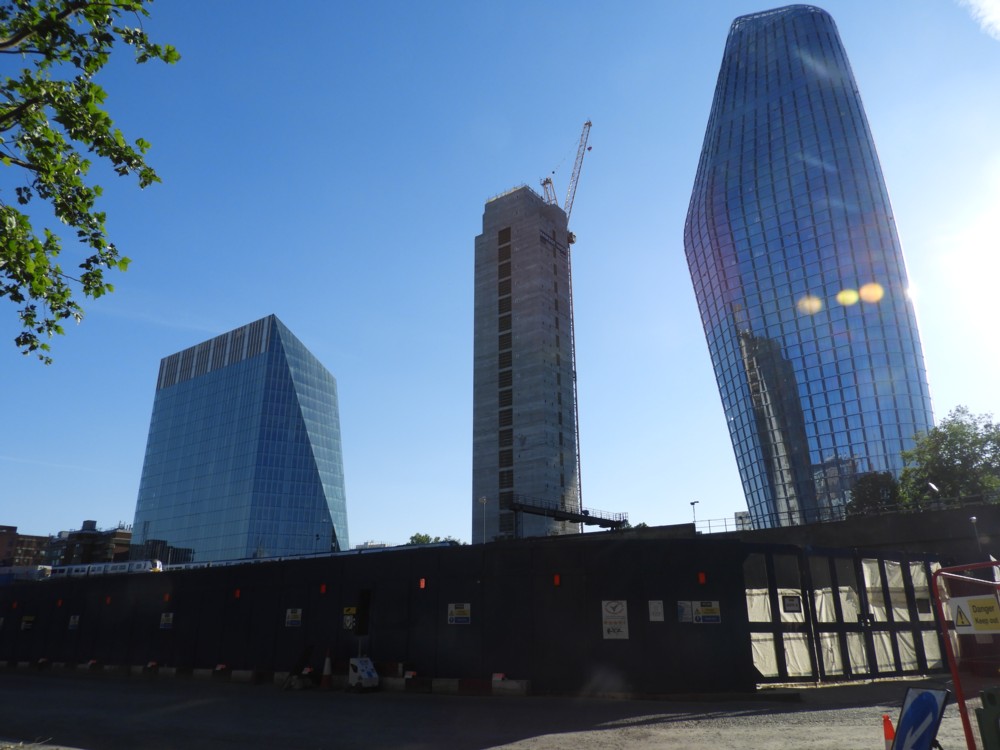 … in between 240 Blackfriars and One Blackfriars.
Will this cluster ever get finished in the near future, what with all the anti-urban disruption unleashed by You Know What? A different question, for a different posting.