Last night I went shopping, and was out for about an hour. In that time, I observed three more e-scooters in action. Three. In the space of an hour.
First, on the left below, was the usual. A guy on an e-scooter, scooting past me so quickly I hardly saw him. This time, I did have a camera with me, and managed the photo you see. Thank goodness for zoom:
On the right, it gets a bit more interesting. We are now in my local supermarket of choice, Sainsburys. I spotted a lady pushing what I could clearly see (from the wires) was an e-scooter with an e-. I asked her, as super-politely as I could manage given the circumstances, if I could photo her e-scooter. "I'm writing an article about e-scooters." "Not you, just the scooter." She agree very readily, so there is her e-scooter.
Then it got really interesting. I spotted a guy, not just pushing his e-scooter around, but using it to carry his basket of purchases. Same request from me. Photo please, not you, just the e-scooter, please say if you don't want this, ingratiate ingratiate. But, surprising answer, beyond the Yes Fine Photo Away bit, I mean. Turned out this was the same guy and the same e-scooter as in this earlier posting here. "You photoed me before!" Oh, wow, that was you.
So again with the photoing, not of him but of the e-scooter, this time with his shopping basket aboard: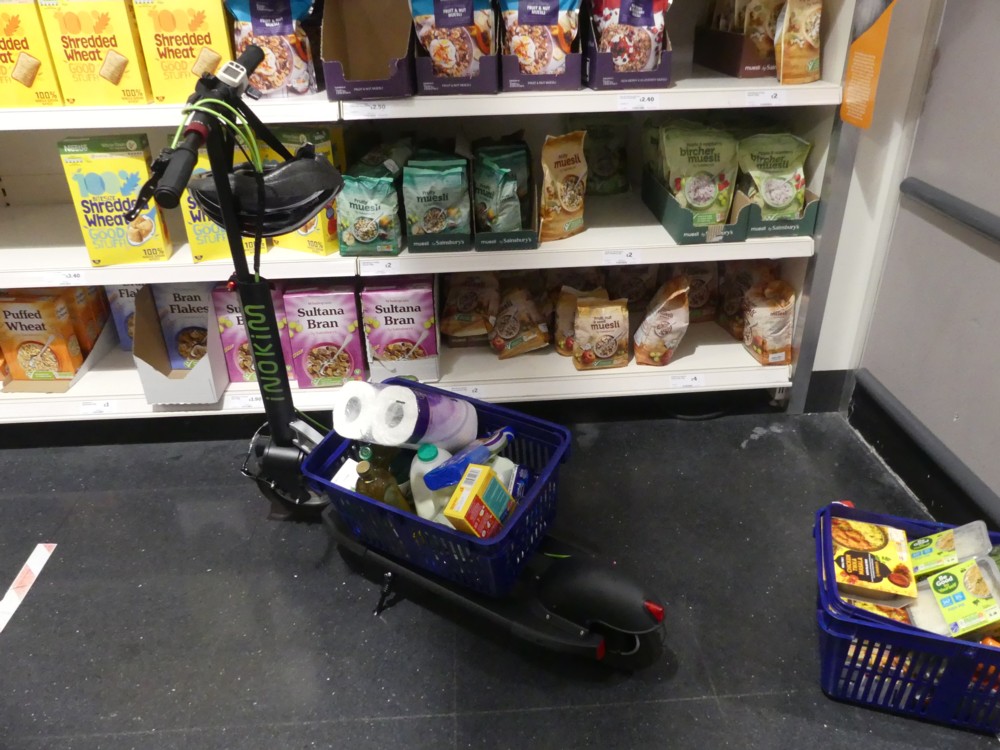 You can see a bit of my basket on the right there. The real point, however, is how very fortuitously convenient it is to plonk your basket on an e-scooter like that. Nobody planned this. When they were designing e-scooters, nobody said, what about supermarket shopping? It just happens to work well. You'll be seeing a lot more of this in the future. There will probably even be design tweaking, to include a shopping basket of this sort in the design of the entire e-scooter, just like is happening with food delivery motor-scooters.
I asked E-scooter Man if he'd had any grief about bringing his e-scooter into Sainsburys. Funny you should ask, he said. No grief from Sainsburys, but, the nearby Tesco wouldn't let him do this. So he said, fine, I've been shopping at Tesco's all my life, but if you don't want this, I'll take my business elsewhere. No problem, your gaff your rules, but I'm off. Whether these contrasting decisions reflected a big Tesco-v-Sainsburys commercial divergence, is some sort of class thing, or merely reflects that Sainsburys has bigger aisles, I do not know. My guess is, local staff made it up, but Tesco will give it further thought. Prediction: the design of shops will also be affected.
E-scooter Man agreed with my claim that bikes are useless for urban shopping, because you have to leave them outside, and sooner or later, they'll get stolen. "I'm not leaving my bike out there." Everywhere I go in London I see bikes parked outside, and a regular percentage of them are severely damaged, especially the wheels. Sometimes entire bits are missing. And of course if it's all been nicked, you don't see that, but it still happened. But, when you stop riding your e-scooter you can take it with you. Above all, if necessary, you can carry it with you. If, in mid-shop, they tell you to stop pushing it around, you can simply fold it up and carry it. Are they going to even forbid you to do that? Surely not. You need never be separated from from your e-scooter. Which means it could still be mugged from you, but is far, far less likely to simply be stolen or maliciously wrecked in your absence.
New category here. E-scooters.