Here's the latest Taxi-with-advert photo I photoed, not far from a favourite taxi spot even during Lockdown, Victoria Station: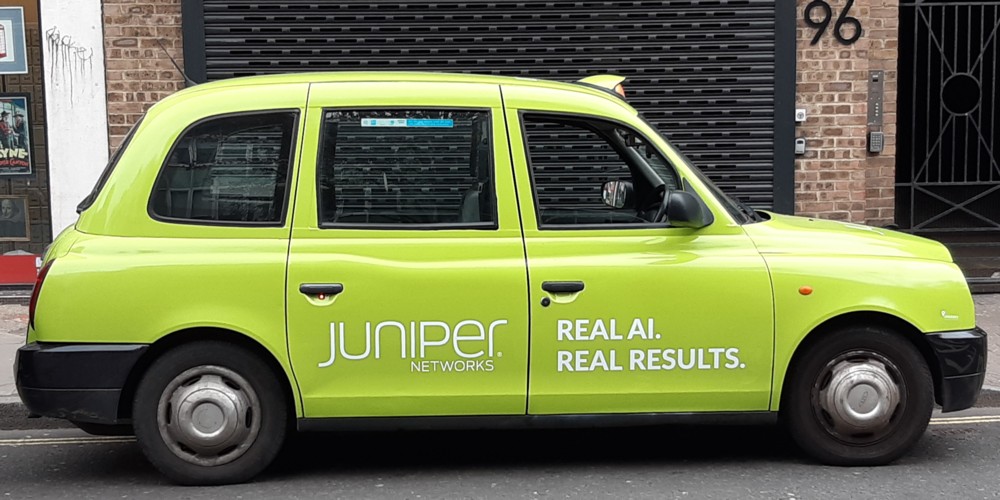 Whereas yesterday, the posting was about a big gadget that merely happened to have words on it, this is an advert that consists only of words. "Juniper. real networks. Real AI. Real results." Even I know that the Internet will tell me more, if I only ask it. ".
So I went to the Juniper website, and watched and listened to two minutes and more of Juniper Supremo Rami Rahim, talking about an AI driven network, or something. But I am afraid I am not much the wiser. To summarise my question simply: What is he talking about? I know that AI stands for artificial intelligence, but how does this artificial intelligence apply itself to the network? Does it run the network? Thereby saving humans the bother? Does it run the network in a way that is more efficient than it could ever be in humans ran it? Or is the AI doing something entirely different? Or, is Rami Rahim just talking about a somewhat fancy computer programme, that runs the network, which isn't really AI at all? I'm genuinely eager to learn more.
All of which illustrates a more general point about Lockdown, which is that during it, anyone in the computerised communications business is liable to be doing rather well, and to be eager to advertise, unlike, say, restaurants.