At the point where Ebury Street joins Pimlico Road, which I think is in "Belgravia", wherever exactly that starts and ends, there is a small triangle of space, the most notable feature of which is a statue of a young Wolfgang Amadeus Mozart, holding a violin:
The photo on the left there shows a bit of context, but is also badly lit, by which I mean lit from behind. I have frequently photoed this statue over the years, but never to any better effect than that. However, at the time I photoed the above photo, way back in 2004 with my antique Canon A70, I also photoed other photos of this statue that were half decent, as you can see above right, and below: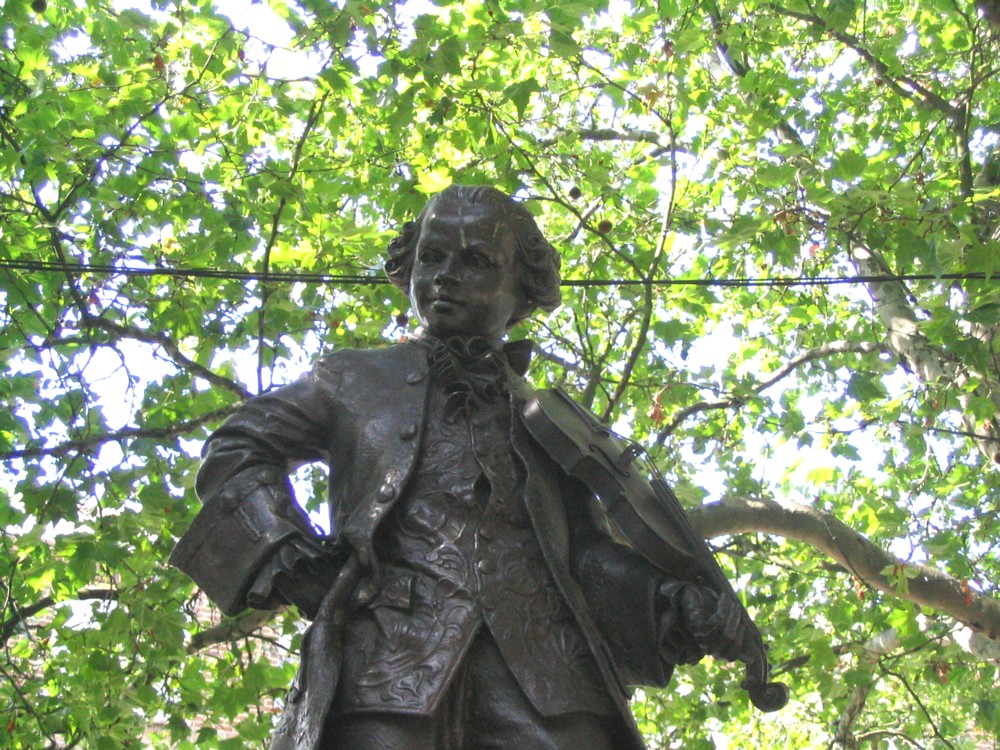 Sorry about the wire going through his head there.
This statue is quite recent, but I really like it. Read more about it, and about Mozart's time in London in this piece. Mozart and family came to London when Mozart was eight. He and his elder sister amazed high society with their musical excellence, especially Mozart himself of course. Apparently he wrote his first two symphonies when in London.
London seems to be pretty short on great composer statues. Haydn? Mendelssohn? Both caused enough of a stir here to earn such recognition. I searched, but found only plaques. Elgar? Worcester. Vaughan Williams? Dorking. Purcell? A walk away from where I live, but I have long thought it hideous.
So this Mozart statue is probably London's best composer statue. Any commenter who can prove me wrong will be gratefully attended to.
LATER: I forgot Bartok!