I took this photo at the Oval (sorry the Kia Oval), on July 23rd 2012, when I and Michael Jennings were watching England lose by an innings to South Africa: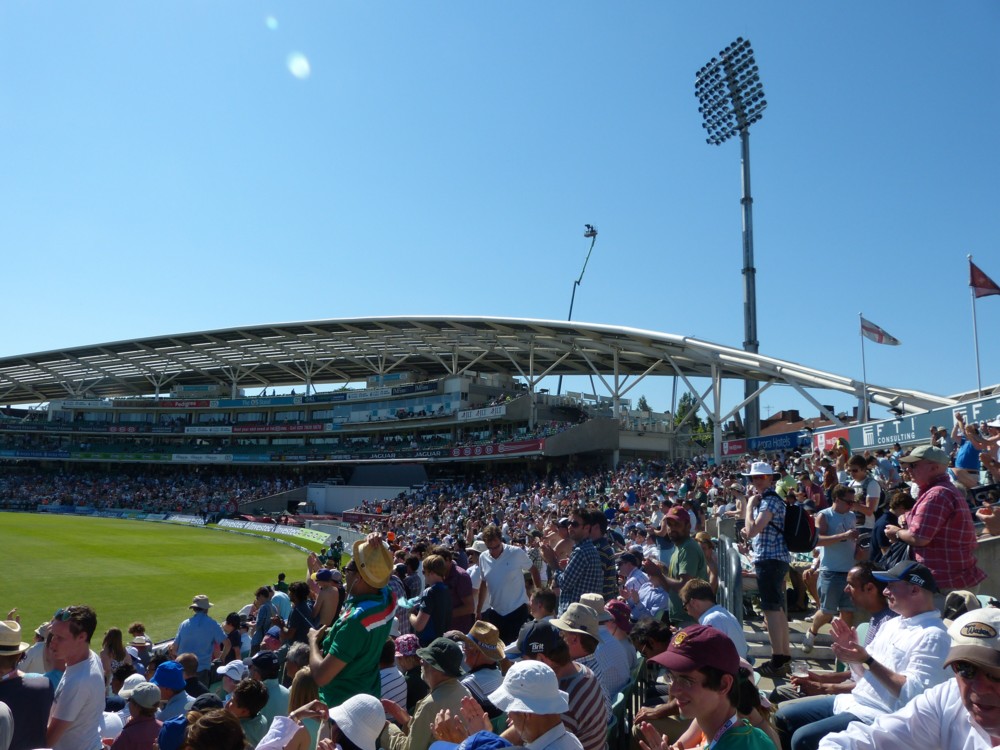 All very regrettable. England lost all twenty wickets, but South Africa only lost two wickets. Hashim Amla got a treble century. Boo hoo.
But, take a close look at the rather odd stick-like thing sticking up over that big stand in the distance. Not the big flyswatter, which is for floodlights. No, I mean the rather insect-leg-like thing to its left, as we look.
This: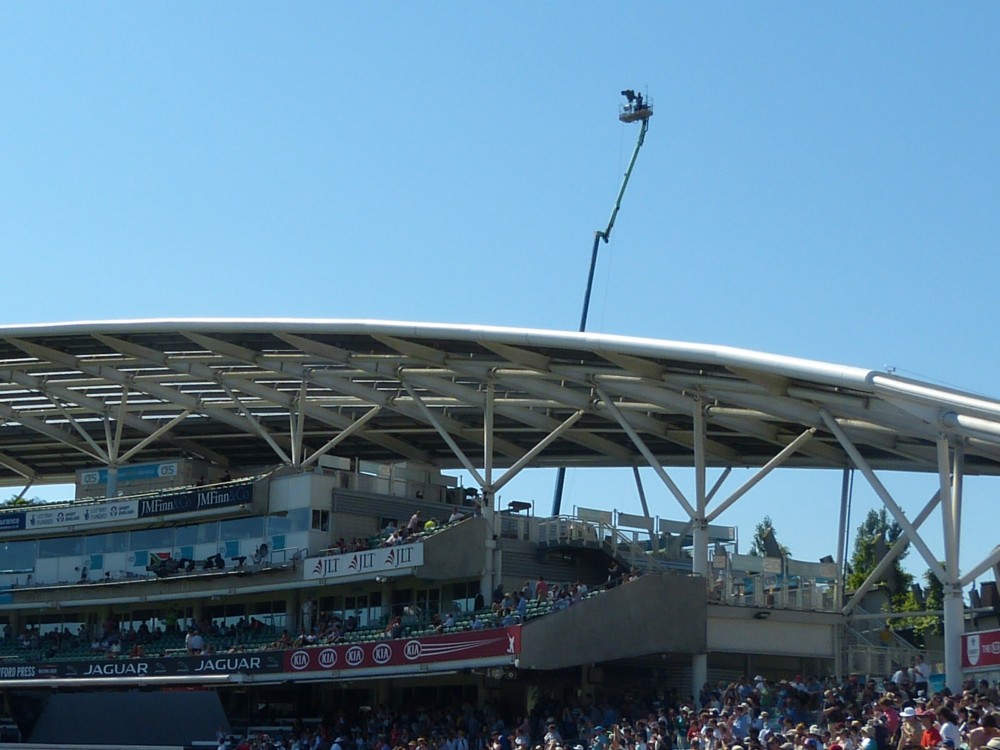 That's a simple crop-and-expand of the first photo above.
Then as now, I was interested not just in cricket, as in: Is my team winning? (It was not (see above)). I also was already interested in the means by which cricket is televised or video-internetted. I know this, because at about the same time I was photoing the above photo, I also photoed this photo: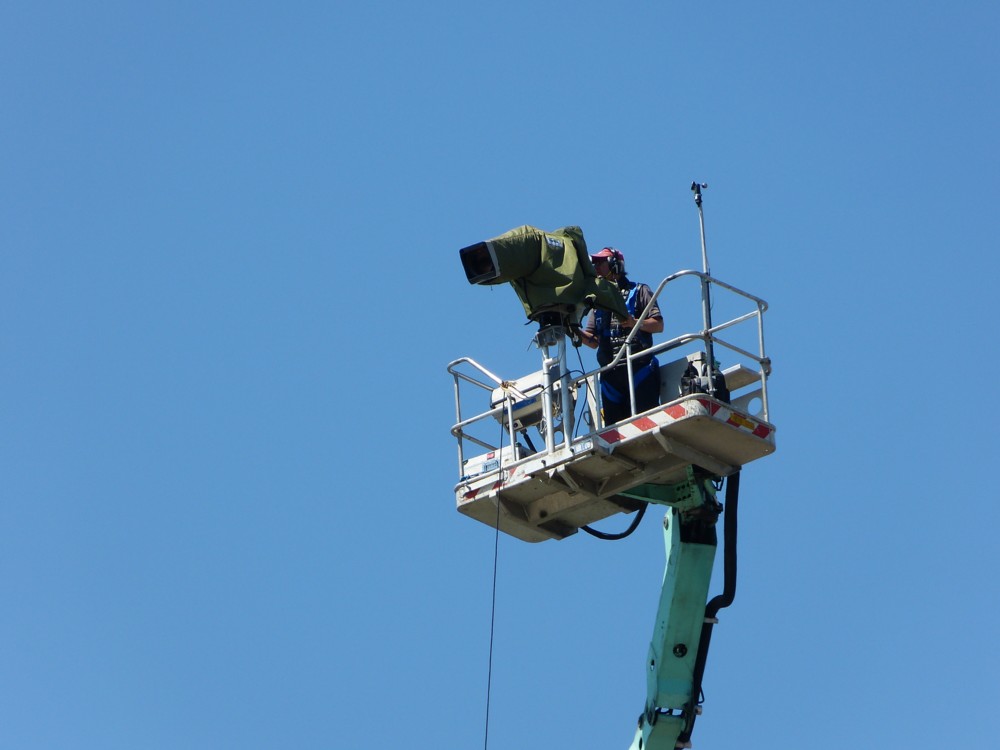 Imagine spending your entire day, which on that particular day was a pretty hot day, doing that.
Okay. Now, fast forward to the Oval exactly seven years to-the-day later, July 23rd 2019, when Darren and I visited the Oval, to watch Surrey get beaten by Middlesex in a T20 game.
Once again, that my team was losing was very regrettable, but once again, I consoled myself by photoing other things besides the actual cricket, as already recounted in this earlier posting.
And the most interesting thing, by far, that I photoed that evening, was this: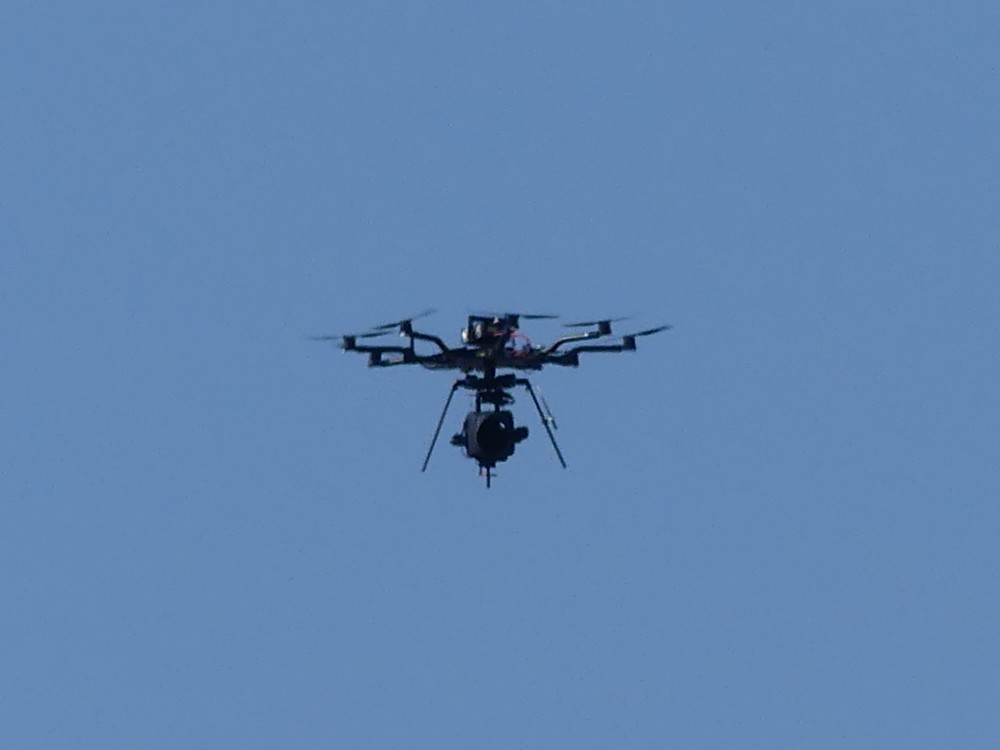 I owe the spotting of this contraption, which hovered throughout the entire game over the same part of the ground as the 2012 crane-photoer did, to Darren's sharper-than-my eyes, and to the fact that he reads this blog and knew that I would be interested. I would be amazed if I discovered that it was actually not videoing the game that Darren and I were watching, even if it was only panoramic views, for now.
It is surely only a matter of time before drones start being used to video games like the one I saw at Beckenham, where I also photoed video cameras.
And scaffolding. Drones don't need scaffolding.
I'm guessing that the drone problem just now is keeping them absolutely still, or alternatively, moving them in exactly the required manner, the way crane-photoer has long been doing. But if humming birds can solve this problem, I presume that drones can, and that actually, somewhere, they already have.
Googling for drones-cricket etc. tells me that this is a technology that is bowling ahead, so to speak. For instance, it says here, in connection with the recently concluded Cricket World Cup, that:
The drone camera provided by Batcam will also provide stunning visuals of all venues across England and Wales.
"Batcam" link added.
So, as Darren suggested, it is quite probable that the TV picture in this posting was done by a drone, rather than by a bloke at the top of a crane.
Which means that the Big Alignment described in that posting (the Shard and the BT Tower) may have been no accident. Maybe the drone lined them up right next to each other on purpose.