That expedition to Beckenham, to watch Kent and Surrey play cricket against each other was fun, what with all the cricket to be watched: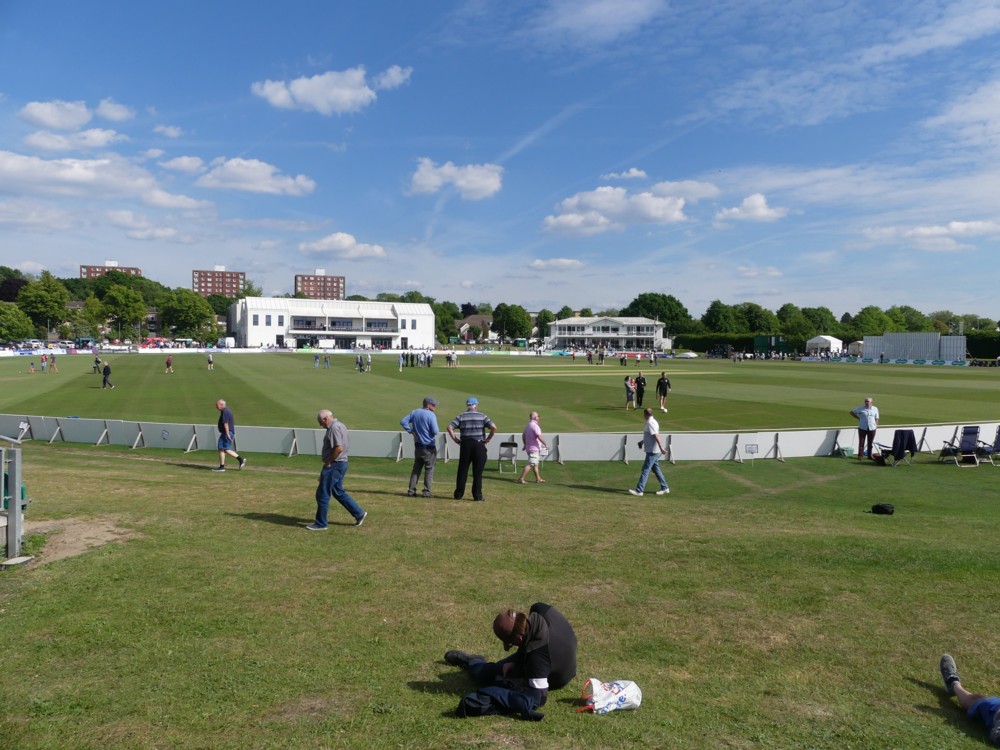 But after ruminating on the photos I took, I now find that one of the more interesting things that I saw and photoed was just off the playing area.
To be more precise, they were to be seen on the far right of the above photo. Here's a crop from within the above photo that zooms (but only digitally) in on what I am referring to: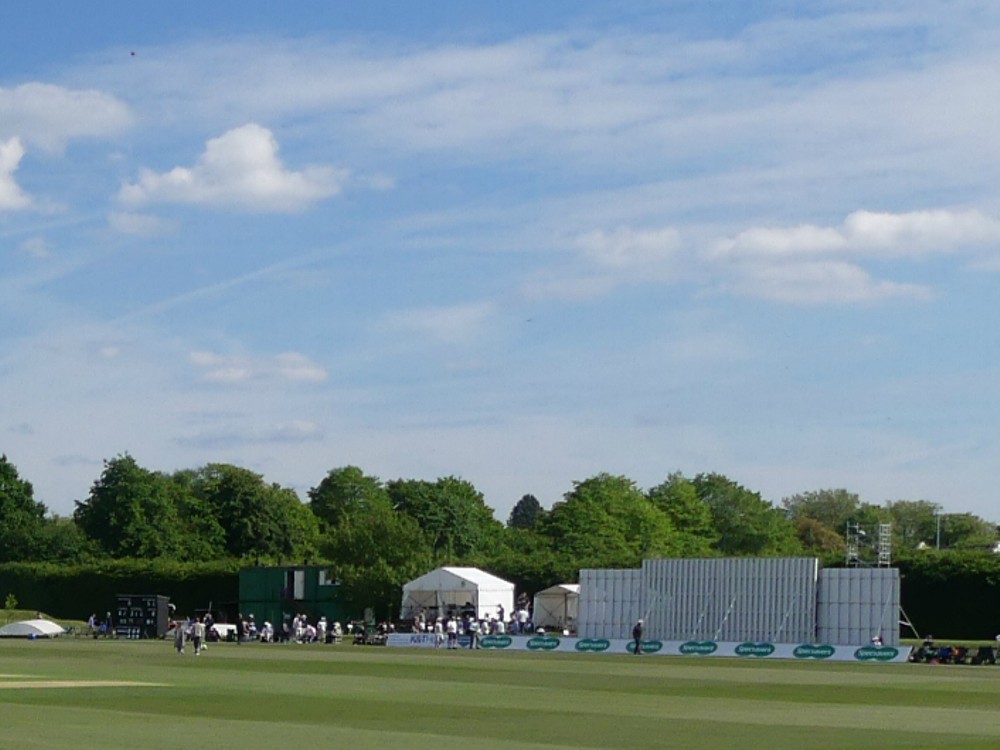 That thing that you see there is the sight screen, placed there to enable batsmen to see the balls more clearly as they propelled towards them by the bowlers. Don't move near this thing when the bowler is bowling from this end. Sacrilege! Delay!
But now, please notice the bit of disembodied scaffolding sticking up above this sight screen, at the right hand end of the sight screen.
Happily, I realised at the time I was there (this does not always happen) that this is something I would be interested in. I took a much closer look: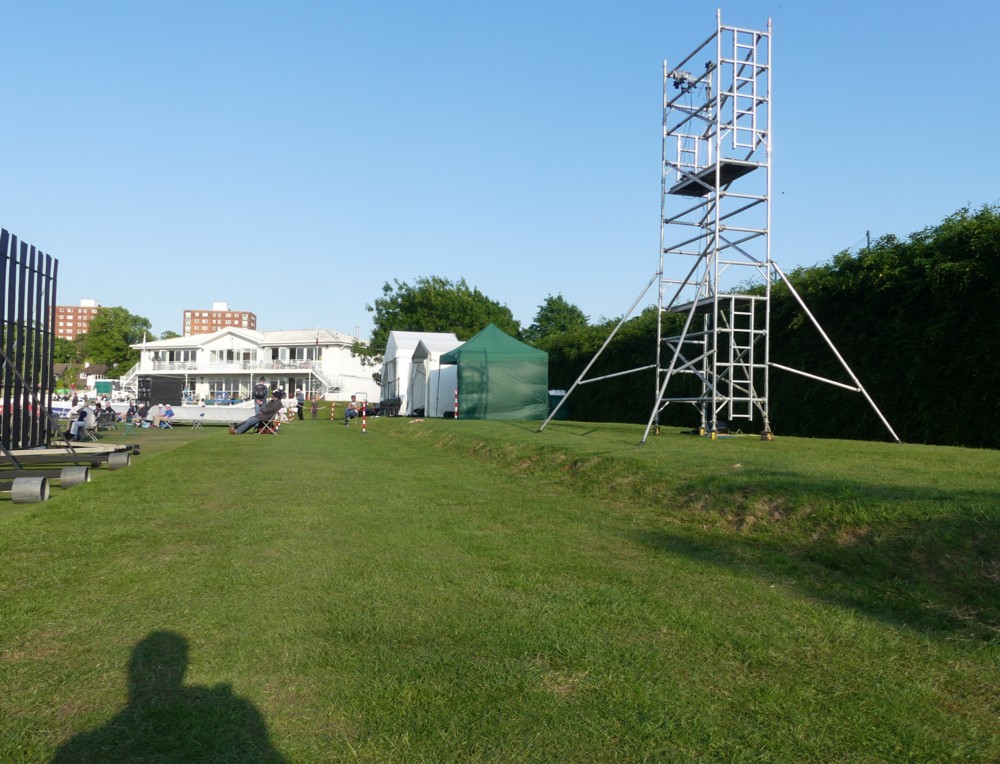 On the left there, the back of the sight screen, and on the right, the object of my interest.
What is it doing?
This: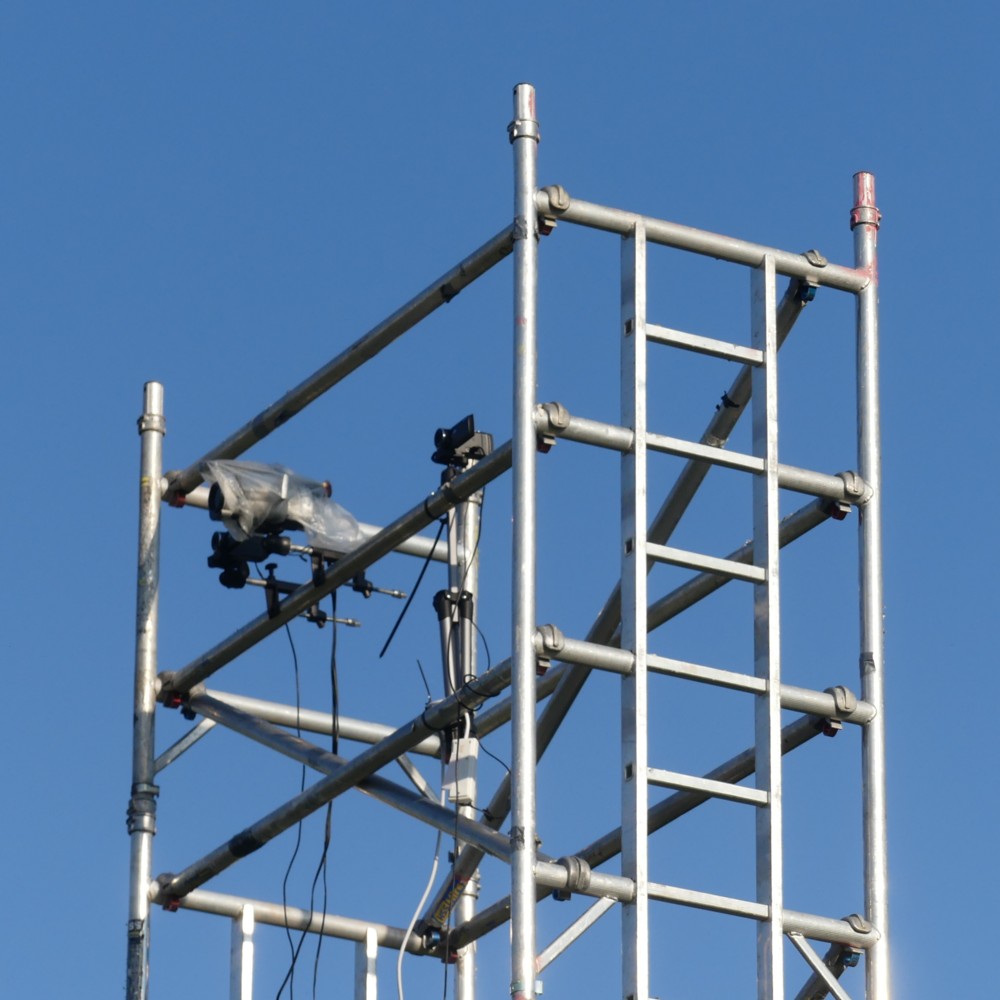 Another view of the same gizmology: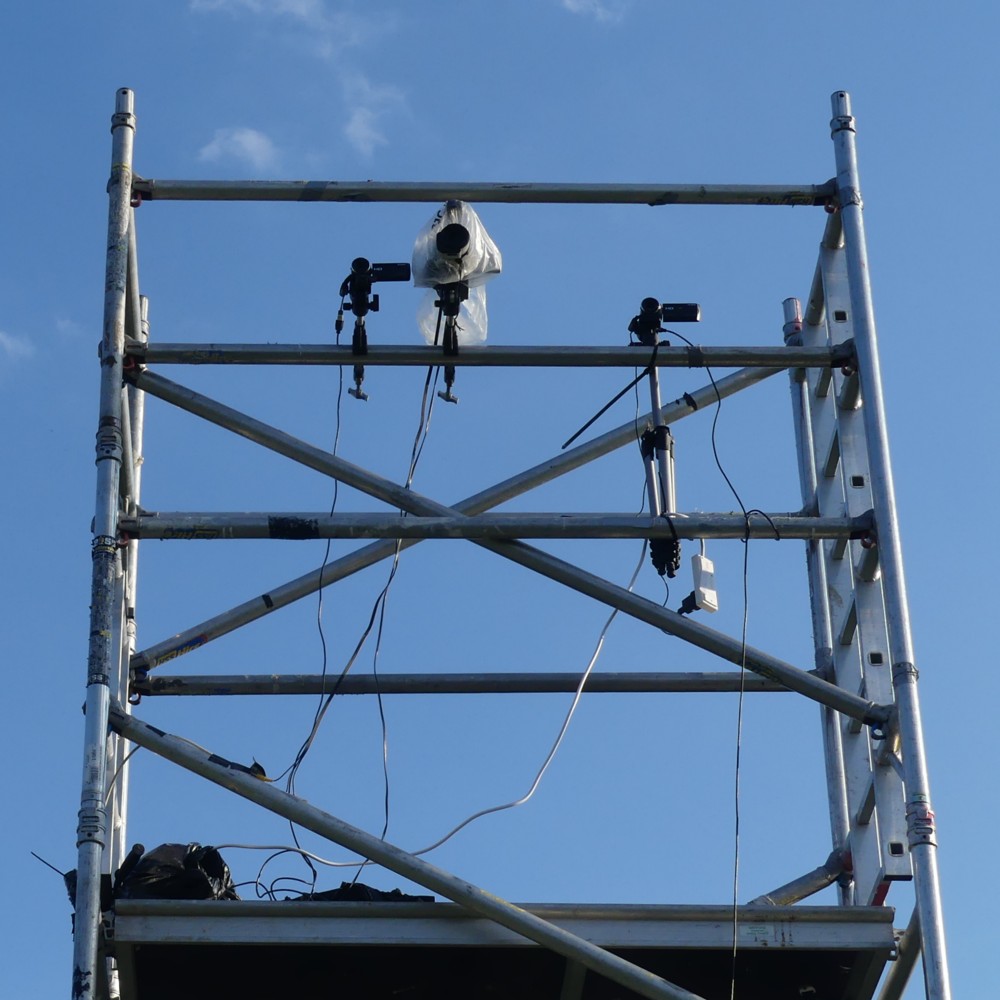 I think I spy there no less than three video cameras, which are, like the sight screen, directly behind the bowler as he comes in to bowl. And high enough above the action to see the batsman's efforts to respond to the bowler's efforts to see the batsman clearly, without the bowler getting in the way.
Here's a still from the output of one of those cameras, on the day I was there, which I captured here: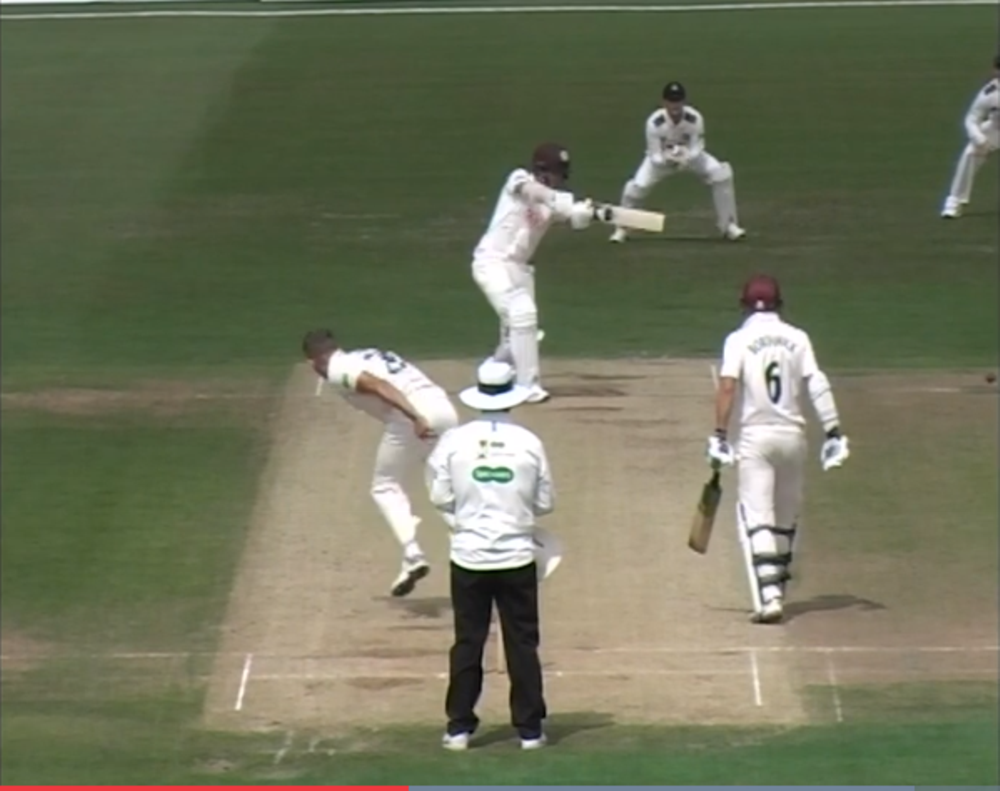 If you watch some of that video, you will note that all the videoing, no matter which end the bowler is bowling from, is from the same end. Which explains why I was unable to find any trace of video cameras near the sight screen on the other side of the ground.
Whatev. Such videoing has absolutely transformed my enjoyment of county cricket. As I type this posting in for the first time, I also have on my computer screen a live feed from the Oval, of the final day of the return fixture between Surrey and Kent. Surrey are struggling, but not out of it yet. In the video capture above we see Sam Curran batting. He's batter at the Oval now, and a lot depends on him.
It's been fun watching these video feeds get slowly better, with more stationary cameras being added. The destination that all this is leading to is that all county cricket grounds will be smothered in video cameras (just like the rest of the world) and one guy in a van will be able to edit it all together to the point where you might as well be watching the Sky TV coverage of, say, a World Cup Semi-Final between India and New Zealand, which also happens to going on right now (but which I am not watching because I don't have Sky). Wow. India, replying to NZ's (surely) below par 239, are 5 for 2. Rohit and Kohli both gone! Make that 5 for 3!!! Rahul also gone. Cricket. Bloody hell.
But I digress. I'll end the photos in this posting with a photo of the little tents from where the spoken commentary was done, on that day in Beckenham: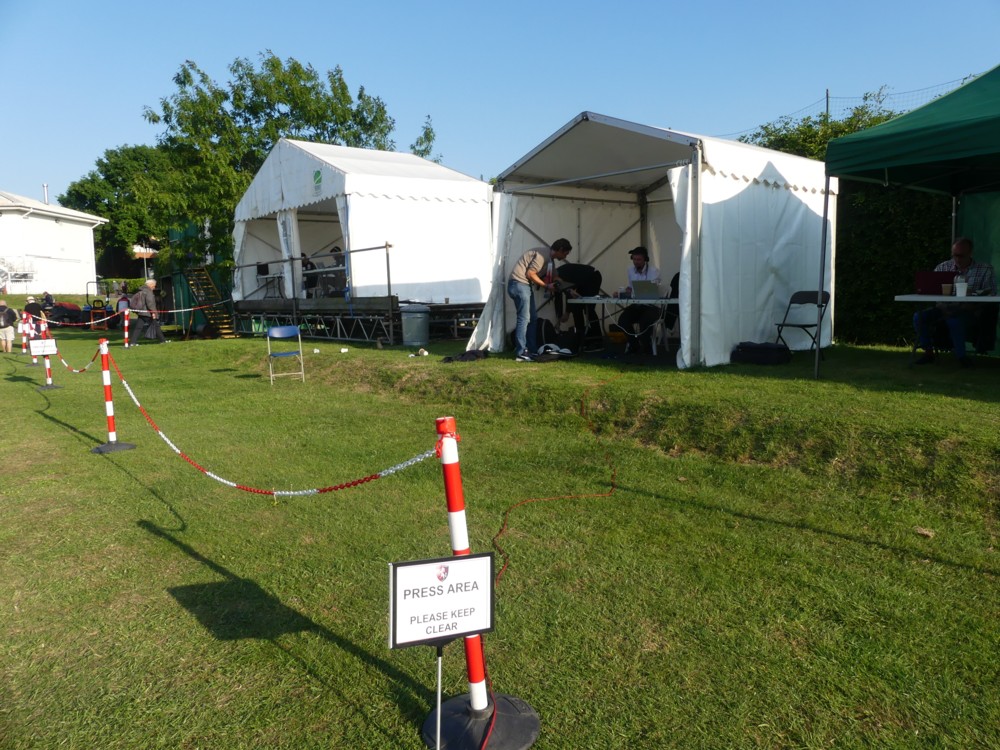 The guy in the blue jeans there is Surrey commentating legend Mark Church.
One of the great things about both video and radio feeds from cricket games these days is that when something sensational happens, you can immediately go there and listen to/watch all the drama, by shoving that line a bit backwards. You couldn't do that with the old donkey powered radio sets of my youth.
As soon as I'm done here, I will be listening to Aggers and Co yelling with amazement about those early Indian wickets. (Well well, the yellow BBC line, for now anyway, refuses to move back from what is happening right now. Shame.)
Anyway, back to scaffolding. Do I have to insist on what a contribution to modern life scaffolding is now making? Well, I hereby do. And it's not just for new buildings, or for prettying up existing buildings. Here we see a characteristic use of scaffolding, to prop up some new technology, while they are still working out exactly how to do everything. Where exactly should the kit be? How high? How easy does it need to be to fiddle about with. What is the best way to organised all The Wires!? Until you know such things, use scaffolding, and keep your options open.
See also: rock concerts in sports stadiums. Where would they be, without scaffolding? There's plenty more to be said about scaffolding. For instance, I haven't even mentioned, in this, how beautiful it can look. Functionalism in its purest and more elegant form.
Plus, I reckon that there is something a lot like scaffolding on the inside of those canvass hutches where Churchy and co did their radio chat.
Surrey sinking fast against Kent. Sam Curran: out. Also: shame. India now 24 for 4, with the last ball of the tenth over. Karthik out. Matt Henry now has three wickets. This time, for some reason, I was able to shove the line back and hear them describe it. Great catch, they're saying. And I'll be able to watch the replay of it very soon at the BBC website. (See the "Aggers" link above. No Aggers today, though.) Thought: This is a situation absolutely made for MS Dhoni.
LOL!!!!: Kent, needing a mere 120 to beat Surrey, 0 for 2 after just five balls. Morne Morkel x2.
However it all ends, this is turning into quite a fun day.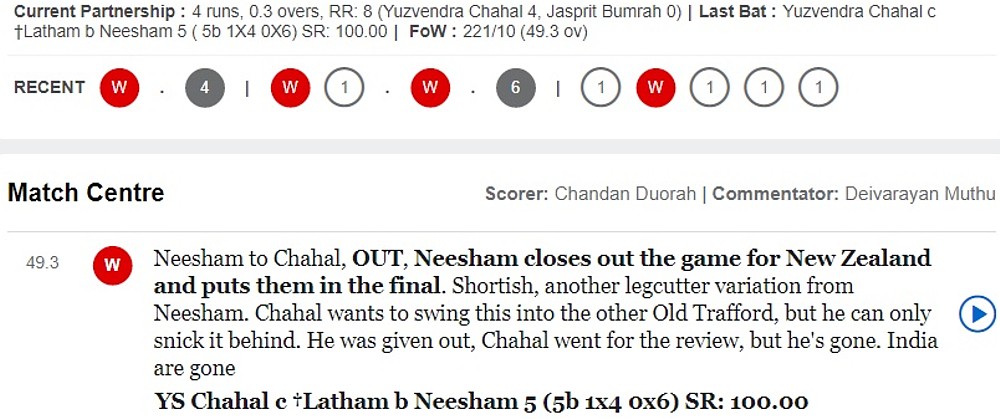 The scaffolders were thoroughly upstaged, I fear, which they must be very used to.
The key moment, near the end, was the running out, by about an inch, of MS Dhoni for 50. NZ win by 18 runs. Tomorrow: England v Australia, to find out who plays NZ in the final on Sunday. (And Surrey lose.)