For the last four days I have been following Surrey v Essex at the Oval, on Cricinfo mostly. The scores alone were remarkable, hence my title above. Those who do not know cricket should know that, to those who do know cricket, the mere numbers above are truly astounding.
Famed Surrey commentator Churchy couldn't take his eyes off it: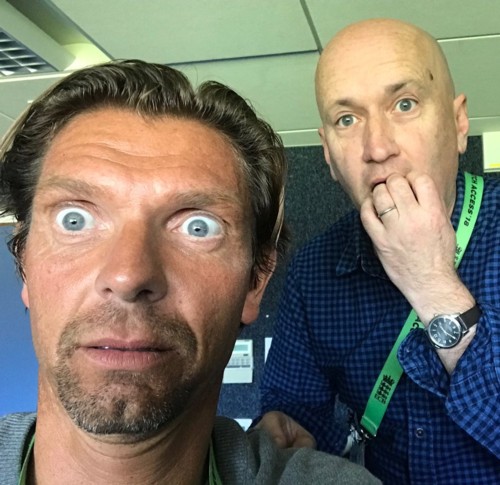 That's him on the left. Don't know who the other bloke is. Kevin Howells? See also this (about the effect on the face of photoing someone from really close-up). And the second of these two guys (both saying: well done Surrey) is another in-your-face face.
Given how good the weather forecasts were (and given how good weather forecasts are) I thought about going there. But I still suspect that, had I done so, a cascade of butterfly effects would have been set in motion, and Surrey would have lost by an innings and about three hundred early on day three, instead of by a mere one wicket on the afternoon of day four, having looked, towards the end, well capable of snatching a win.
Anyone who thinks that only winning matters in sport should ponder how much happier a Surrey fan like me is about this game as it finally turned out, compared to how grumpy I would have been if it really had ended early on day three. Still an Essex win. Same number of Championship points to both sides. Surrey still win the Championship anyway. But what an abject anti-climax that would have been. And what a great actual-climax to the season it actually was.
Had the County Championship still been at stake, and had it depended on this result, I could not have endured it. But, if the Championship had been at stake, it would, I think, have been an entirely different game. Intrinsic to the amazing Surrey recovery was that this was … only a game. Thus did it end up being a great game, because only a game.
I really want to remember this one, hence this posting.