Alastair wondered, in a comment, what this building is, as had I. Today, the weather looked good again, and having nowhere in particular to go, I thought I'd do what I hadn't done earlier, which was find out exactly what this building is.
Here are nine photos, the first of which I photoed last Tuesday, just before photoing the photo shown in that previous posting, and the other eight of which I took this afternoon:
The first, as I say, taken seconds before that previous night scene I showed earlier, shows the shape of the building, instead of just a pretty pattern. The second photo above is clearly of the same building. The third shows the same building, but with some context, in particular showing where it is in relation to the big arched edifice of offices over Charing Cross Station.
At which point I knew where to go looking, and I soon got right next to the Thing. Photo 4 makes it clear that this is that same building, while photo 5 clarifies that at the foot of it is to be found the Theodore Bullfrog. I took a note (photo 6) of exactly where I was.
But, there seemed to be no very welcoming entrance to the building I was trying to find out about. So I went around to the front of it, which seemed to be in the Strand. Photo 7 and photo 8, are close-ups of the entrance I found. And photo 9 shows the entire building from a bit of distance, from the other side to my earlier photos.
Photo 8 was of a sign saying … "40 Strand", was it?
A little photo-enhancement …: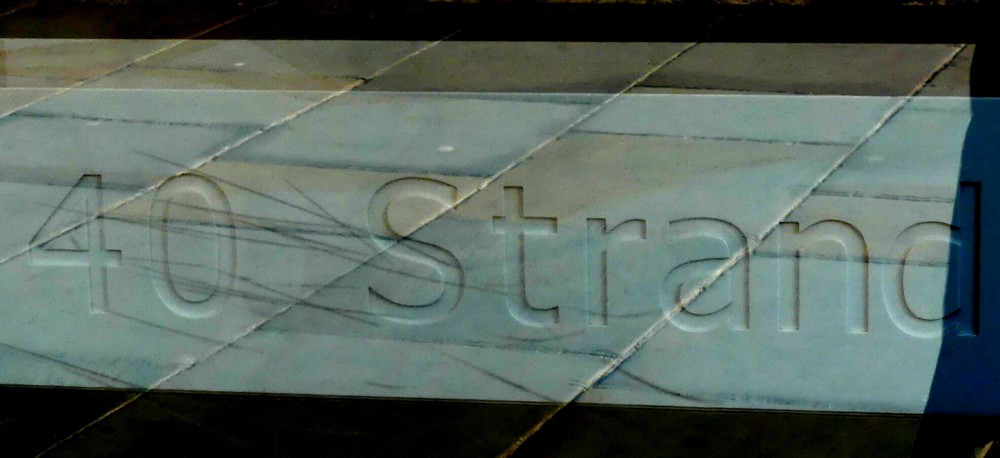 … confirmed that yes, this was 40 Strand. But was 40 Strand and the building we saw from the other side one and the same building?
Google Maps gave me the answer to that when I got home: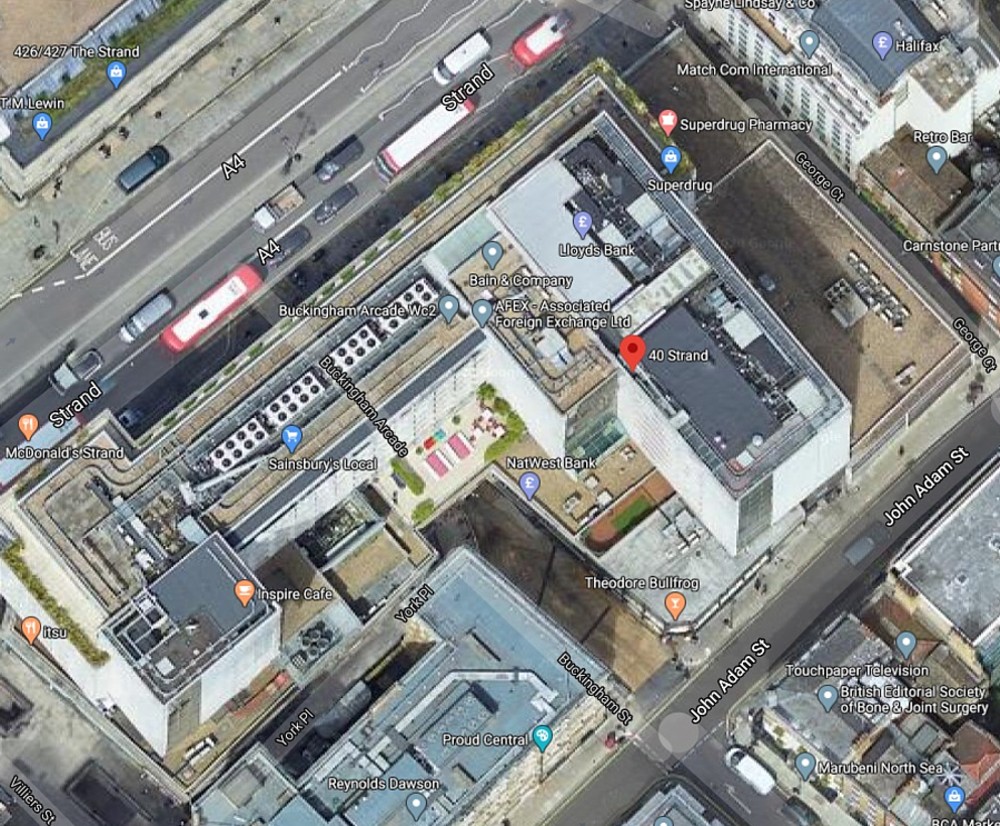 Yes. 40 Strand is the whole thing, including the bits at the back that I had been photoing so attentively. The presence of the little red balloon in the middle of the building, right next to the more distant of the windows I had been photoing proved that this was job done.
So now you know. More to the point, now Alastair knows. I don't get many regular commenters here, so the ones I do have get the Rolls Royce treatment. (When I feel like it, I mean. I promise nothing.)