The usually ignorable but occasionally very interesting Dezeen has one of its very interesting postings up now, about a driverless bus/train, in China, which looks like this: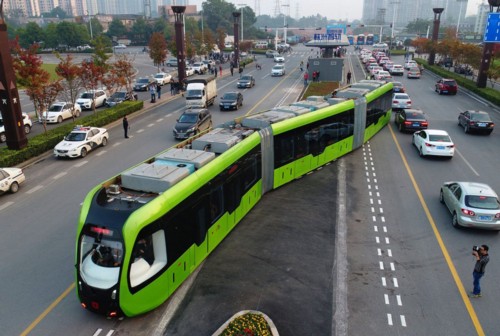 That reminds me a bit of those road-trains that they have in Australia.
The system works by scanning the painted road markings, using sensors on the underside of the vehicle. These sensors are able to detect pavement and road dimensions by the millimetre, and send travel information to the train whilst in transit.
Clever. And a lot simpler than a lot of stuff involving seeing and avoiding people, and seeing and avoiding other vehicles, with multiple sensors and artificial intelligence and whatnot. The people have to avoid this bus, just like they have to avoid trams now. This is not a self-driving vehicle. It is merely a development of the driverless train, like the DLR, but with computers and road markings to keep the thing on the straight and narrow rather than rails.
Driverless cars on regular roads, roads with no special markings, are still a few years off, I believe. Too complicated. Too many unknown unknowns. But driverless buses like these, driving along predictable routes, will be no harder to manage than trams or trolley buses are now.
Nobody knows what the long-term impact of driverless vehicles is going to be, other than that it will be very big. But one possible future is that lots of railways might soon be flattened into virtual railways not unlike this one, which will be a whole lot easier to travel along than a regular road.
Meanwhile, I love how, in the picture above, in the bottom right corner, there's a guy who looks like he's taking a picture of the cab of this bus, a cab with nobody in it.