Incoming from Cousin David:
Here is a pic which my daughter Molly photoed the other day when we were on a bicycle ride somewhere between Stratford and Bow – thinking that it contained elements that would appeal to you. What is curious is that the flat bit looks as if it might be part of an older building that is being preserved while new parts are built behind, but in fact it seems that it is new – and the rest of the building will be added to it. Another flat bit is going up in the background. Dashed odd!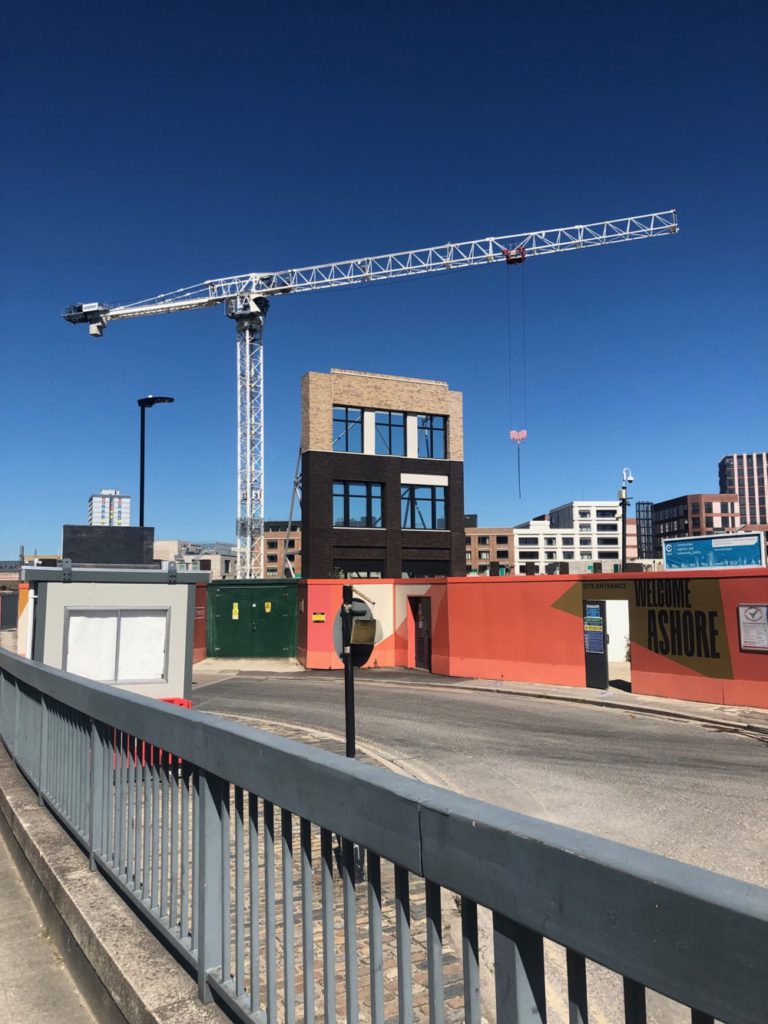 Cousin David, to whom thanks (and thanks also to Molly), is entirely right that this photo appeals to me. As he knows, I have several times featured photos here of Ancientist facades being propped up while Modernist interiors are attached to the back of them. The triumph of Modernism but only indoors being a phenomenon of particular interest to me.
But, as he also probably knows, I have never featured a new and Modernist exterior being propped up on a building site in the same manner.
My guesses, and they are only guesses, are that, first, the standard of finish required for a building's facade are easier to insist upon in a specialist factory than on a rather chaotic building site, and second, that having been perfected as a technique for propping up Ancientist facades, this propping up trick was then easily applied to another sort of facade. Finishing Modernist interiors in a factory makes less sense because they would be too bulky to bring in on a lorry, whereas the rectangular bits of a facade, being flat areas rather than volumes, sit quite well on a lorry. Also, once the three dimensional structure of a building is done, on site, it then protects the process of perfecting the interior, because that process can also then happen "indoors", just as it does in a factory. (There may be a comment on this bit of this posting, mentioning a building in Croydon made of shipping containers, from the friend with whom I visited Croydon recently.)
Also, there's a crane.
I now particularly welcome such incoming photos, what with me now being able to get out less. However, if you do send a photo in, you'll be hard pushed to improve on the above photo in my eyes, because David realised that although I had observed this approximate phenomenon in action before, he also realised that I had probably not seen this exact version of it ever before. Certainly, if I ever have seen it, I have only now noticed it. Like I say, my thanks to him and to daughter Molly.