What's going on in this photo is that I was recently standing on a pavement in the South Kensington area, photoing a fake person who is wearing a real jacket with a tiger's face on the back of it, but it's a bit hard to make out the tiger's face because some buildings across the road, very well lit by the bright sunshine that day are simultaneously being reflected by the window that separates me from the fake man and his tiger jacker: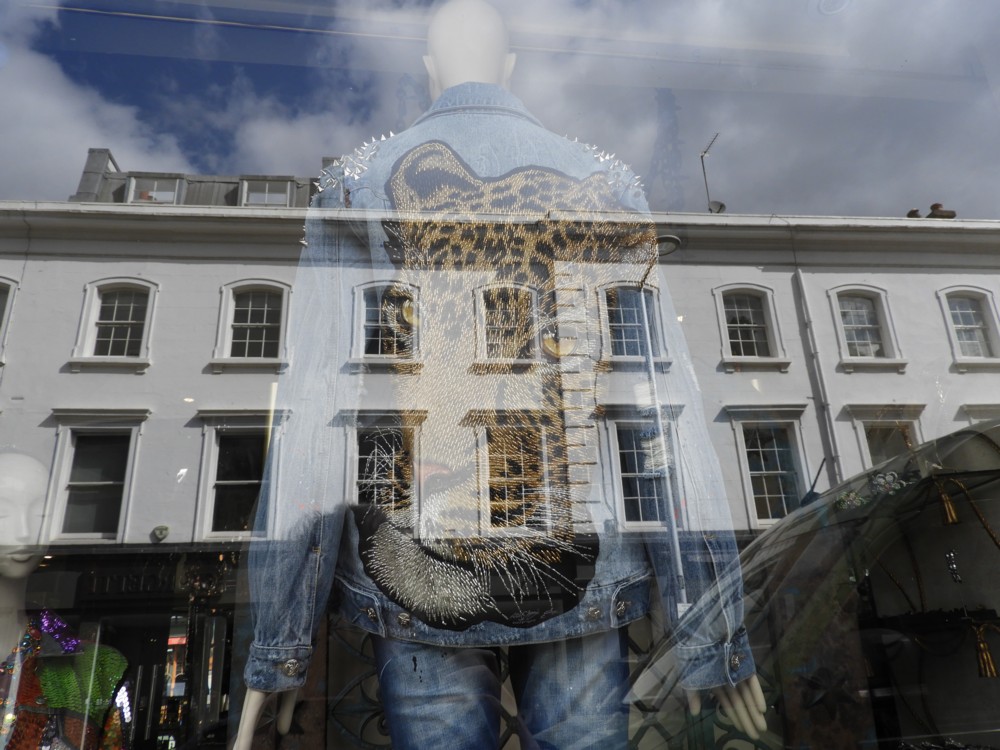 I really like this photo. It resembles this earlier effort in being a puzzle caused by the reflection in a shop window colliding with what is behind the shop window and in the shop itself. But unlike that earlier photo, this one is a puzzle that is soluble, and one that I can fully explain.
As I have earlier said, I think that one of the features of architectural modernity is that there is now lots of shininess, and consequently lots of reflection going on. Modernity didn't start out so shiny, because there was lots of concrete and brickwork to start with, and glass was a lot less marvellous then than it is now. But now, architectural modernity has got very shiny indeed. So, scenes like that shown in my photo above are not mere accidents. They capture something basic about the visual experience of living in a modern city. Such images are or a thing that we constantly see, and perhaps even a thing that you constantly notice. I don't think it's just me, in fact I know it isn't.
In the bottom right hand corner of the photo above, part of a parked vehicle is to be observed. Modern vehicles being another characteristic source of modernistic shininess.