I fear that I may now be an I-may-be-about-to-die bore. In the sense that I can think of nothing which I am now doing or saying or even thinking which is not happening under the shadow of my recent lung cancer diagnosis. And given the subject matter of this particular posting, any pretence along such lines would be absurd. Which is why I start with that now. Which could get very boring.
Anyway, what I want to link to is this video, lasting about half an hour, in which Jeremy Paxman talks with the late and then staring his about-to-be-lateness in the face Christopher Hitchens.
Here's a still from this video, which I think I am presenting because one of the many things I like about this conversation is how Hitchens looks. His head entirely shaven, his face serious, the very picture of a ancient stoic, looking both at death and at the kind of life he might have to suffer before death with an unflinching gaze: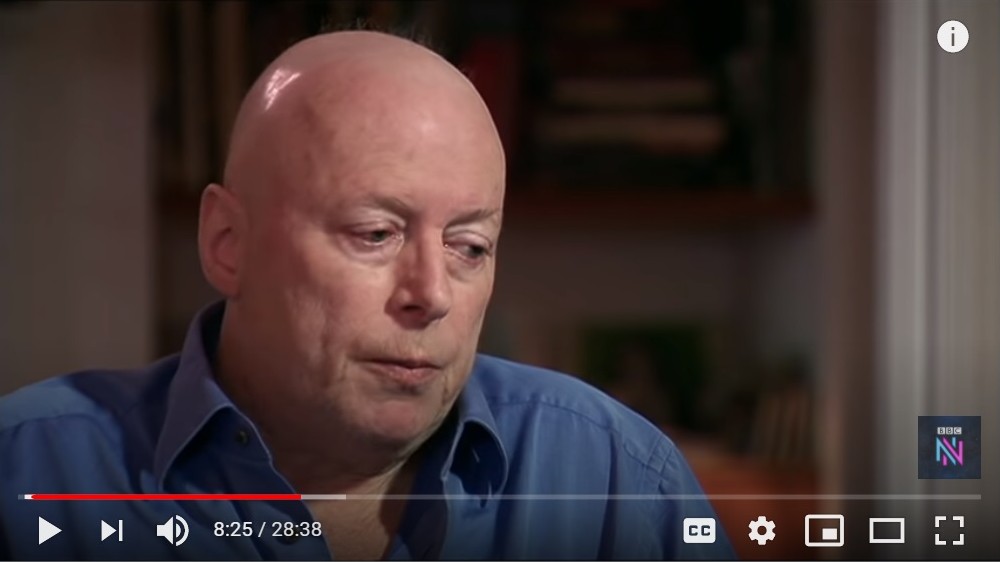 Hitchens's appearance reminds me of that of my friend and fellow Samizdatista, Paul Marks. "The Sage of Kettering", as the Samizdata commentariat refers to Paul, looks a lot like this already, despite the fact that to the best of my knowledge Paul is only going to die in the same medically relaxed sense that we all are.
The link to this video was, of course, sent to me, by a friend who had learned of my current medical predicament and thought that I might appreciate learning about it and watching it. Which I very much did, having missed it the first time around.
The friend picked out a bit right at the end, where Hitchens says that he especially appreciated communications from strangers who had in one way or another appreciated something that he, Hitchens, had said or written or done. "If in doubt about whether to send me such a message, do not hesitate. Send it." Or words to that effect.
He added that he regretted having failed to do this for others in similar circumstances.
I agree on both counts. I am being very cheered up right now by all the kind things that I have persuaded various people, not a few of them pseudonymous Samizdata people whose identities are otherwise unknown to me, to say to me about my own various sayings and doings over the years. And I too regret having failed to do as much of this as I could and should have, when I saw valued friends and intellectual comrades nearing their ends.
New category in the category list below: Death. Here's hoping that at least some of the remaining postings I manage here are not thus tagged.
By the way, that could be quite a few more. Hitchens was facing the certainty of death, pretty soon, when he did this interview, and he duly died soon after it, I believe. Not long, anyway. All I can really say about my lung cancer is that it sounds pretty bad. But that might merely mean it being pretty bad for quite a while longer.