It's a common experience. I'm making absolutely no claim to originality here. We humans regularly see faces where we know, even as we see these faces, that there are no real faces to be seen. Yet, we see them: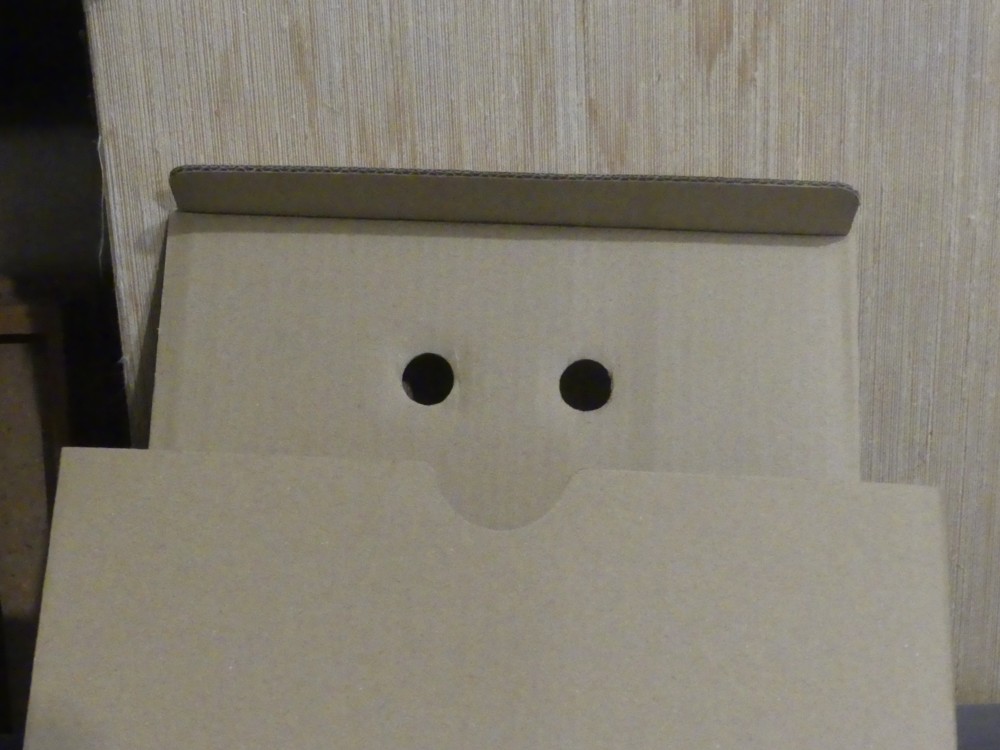 That is one of the bits of cardboard I photoed for that earlier cardboard-v-polystyrene packaging posting. It looks happy.
Closely related to seeing faces where there are none, is the way that humans see human-like expressions in the faces of animals, and react accordingly. An animal may be just standing there, looking cute. But what that animal may well be thinking is: Could I beat this creature in front of me if we had a fight? And if I could, what would his flesh taste like? We all know this. Yet, our brains overrule our minds.
I hesitated quite a while before showing my latest clutch of Oscar photos, this morning. My reason being that by showing such photos I am proclaiming myself to be rather soft in the head, in the sort of way I have just described. I don't think that Oscar was contemplating attacking me and trying to eat me. If we had a straight up fight, I'd win, and both he and I know this. But Oscar may well have been thinking: When is this idiot going to feed me? Yet still, I find myself liking Oscar. All because he has evolved to behave in such a way as to make my brain think him a combination of a nice, warm-hearted, generous person and a comfort blanket. I can't help myself.
Related: I regret the apparent fading out of Idiot Toys, where there was a whole section devoted to gadgets with faces.