All of these arrived today, from Chateau Samizdata, where nobody cons their way past the front door and nicks stuff: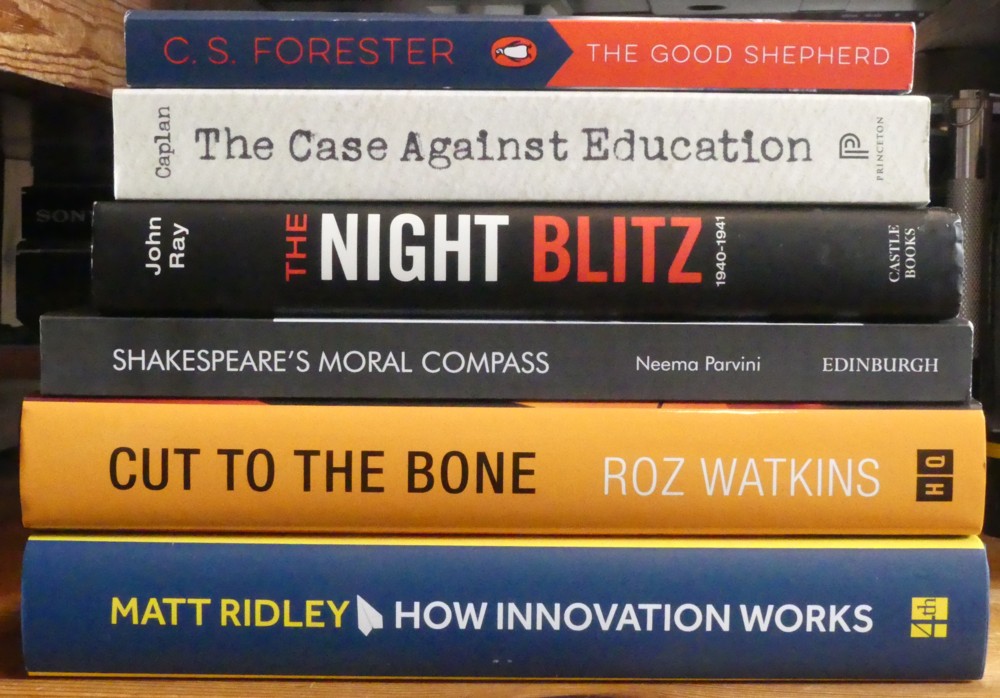 Looking forward to reading this one especially. It has been warmly received.
The C.S. Forester one I never knew existed, until Tom Hanks made a movie based on it. I wonder how it'll compare with The Cruel Sea. Both central figures and commanders in these books had German sounding names, Krause in the Forester, and Ericson in The Cruel Sea, I recall some German trying to make a joke about Ericson's name. Ericson was not amused. I wonder if Krause will be subjected to similar banter. Guess: yes.
The Blitz book is because I've always wanted to know more about that. John Ray's book on the Battle of Britain was a very interesting read, so this one made good sense. And I seem to recall it having been very cheap, what with it having been published a while ago.
Following the chat we had yesterday about France and its various armies, Patrick Crozier and I will be discussing the Industrial Revolution. My core text will be the book on this subject by Steve Davies, but I'd be surprised if Ridley's book on innovation doesn't also get several mentions in our conversation.
The education book is by this guy.
Neema Parvini is someone I've been noticing for a while now. That's because he's a classical liberal and a humanities academic. Such persons must be cherished. Also, I do love Shakespeare.