A few weeks ago, I watched and recorded a Shakespeare documentary series, in one episode of which Jeremy Irons talked about, and talked with others about, the two Henry IV plays. And that got me watching two recorded DVDs that I had already made of these plays, the BBC "Hollow Crown" versions, with Irons as King Henry and Tom Hiddleston as the King's son, Prince Hal. While watching these, I realised how little I really knew these wonderful plays, and how much I was enjoying correcting that a little.
More recently, partly spurred on by what Trevor Nunn in that same documentary series had to say about it, I have been doing the same with The Tempest, this time making use of a DVD that I long ago purchased for next to nothing in a charity shop but had failed ever to watch.
By accident, when this DVD of The Tempest began, there were subtitles to be seen, and I realised that these written lines, far from getting in the way, only added to my enjoyment, so I left them on. And, if subtitles were helping, why not the entire text? Maybe I possess a copy of The Tempest, but if so I could not find it, so instead, I tried the internet, which quickly obliged. My eyesight not being the best, I beefed up the magnification of the text until it was nearly as big as those subtitles. So, I watched, I read subtitles, and I was able to see who was saying what, and what they were about to say. And very gratifying it all was: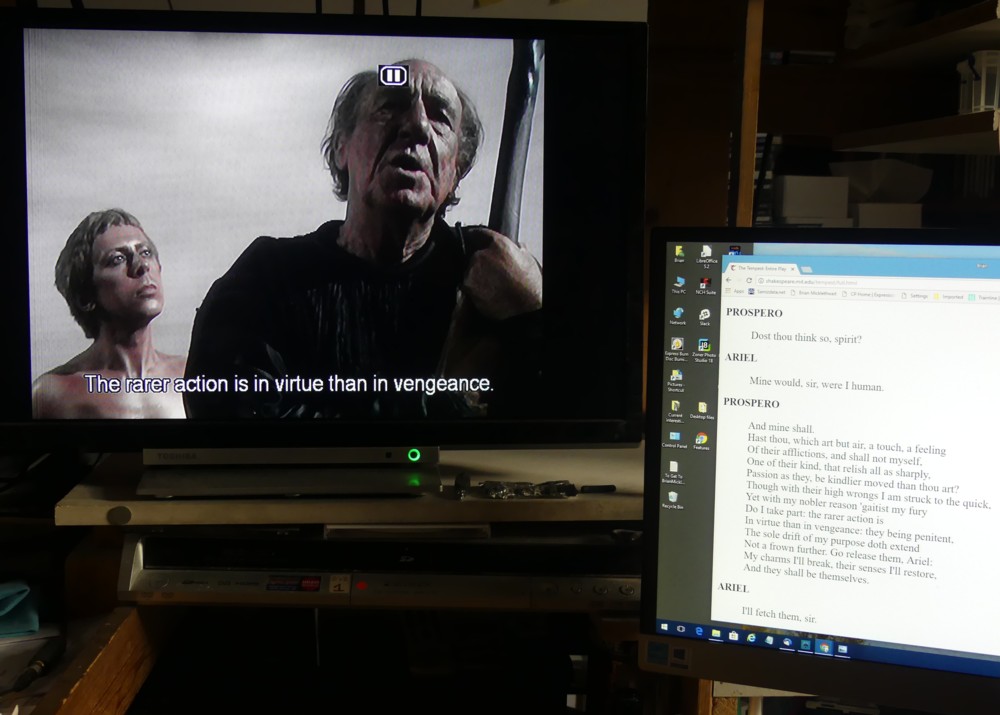 On the telly, on the left, David Dixon as Ariel and, on the right, Michael Hordern as Prospero, both very impressive.
And here, should you be curious, is the text they were enacting at that particular moment, as shown on the right of the above photo, but now blown up and photoshop-cloned into greater legibility: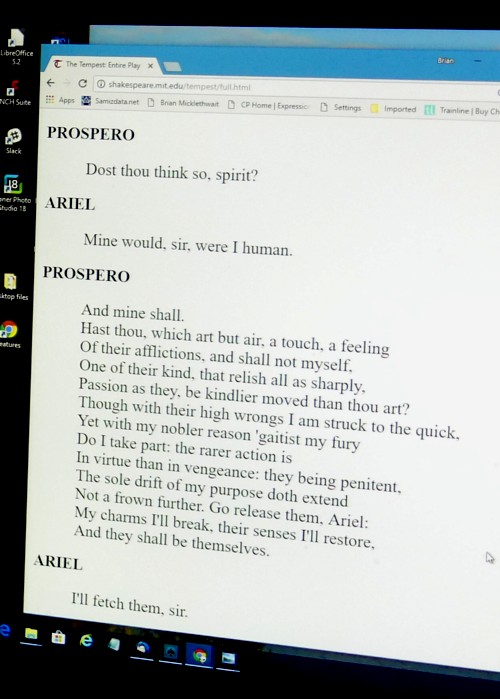 I think the reason I found this redundancy-packed way of watching The Tempest so very satisfying is that with Shakespeare, the mere matter of what is going on is secondary to the far more significant matter of exactly what is being said, this latter often consisting of phrases and sentences which have bounced about in our culture for several centuries. As ever more people have felt the need to recycle these snatches or chunks of verbiage, for their own sake, and because they illuminate so much else that has happened and is happening in the world, so these words have gathered ever more force and charismatic power. As the apocryphal old lady said when leaving a performance of Hamlet: "Lovely. So full of quotations."
The thing is, Shakespeare's characters don't just do the things that they do, and say only what needs to be said to keep the plot rolling along. They seek to find the universal meaning of their experiences, and being theatrical characters, they are able, having found the right words to describe these experiences, to pass on this knowledge to their audiences. This is especially true of Hamlet, because central to Hamlet's character is that he is constantly trying to pin down the meaning of life, in a series of what we would now call tweets, and consequently to be remembered after his death.
Prospero in The Tempest is not quite so desperate to be remembered, any more, we are told, than Shakespeare himself was. In Prospero, as Trevor Nunn explained in his documentary about The Tempest, many hear Shakespeare saying goodbye to his career as a theatrical magician and returning to his provincial life of Middle English normality. But Shakespeare was Shakespeare. He couldn't help creating these supremely eloquent central characters. Even when all they are doing is ordering room service, or in the case of Prospero doing something like passing on his latest instructions to Ariel, they all end up speaking Shakespeare, with words and phrases that beg to be remembered for ever. These famous Shakespeare bits are rather like those favourite bits that we classical music fans all hear in the great works of the Western musical cannon.
So, a way of watching these plays that enables these great word-clusters to hang around for a while is just what you want. (Especially if, like Prospero, you are getting old, and your short-term memory is not what it was.) It also helps being able to press the pause button from time to time, to enable you to savour these moments, to absorb their context, better than you could if just watching the one unpausable performance in front of you. Although I agree, having a pause symbol on the furrowed brow of Prospero, as in my telly-photo above, is not ideal.
I am now browsing through my Shakespeare DVD collection, wondering which one to wallow in next.