And they look like a typical London aesthetic cludge, so I guess they'll fit right in.
Yesterday evening, I did a posting here which collided cricket (some recent and not so recent dramas) with architecture (how the middle of London was looking not so recently). The abrupt change of subject was signalled, as often here, by the word "LATER", the photo of central London's Big Things having been an afterthought of dubious relevance to what had preceded it. The only connection was that the two photos in the posting were both photoed on the same day, exactly ten years ago yesterday.
But this posting combines cricket with architecture by being about cricket architecture. Cricket has lots of architecture of its own and is constantly adding to it.
To set the scene, below is a photo I took last autumn.
Me and my Surrey cricket mate Darren went to a very boring game at the Oval on September 23rd of last year. But we had other plans beside watching the mere cricket. We began by creeping up, unnoticed, to the top of the big new stand that faces the Pavilion, at the other end of the ground. I got to take lots of photos, of the stand and from the stand, before someone came up and told us to leave. You can see a few of the photos I took that day in this earlier posting. Those photos were architectural in that they showed lots of the surrounding London architectural scene that you can see from the top of that new stand. But here is another architectural photo I photoed that day, from that same stand, showing how things were then looking in the vicinity of the Pavilion opposite: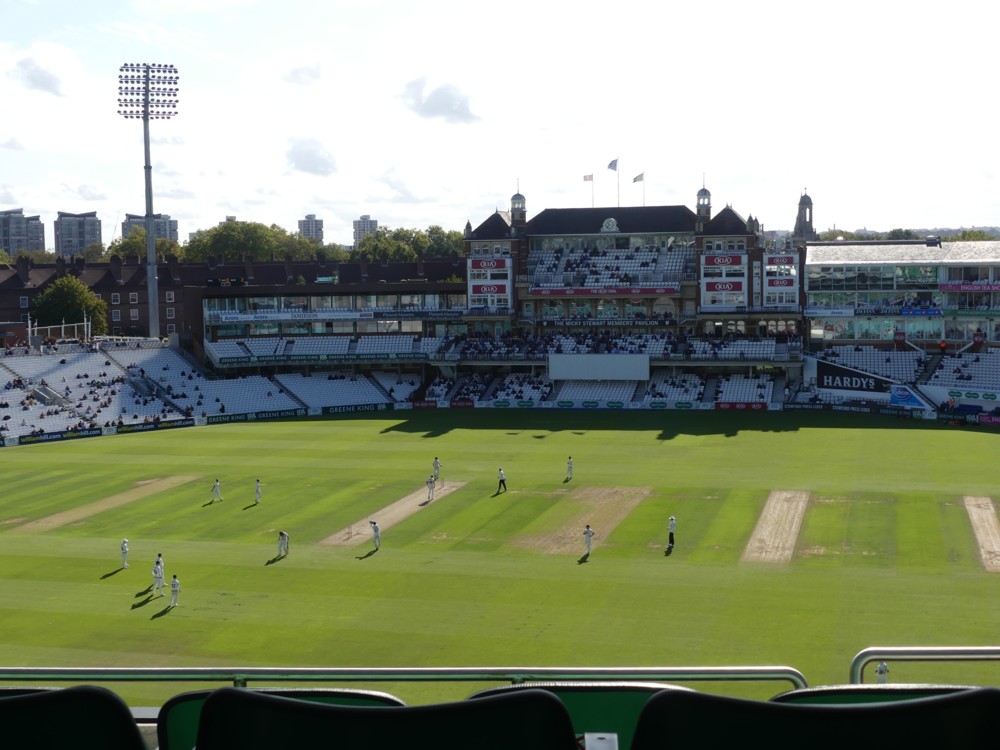 The lighting is not good in that, but you get the idea.
Anyway, the reason I mention that expedition and the above photo is that this morning, the Surrey CCC Twitter feed featured this photo: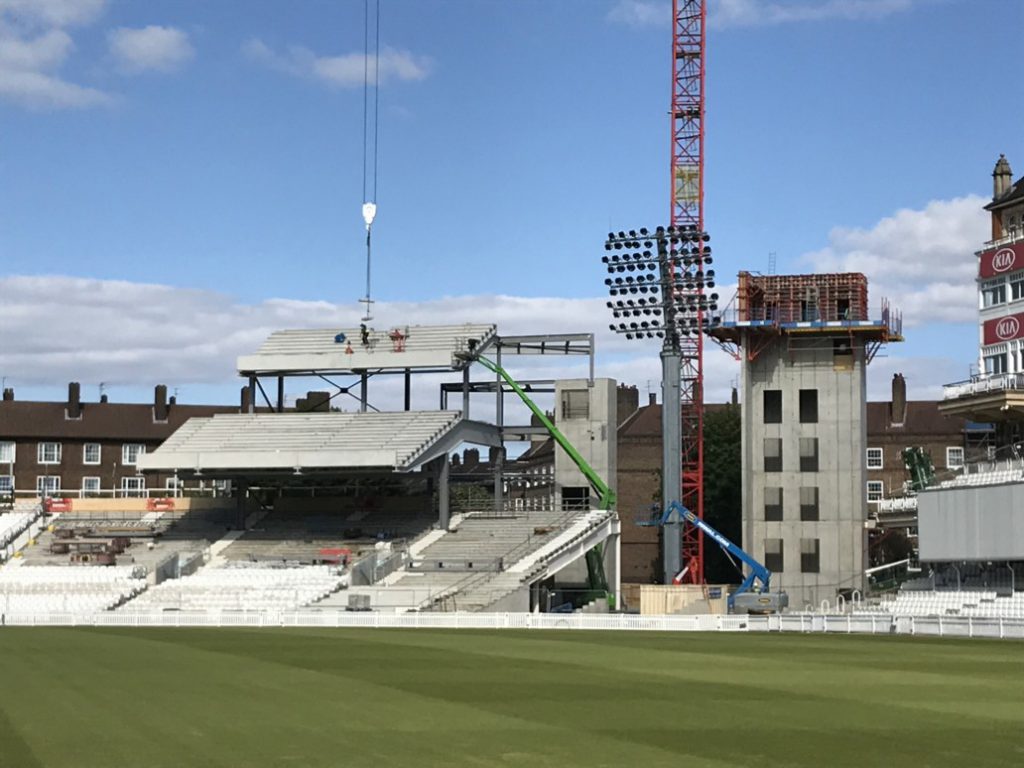 They're adding a new stand and a new clutch of indoor spaces next to the Pavilion. The Pavilion being as fine an example as you could hope to see in London of Ancientism, that is to say ancient in atmosphere even when first built.
What they are now doing will end up looking approximately thus: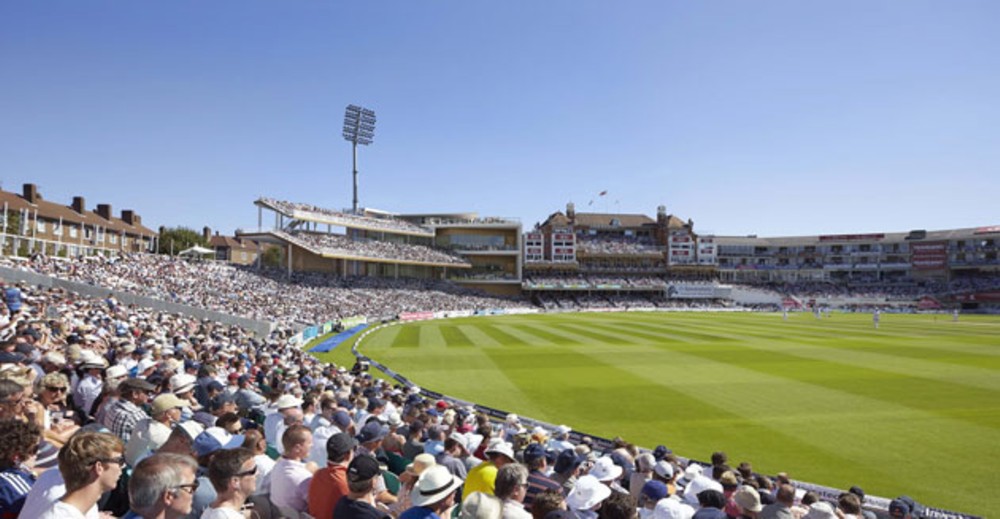 As always, because it's London, I'll probably get entirely used to it and end up liking it, but as of now I think that's hideous, an absolute textbook example of how not to add modern architecture to ancient or Ancientist architecture.
What a shame they couldn't get the money together to have started doing this, which was the plan in 2017: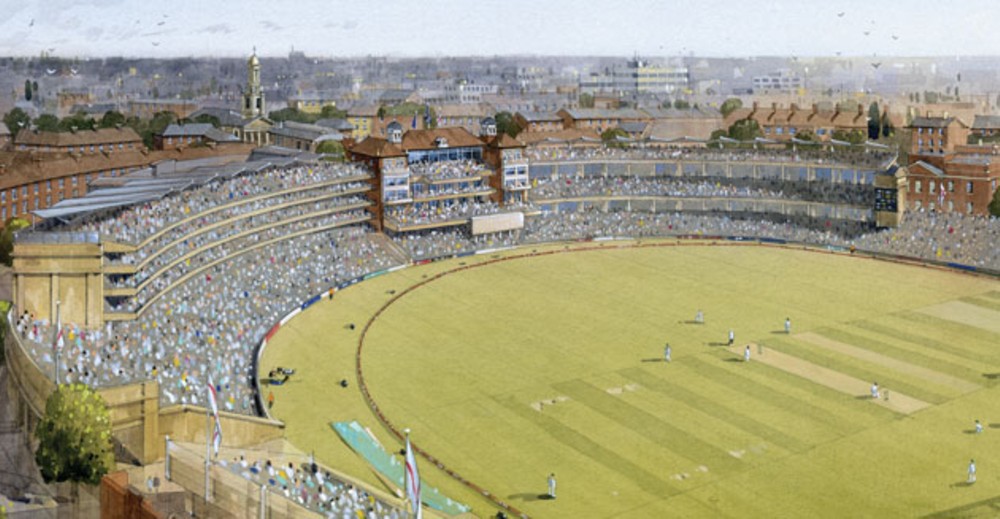 One more marvel that never was to add to London's copious collection of such dreams.
However things turn out, and you never really know how they'll turn out until they finish it and let you see it for real, one thing's for sure, which is that this view, from the summer of 2015, …: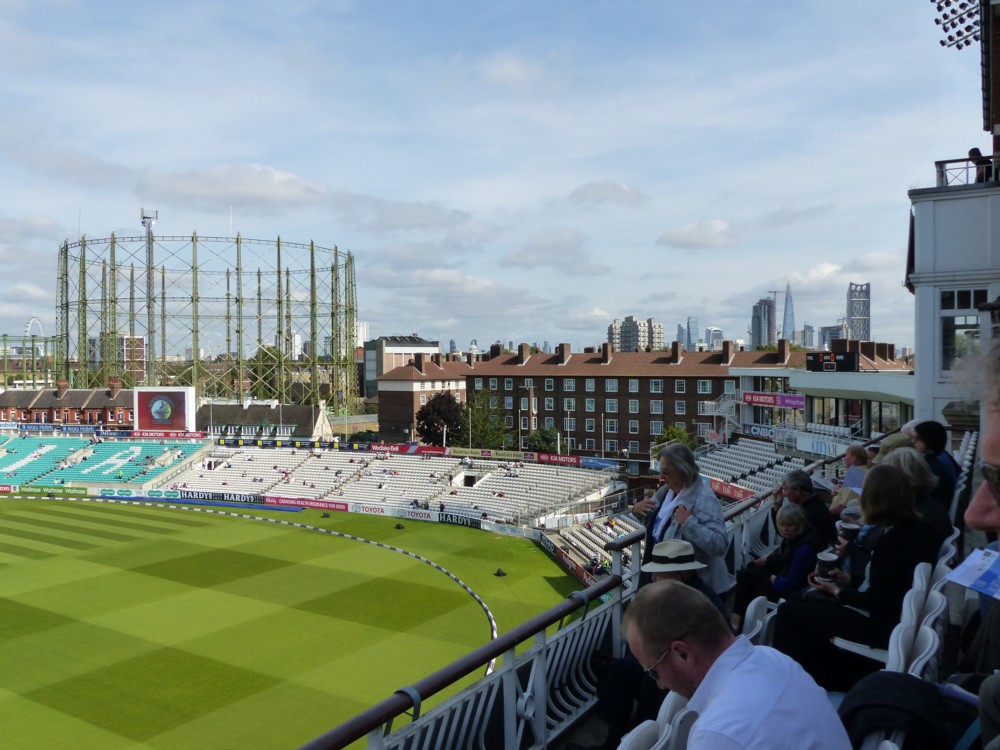 …, which I used to enjoy photoing whenever Darren took me up to the top tier of the Pavilion, is now a thing of the past.
WIll a similar view be photoable from the new stand, and if so, will random people like me be allowed actually to photo it? Fingers crossed. In other words, the opposite of what you do with your fingers when actually photoing.