Google sends me emails about "new london architecture". As you can imagine, there's not a lot of news of this sort just now. But today, I received a link to a report about this, or maybe that's these: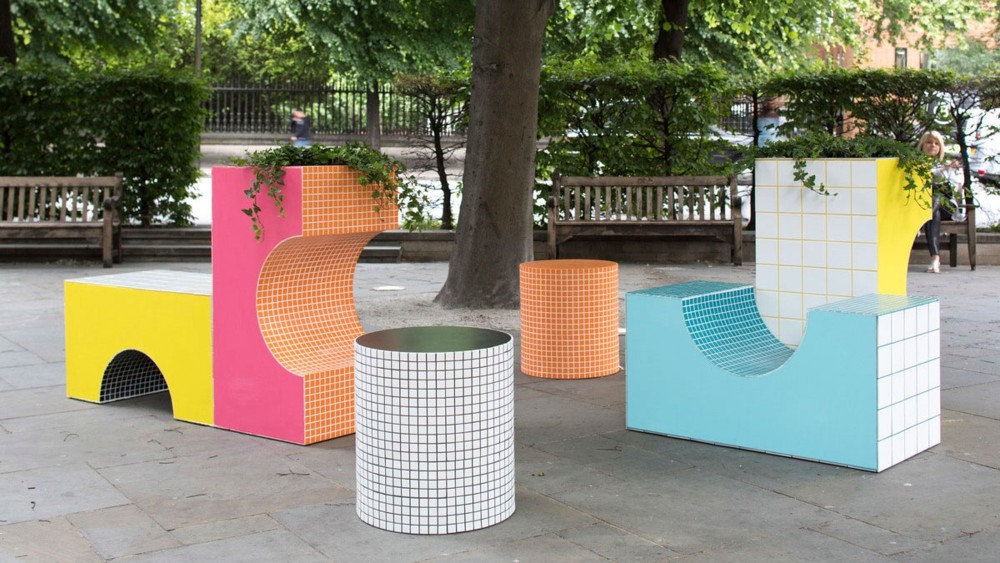 I smelled a young designer trying to get noticed, and I was not wrong. The thing is, the email said something about "colourful city benches", and that intrigued me in all sorts of ways. I like public sculpture, especially if you can sit on it. I am interested in how designers are doing a lot of colour these days. And before the link even materialised, I placed a mental bet along the lines described in the first sentence of this paragraph.
Sure enough, Irene Astrain is indeed young. Well, thirties, which is young by architect standards. She only got started with her own enterprise in 2016.
(Starchitects often have to be seventy before they get to be starchitects. (Which was why Zaha Hadid's recent death in her mere sixties was such a shock. (She should have had another thirty years of shape shifting ahead of her.)))
But back to these benches. What they say to me is that here's a young architect, doing the old attract-maximum-attention-with-whatever-piddling-little-job-they'll-let-me-do trick, and making two very strong statements. One: Modernism ain't going anywhere. Two: but it is going to get much more colourful.
Time was when black and white, and what you get when you mix black and white (grey), were the most modern colours there were (I strongly recommend that link), and photography could also only do black-and-white. And for that mid-twentieth century generation of architects, colour was vulgar and trashy, even Victorian, the Victorian era having been, architecturally speaking, a very colourful and garish time. So, for the Modernists, coloured architecture was the superimposition of mere surface effect. Colour did not ooze out of the inner essence of whatever it was, the way Modernist shapes did, or were claimed to. So, black-and-white architecture was de rigueur and colour was an abomination.
(Interestingly, Le Corbusier deviated from this norm. More recently, Renzo Piano is now very old, but has still done some very colourful buildings, right here in London.)
And now, black-and-white-only is itself what a bygone era looked like. Colour is now done a lot better, in cities that are getting a lot less polluted than they used to be. Colour photography is something everyone can now do and now wants to do.
There's more blog postings to be done about why Modernism ain't going anywhere, and it damn well ain't whatever you maybe might wish. But those will have to wait. Meanwhile, I promise nothing.
There are also lots of blog postings to be done, or discovered having been done by others, about how modernism is caused by, among other things, the fondness that adults have for the kind of things they played with when very young, and when very small compared to these things.