My excuse for inviting myself to visit Rob and his family last Sunday was to check out the toy trains I'd given to them. For years, I had been keeping this stash of toy trains. So, when I heard that Rob and his family were acquiring their own train layout, and that it was starting to be constructed in their loft, I thought: maybe they'd like them. They did, and they now do. The ancient little tank engine that was included in this clutch is now very "analog", while the new way to control trains is all "digital", but apparently the analog train responds to the more primitive commands issued by the digital controller, with sufficient enthusiasm to remain welcome in its new home.
I hate just chucking stuff like that into the bin. I'm so glad these trains have a new home, where they will be loved and properly looked after.
And of course, when there on Sunday, I had to take photos. Not, alas, in the attic. A bit hard to get to. But at least in new surroundings: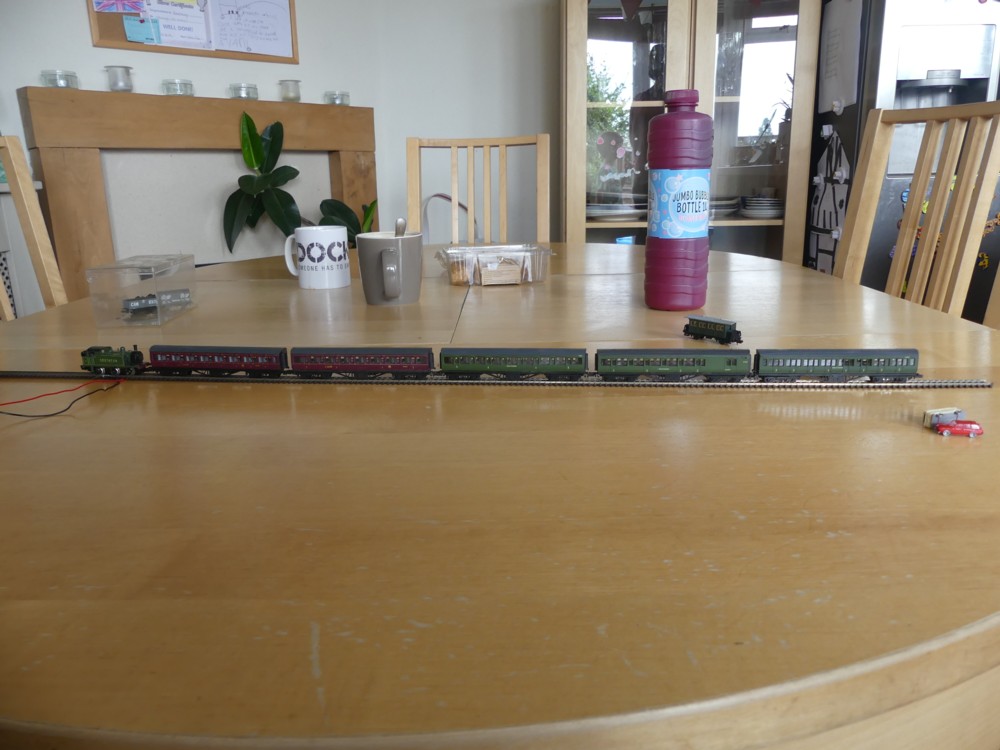 As on the old blog, I want here to be able to do a blog posting where the above photo, the original, can be clicked to from a horizontal slice, of this sort:

Here at the new blog, this took a bit of contriving. But it got done, as you can tell if you click on the above slice.
Blog and learn. About everything, but in particular about how your blog works.