The word "unbelievable" is being used a lot, as I listen to them talking about this game, but I believe it. I mean, why would the BBC lie about such a thing?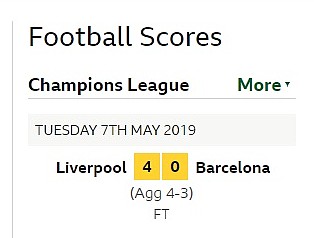 That's it. That's the souvenir I wanted to have here. Match report here:
Roared on relentlessly by their fans, the Reds produced an incredible all-action display to claw back and then ultimately overturn their 3-0 deficit from the Nou Camp with an unanswered four-goal salvo in thrilling style.
I suppose "incredible" makes a change from "unbelievable".
Tomorrow, Spurs need to beat Ajax, also against the odds, which as of now is unbelievable, but which nevertheless could happen. Then, Arsenal and Chelsea need to beat whoever they are each half way to beating in the other Euro-thingy, and it's a full house for the UK. All four finalists British. That would be … unbelievable.
LATER: Just after 11pm, I googled "Liverpool 4 Barcelona 0" and got 289,000,000 results. Unbelievable.
And hello, what's this? Google says that the Telegraph has this story:
Liverpool pull off incredible comeback against Barcelona to book place in Champions League final
But, in the actual headline, they changed "incredible" to "epic". Why? Did some sub-editor have the same thought as I did? I mean, why would you put the word "incredible" in a headline about something you want people to believe did happen?