The Park Tower Knightsbridge Hotel is what Wikipedia calls it. Sheraton now calls it the Sheraton Park Hotel. Whatever we call it, this is one of my favourite London buildings from the concrete monstrosity era, partly because nobody who worries about being aesthetically elevated likes the work of its architect Richard Seifert. Such people also do not like One Kemble Street, or Centre Point, also by Seifert, either. Too commercial. Too brash. Too assertive. Too symmetrical. Starchitecture before Starchitecture became chic, and not chic enough.
All the photos you see on the internet of this Park Hotel tend to look like this …: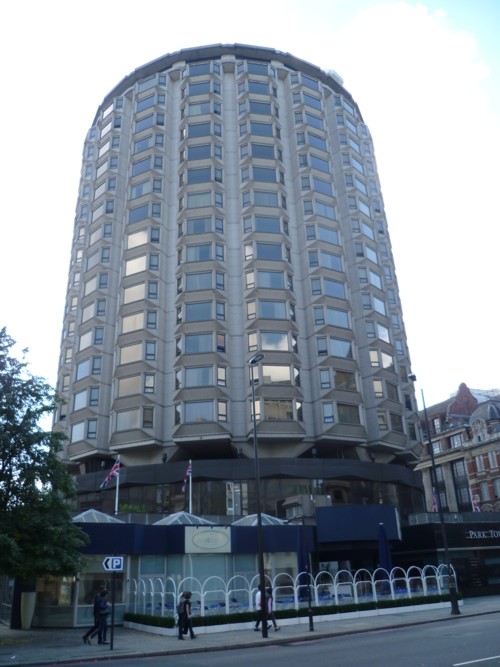 … i.e. photoed from nearby, so that you can't see the magnificence of the Roof Clutter on the top.
So now I will correct this regrettable imbalance, by inserting these views of the Park Hotel photoed by me last Friday from way off in the middle of Hyde Park, into the vast ocean of internet imagery, in the hope that public attention will be drawn to this wonderful and spontaneous assemblage of roof sculpture:
I especially like that last one. Trees, mist, and then Park Hotel, in soft focus. Or, out of focus, as we digital snappers say.
Norman castles were evil stone monstrosities when first inflicted upon this green and pleasant land. But as that style retreated, they turned into picturesque ruins. The Concrete Monstrosity style is already in headlong retreat, and I like it more and more.
Memo to self: check out this car park, before they destroy it, which they have now decided that they will.