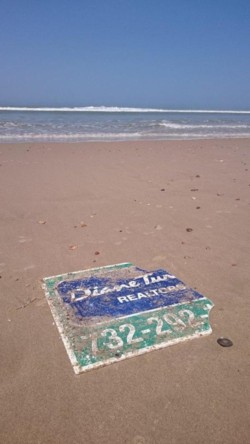 I find signs to be an endless source of fun and revelation, and I frequently photo them. So I was much entertained by this New York Times story, about a sign that went wandering. Across the Atlantic Ocean.
Hurricane Sandy grabbed this sign from the town of Brielle, on the eastern coast of the USA, in October 2012. But, on or around May 14th 2018:
A man walking along the Plage du Pin Sec, near Bordeaux, spotted it. The faded sign was missing a chunk, but he could still read the legend "Diane Turton Realtors 732-292-1400."

"It was curious," the man, Hannes Frank, 64, a semiretired software consultant who lives in Brussels, said by phone on Thursday. "I looked at it and found it quaint."
And he got in touch with the enterprise advertised on the sign. By their nature, signs can be very informative.
The NYT says that its preferred expert on flotsametrics reckons that, given how long this sign took to make its way to France, it may well have crossed the Atlantic not once, but three times.
Flotsametrics is the study of things that float. Now that the Lefties – like the Lefties who own, run and write for the NYT – are giving up on the claim that capitalism is ruining the planet by ruining the weather, they are back to bitching about how capitalism squirts out lots of rubbish, and they have become particular obsessed with rubbish that hangs about in the sea, especially if it floats. So this story is actually part of The Narrative, even though it is presumably also a genuine and a genuinely good story.
Once the capitalists work out how to transform all the world's rubbish into – oh, I don't know – something like gunk for 3D printers to turn into replacement body parts, the lefties will have to think of some other insult to throw at capitalism. But for now, this rubbish thing is getting back to being their biggest complaint. Again.
But just clearing the rubbish up is no good. Oh no. The rubbish must be stopped at source by stamping out capitalism, starting with plastic drinking straws. The actual source of this oceanic rubbish is mostly rivers in poor countries. But that's a mere fact. The Narrative is what matters.
This has been a spontaneous rant, which is why I am keeping it here, rather than switching it to there.