A tweet reminded me about this wonderful rant from Louis CK: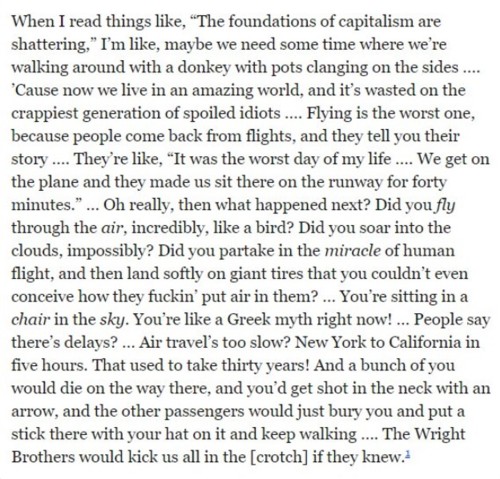 That's the version of it, with dots inserted by him, that Steven Pinker quotes in his new book about the Enlightenment.
Pinker is concerned to explain why increasing affluence doesn't seem to make everyone ecstatically happy. Deidre McCloskey, in her Bourgeois trilogy, is fond of talking about how the Great Enrichment has made regular people as of now nearly three thousand percent richer. So, why aren't we three thousand percent happier? Because we don't seem to be.
Lots of reasons. First, you are happy not according to your absolute level of affluence, but rather according to how affluent you get to be and how meaningful your life gets to be compared to what you were expecting, and compared to how well everyone else seems to be doing, because that tells you how well you could reasonably have expected to do yourself. You may well have been raised to expect quite a lot. Second, although technology hurtles along, for most this hurtling is both pleasing and rather unsettling, the less of the former and the more of the latter as time goes by. We don't experience, in our one little life, how much better things like Twitter are than is looking after cows, out of doors, all year round, with not enough food or heating. What we experience, as we get older, is how confusing things like Twitter are, or alternatively, if we ignore something like Twitter, how demoralising it is that it has defeated us and denied us its benefits. Or how tedious air travel is, compared to what we'd hoped for rather than compared to a horse drawn wagon in a desert. Yes, I live three thousand percent better than that wretched cowherd three hundred years ago, and if a time machine took away my life and gave me his life, I'd be three thousand percent more miserable. But that's not the same as me being three thousand percent happier than he was. Happier, yes, definitely. But not by that much.
It's because we don't feel that much happier that Louis CK has to rant, to remind us of how lucky we are. And that Steven Pinker has to write his book, to make the same point.
But what if progress continues to hurtle forwards? What if someone reads this posting, centuries from now, and he says: Good grief, those Twenty First Centurions were very easily satisfied. Five hours to get from New York to California?
It must have been hell.