Indeed: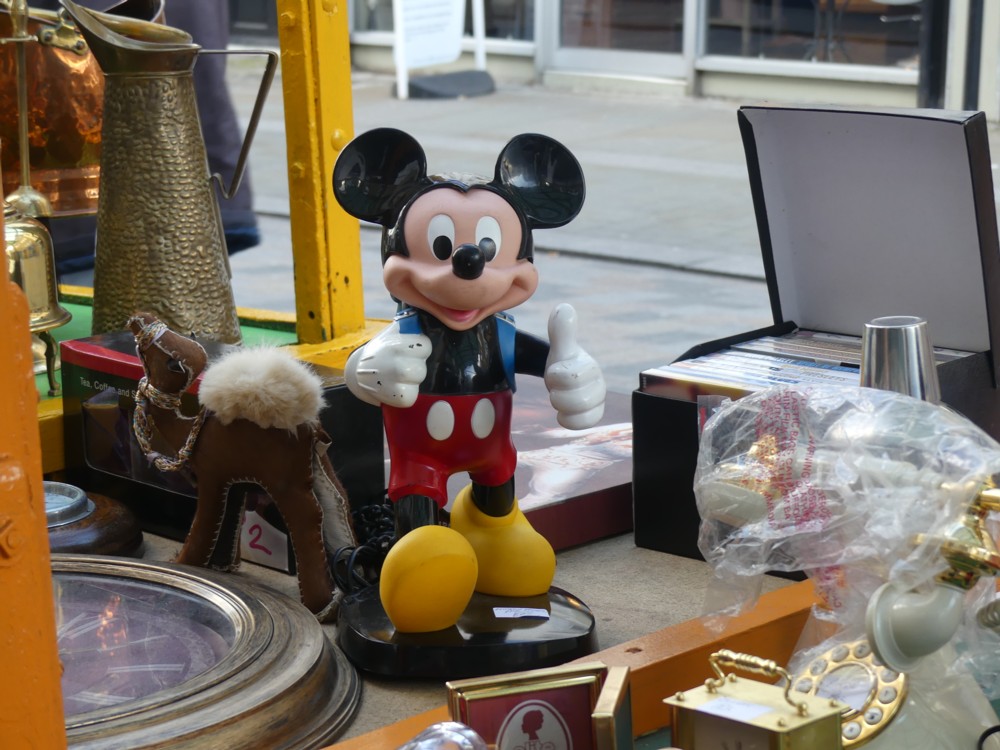 At the time I took that photo, in Lower Marsh, I was with someone else, and just grabbed the shot before moving on at once. But I reckon it came out really well.
Wikipedia tells us of Mickey Mouse's compiucated origin. He was a replacement for a rabbit, and before a mouse was arrived at, it seems that many other animals were considered:
Mickey Mouse was created as a replacement for Oswald the Lucky Rabbit, an earlier cartoon character created by the Disney studio for Charles Mintz, a film producer who distributed product through Universal Studios. In the spring of 1928, with the series going strong, Disney asked Mintz for an increase in the budget. But Mintz instead demanded that Walt take a 20 percent budget cut, and as leverage, he reminded Disney that Universal owned the character, and revealed that he had already signed most of Disney's current employees to his new contract. Angrily, Disney refused the deal and returned to produce the final Oswald cartoons he contractually owed Mintz. Disney was dismayed at the betrayal by his staff but determined to restart from scratch. The new Disney Studio initially consisted of animator Ub Iwerks and a loyal apprentice artist, Les Clark, who together with Wilfred Jackson were among the few who remained loyal to Walt. One lesson Disney learned from the experience was to thereafter always make sure that he owned all rights to the characters produced by his company.

In the spring of 1928, Disney asked Ub Iwerks to start drawing up new character ideas. Iwerks tried sketches of various animals, such as dogs and cats, but none of these appealed to Disney. A female cow and male horse were also rejected. They would later turn up as Clarabelle Cow and Horace Horsecollar. A male frog was also rejected. It would later show up in Iwerks' own Flip the Frog series. Walt Disney got the inspiration for Mickey Mouse from a tame mouse at his desk at Laugh-O-Gram Studio in Kansas City, Missouri. In 1925, Hugh Harman drew some sketches of mice around a photograph of Walt Disney. These inspired Ub Iwerks to create a new mouse character for Disney. "Mortimer Mouse" had been Disney's original name for the character before his wife, Lillian, convinced him to change it, and ultimately Mickey Mouse came to be.
Those two paragraphs are, at Wikipedia, crammed with links. Follow the link above and scroll down to where it says "Origin", if you want to follow any of these links.
I will, however, honour the amazingly named Ub Iwerks with a link from here. I wonder how he was pronounced. His dad was from Germany, and I think I know how they'd have said the name there. But, Ub (!?!) was born in Kansas. When it came to Amercans pronouncing foreign names, all bets were off. My guess is there were lots of Germans where the Iwerks family grew up, and thus it was not felt necessary to do any name changing.
Blog and learn.