My journey to St Albans yesterday began rather inauspiciously. I was changing at St Pancras International, and I had hoped that I might get the chance to view the International bit, with its wide open spaces, Eurostar trains and its mighty roof. But all I did was follow the signs to "Platform B", and that weary plod might has well have been at Green Park or Oxford Circus, for all the wide-open-spaced drama there was to be seen. And then when I was on the train, the scene outside was grim, grey and wet.
But then, I noticed the seats. The surprising thing about these was that instead of resting on the floor of the carriage, they were attached to the walls of the carriage, leaving the floor entirely unencumbered. They hovered over that floor with very little visible means of support: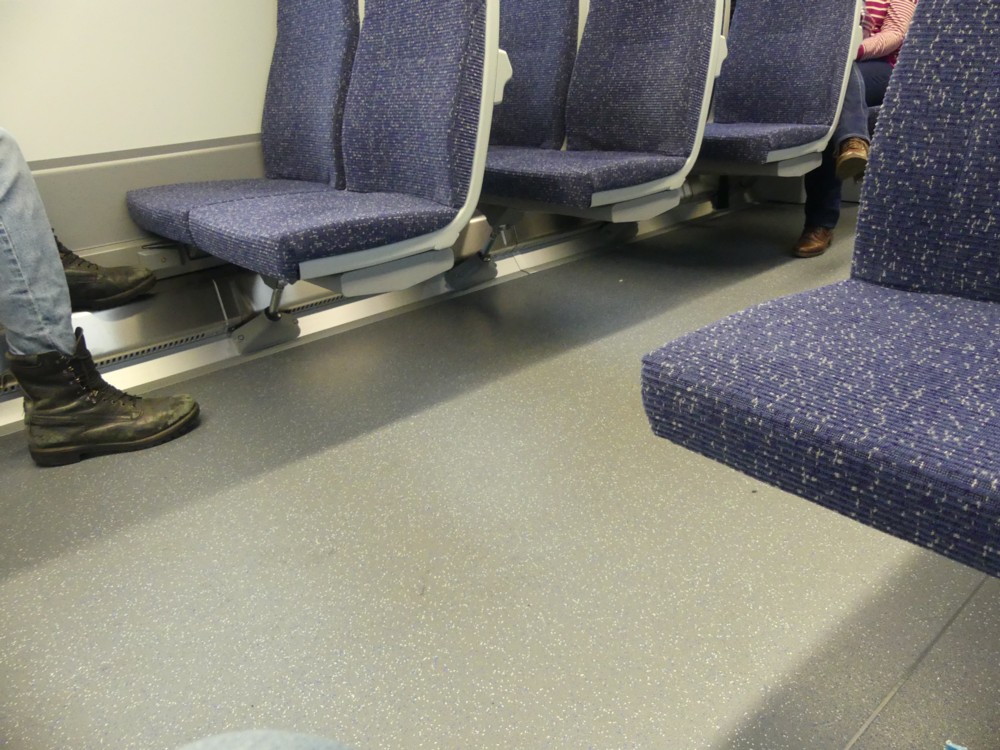 Here are two closer-ups, showing the diagonal compression member that was doing all the worke:
It looked crazy, but it felt as solid as a rock. Solider in fact, when you consider the state of a lot of rocks you encounter on your travels.
What I think I see here is not so much a design for a railway carriage, as a design of a system for making railway carriages, just the way you want them. And for changing them, if you suddenly decide you want them to be different. If you wanted to redo the seating on these carriages, all you would do is undo the linear compartment at the point where the wall of the carriage nears the floor of the carriage, and make whatever changes you want. Different seats, differently spaced, whatever. The floor is untouched. If you want to change the surface of the floor, easy. When it comes to cleaning the floor, also easy.
I have a nostalgic fondness for the railway carriages of my youth, with their absurdly thick, manually operated doors, that you had to slam shut, and which all had to be shut before the train could depart. But whereas I genuinely like old cars, I cannot really mourn those old carriages. These new ones are just so much better. For starters, they are wider on the inside by about two feet, because the walls are so much thinner and because these walls curve outwards.
I also like how the latest carriages join together in a way that allows people to walk continuously through, thereby easing congestion at busy times. Here's a rather good photo from Wikipedia which shows that. According to Wikipedia there have been complaints about there being too little leg room between the seats, and no miniature fold-down tables.
They have their reasons for imposing such discomforts. Basically, they want to enable the maximum number of commuters to be able to travel in okay comfort, rather than allow a lesser number of commuters to travel in greater comfort. Which makes sense.
My point is different. My point is that if it is later decided, perhaps in response to such grumbles, to switch to having slightly more generously spaced seats, with little fold-down tables, this would be a relatively easy operation to unleash. Newly introduced carriages could be differently configured with great ease, without needing a totally new design.
There is much to complain about in the modern world, but stuff like this just gets cleverer and cleverer.