One of the depressing things about the Internet is that excellent places, because not quite excellent enough, or because for a few months they don't feel quite excellent enough, fall off your radar. Well, maybe not yours, but mine.
So it has been, for me, from a time way back when to about the day before yesterday, with the excellent and constantly updated site which relentlessly explains that This Is Why I'm Broke, this being a succession of things. Rather expensive and somewhat esoteric things, of the sort which someone, maybe you, is going to like a lot.
Things like this: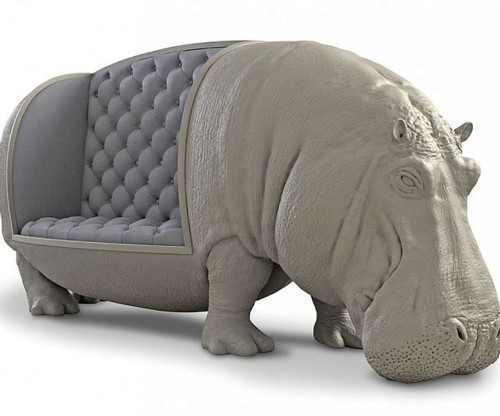 I have recently acquired a new Cleaning Lady, and her partner happens to like hippos a lot. This is just the kind of thing that he would love. And for a mere £82, 555 it could be his.
It wouldn't suit me. Quite aside from the thermo-nuclear expense, when I purchase seating I need it to seat the maximum number of people in comfort that it can, in the space that it occupies. This is for my meetings, of which there was another this evening. This hippo sofa is altogether too much hippo and not nearly enough sofa, for my purposes.
And I'm guessing that even Cleaning Lady's Partner would hesitate at the price, and be told by Cleaning Lady that it would occupy too much space. They being a couple who think that emptiness is a desirable quality in living space. (I like emptiness, but like even more having somewhere to put all my books and CDs and home-recorded DVDs.)
I must have been quite a blow for Cleaning Lady's Partner when (a) he first set eyes on the above hippo sofa (he will definitely have set eyes on it, because his hippo radar is state-of-the-art) but then (b) having, reluctantly, to decide that, hugely appealing though it obviously is, he could not, in all conscience, purchase it.
But the good news is that I recently encountered, in a local charity shop, and immediately did purchase, the hippo shown below: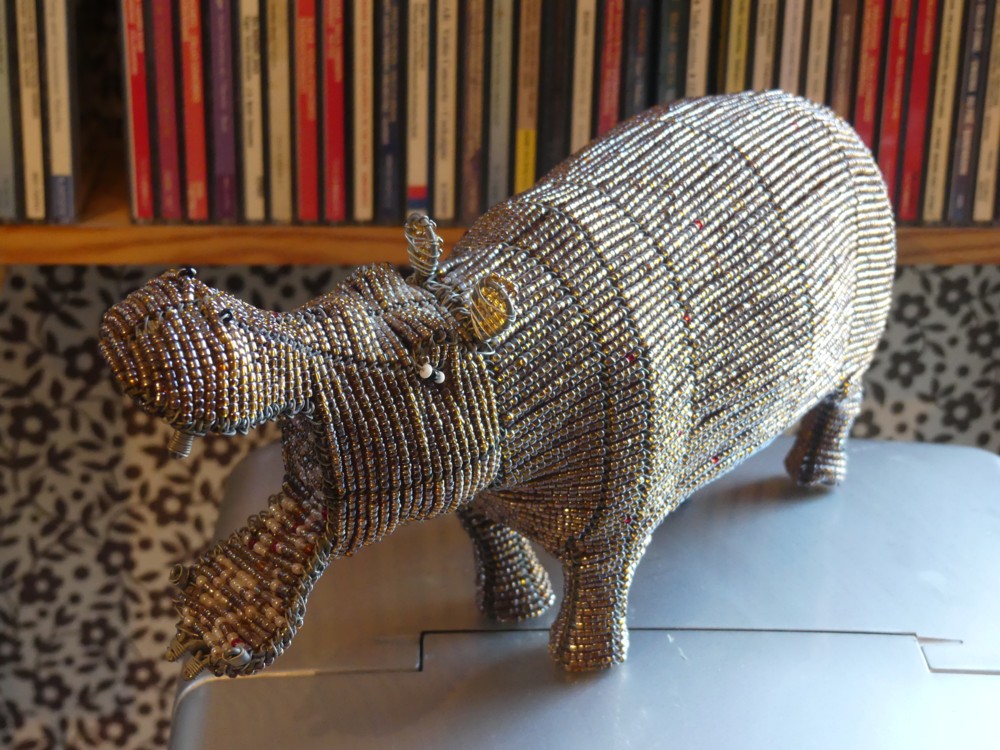 You couldn't sit on this hippo, and frankly, it looks considerably less like a hippo than the hippo sofa does, despite its sofa. But it is a lot smaller and it was a lot less expensive than the hippo sofa.
Following the meeting, Cleaning Lady seems to have departed with the hippo, or I hope she did because I cannot now find it. Hope Partner likes it.
I love digital photoing. For many reasons, only one of which is that when you give someone an amusing present, you can photo it before handing it over, and carry on enjoying it in a convenient, digital form. I took many more photos of the hippo than just that one, but I am now in a hurry to finish this, so one photo will have to do.