Today Michael Jennings, the creator and still technical curator of this blog, who was in my area for the first time in quite a while, called round and we went out and had drinks. In a Pimlico pub. Indoors. Unmuzzled. With quite a few other people also present. This being the first time that either of us had done this with anyone for … quite a while: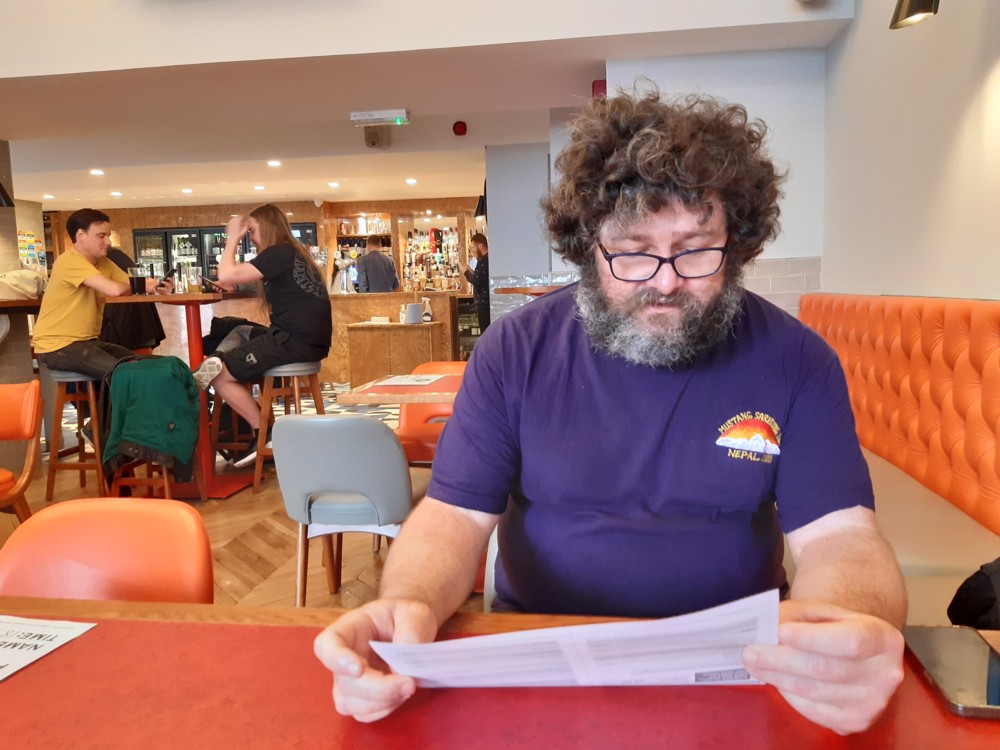 I photoed him and his Lockdown hair, and he told me more about how photography on mobiles is developing. He has an iPhone, which you can just see bottom right of that picture. My mobile only has one camera two cameras (see comments 1 and 3), but Michael's iPhone has three, thus making variable and quite impressive zoom possible.
Michael speculated that it may not be long before the whole of the back of his next iPhone but three with be covered in cameras, like: well over a dozen.
The limiting factor on this sort of multi-camera is not the cameras themselves. The problem is processing power. Making sense of the output of such a large camera array will take a lot of that, and also lots of ultra-clever software as yet still being contrived.
And there we have the ongoing story of digital photography, better explained than I have ever heard it before. All that processing power attached to an old-school camera would presumably triple its price. But mobiles already have all that processing power, or soon will, so it makes sense for your camera to be part of your personal pocket Kray computer, that you use for all your other mobile computerising.
Several years ago, the big Japanese enterprises who decide these things decided that they would spend no more money making regular dedicated cameras better, which is why these things haven't changed in the last half decade. They decided to throw all their photography money at mobile phone cameras.
What I had not realised was how very, very good the mobile phone "camera" (quotes because it will really be cameras plural) is going to be, and how inexorably it will go on improving. 3D images? Oh yes, said Michael. The processing power applied to these camera arrays will make imagery possible of a sort that no single dedicated camera, no matter how complicated and costly, could possibly now contrive.
Which means: that old school cameras, even of the most sophisticated sort, will ever so slowly but ever so surely fade into the history books. And actually, do so really rather soon. In historical time, in the blink of … a camera.
Which further means that the best of all those photoer photos that I've been photoing for the last two decades will just keep getting better and better, like old wine. Plenty of other people have photoed such photos, but I know of nobody else apart from me who has made a point of doing this on such an industrial scale.
Here are thirty such photos I photoed in July 2006 and which I displayed here last January. There are plenty more where they came from.
This entertaining photoer habit, on the other hand, looks like it will be with us for a while.