Today I watched the FA Cup Final on television, in which Leicester City defeated Chelsea by the momentous margin of one-nil. The one was good, though.
But the reason I watched it was because it had a whiff of more than football about it, because there were, for the first time in ages at a football match, twenty thousand odd people actually in Wembley Stadium, watching it and of course shouting: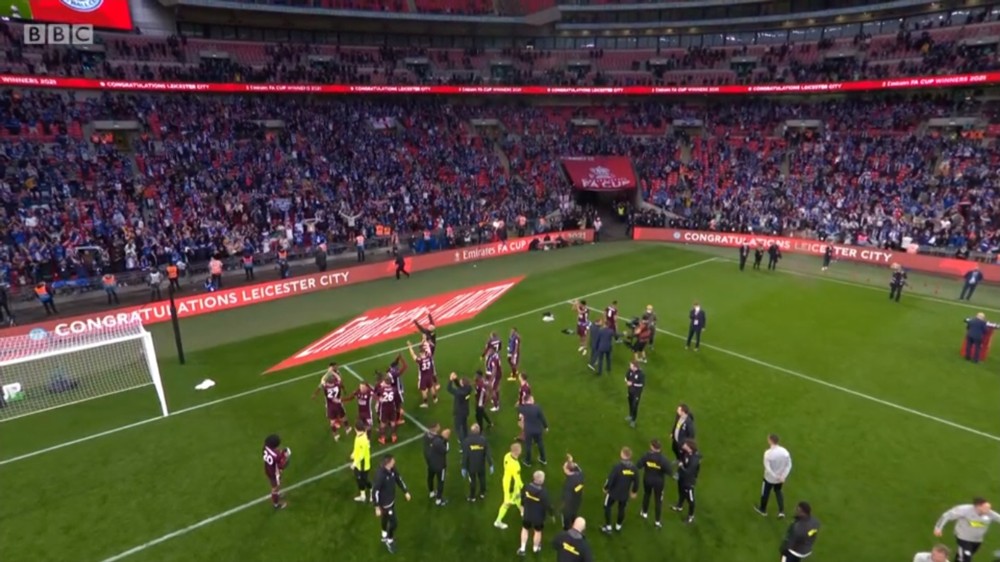 The victorious Leicester players there, in confusing brown, acknowledge the cheers of their fans, in confusing blue. Confusing, because the Chelsea players wore blue.
The commentators keep trying to persuade themselves that the FA Cup is what it was, when, for reasons to do with European qualification, it is not what it was. There used to be a European Cup Winners Cup, which you could only be in if you won your local Cup. Not any more. Now, you can be in the Consolation European League just by coming fifth or third or whatever in your local league. The FA Cup has accordingly lost its unique place in English life, and the commentators bang on more and more about its glorious past, which is a sure sign that its present is less glorious.
I seem to remember one year when Liverpool or Man U, or some such club ducked out of it, to play in some game in South America which they reckoned counted for more. "The Cup" was never the same after that.
Nevertheless, this one was a little bit special.