Sport has filled the gap in society left by major wars between great powers. In general, as the world gets more peaceful, so too does it get more sports mad.
Earlier this year, a fascinating sporting experiment was conducted. In order to stop The Plague spreading, they stopped Big Sport dead. And all hell broke loose. Politics and political demonstrating, the nearest thing to actual war when there is no war, went berserk. Remember when some guy in American got killed by the US cops, and there were demos all over the world about it? I was out and about in London a few times during all that, and I bumped into all sorts of weird looking characters who ought to have been screaming dementedly at football matches, not wandering about in London, picking fights with total strangers like me. The world's governments learned their lesson. Screwing with people's weddings and funerals and Christmas get-togethers is fine. But Big Sport has been bribed and begged to keep going. And as if by magic, the idiot demos have stopped. Poof! All gone. And because of Sport now being allowed, they've stayed gone. A big old dog that was barking like hell is now silent. Only freaks with opinions about such things like me are even noticing all this.
So, sport as a whole, very significant. Significant in the same kinds of ways that the Roman Amphitheatres were an important part of the Rome story. Or in the way that things like tourism, pop music, and now social media, are other big parts of the story of the world now.
But the actual results of particular sporting events don't really bother me that much. I like it that the team I favour is currently top of the Premier League. But if Spurs were seventh or eleventh or even seventeenth, I could live with that. I'd just pay attention to something else. I am not, in short, a Real Football Fan.
But favourite-blogger-of-mine 6k is a Real Football Fan and I really feel for him when things aren't going his way. And boy, are they, now, not going his way. This time last year, Spurs and Sheffield United were leapfrogging one another towards the top of the Premier League. Now? Well put it this way, one of the more interesting stats you can seek out at any particular Premier League moment is what and where the biggest gap is. Remember when the gap between Man City and Liverpool at the top, and all the rest, was something like twenty points, the biggest gap by far? I do, although I don't recall exactly when this was because I'm not a Real Football Fan. So, what and where is the biggest gap in the Premier League now? Answer: 5 points. And: It is between the bottom team and the second to bottom team. And Sheffield United are, that's right, bottom.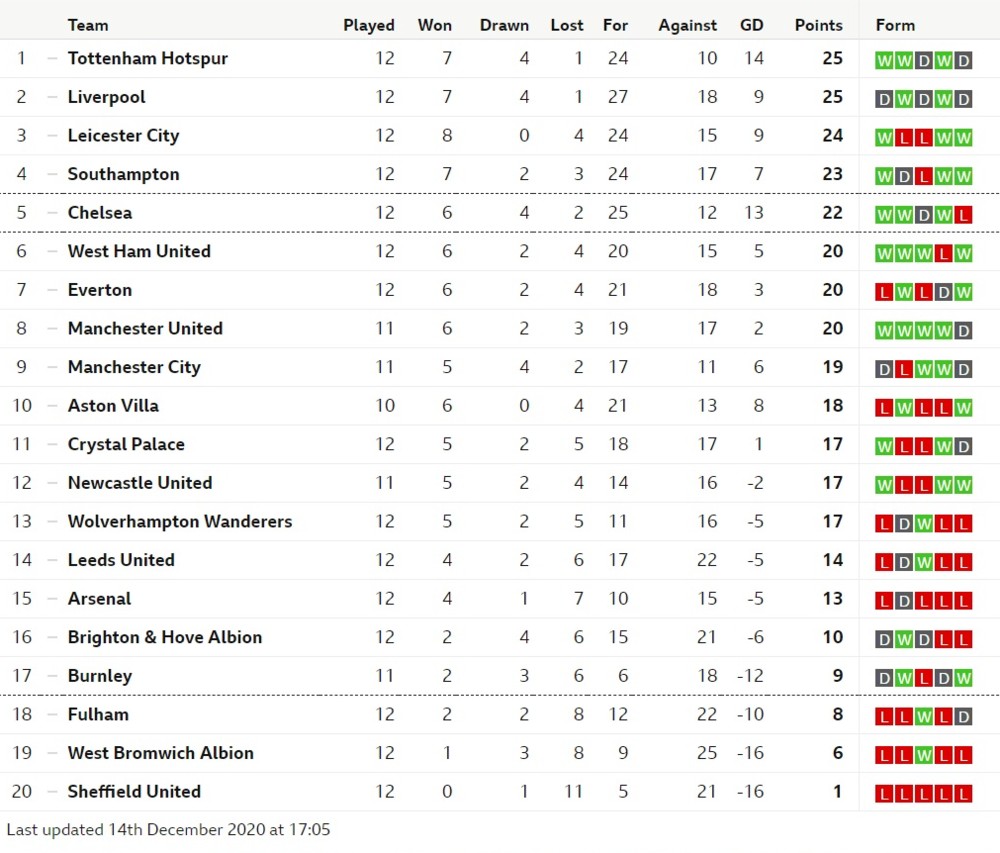 To cheer himself up, 6k is now reduced to saying things like this:
Each defeat now makes up a smaller percentage of the overall misery, and so it doesn't hurt quite as much as before.
Another stat: Looking at the current Premier League again, there are only two teams which have won even four of their last five games. Man U and, would you believe, West Ham? They are just two of about a dozen teams any one of whom could yet win this thing. Only eight points separates the top thirteen teams. It's like one of those long distance races, with a big leading bunch. You know who is not going to win, but not who will win from among that front bunch.
But if nobody has five wins from their last five games, does anyone have a complete set of five losses in their last five? Yes, and no prize for saying who. And given that for week after week they've had just the one point, it's been going on for a lot longer than that.
That's the trouble with arriving in the Premier League after a tough promotion battle and then having a good season and staying up. Your reward is: You have to do it all over again.
I'm now in such a second-hand state about this that I'd now swap a couple of Spurs wins for Sheff U wins, except that there's no such soccer deity able to arrange this.
What chance does some lowlife American who gets himself killed, in what turned out to be tediously inscrutable and complicated circumstances, have against all that?