I photoed this photo way back in 2004, at Twickenham railway station: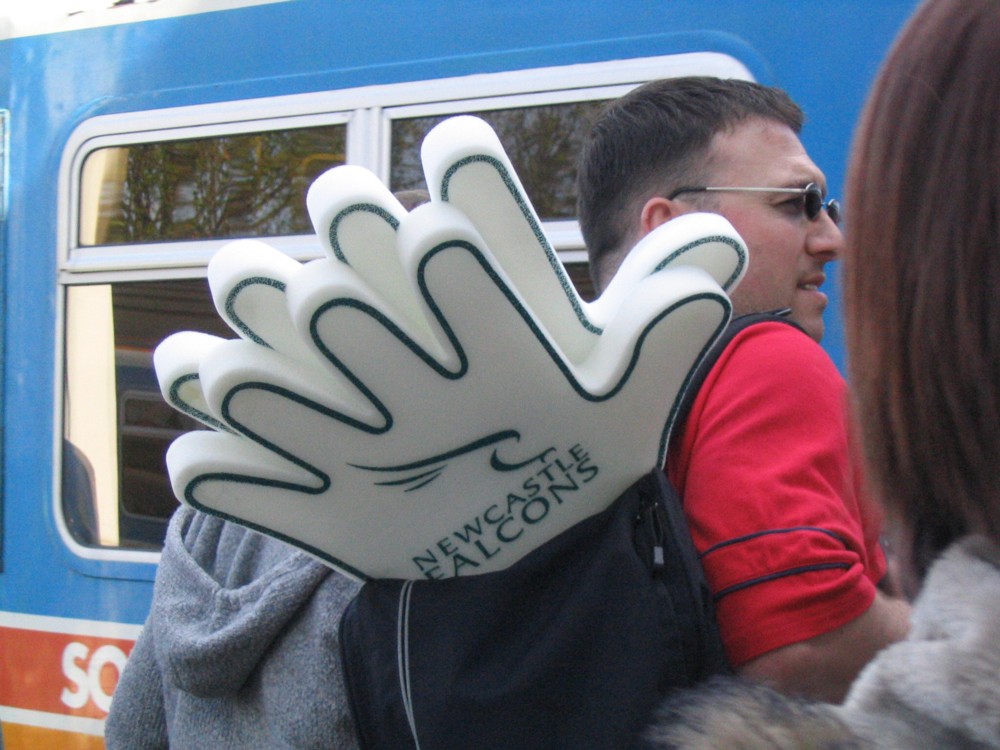 And ever since, although as sporting photos go it's nothing special, I've always been rather fond of it. It conjures up a world of fandom and fellowship, because if any other Falcons fan sees this guy, for instance on a train from Twickenham to Newcastle, he's going to know he's met a soulmate, and they're going to have plenty to talk about. Nothing transforms public transport quite like sports fans embarking on it en masse, because sports fans, unlike regular travellers, all communicate with each other. This can be annoying, but it is certainly different.
I did some digging concerning the recent form of the Newcastle Falcons, and it turns out it's been rather good. They got relegated from the Premiership at the end of the season before last, but bounced back in style. It was decided that they should be promoted by a committee, but since the Falcons had won fifteen out of fifteen games down there in Nearly The Premier Division and were heading for victory before Covid abolished the last few games of the season, they surely deserved their instant reinstatement.
Confirmation that they deserved to be back to the Prem came in the form of the Falcons winning all their three games so far. So they're now eighteen for eighteen. Only the mighty Exeter Chiefs are now above them, with three stonking wins compared to the three close wins that the Falcons have got.
All this falconry is because it's Friday and that's my day for non-human creatures of every sort. Humans have a habit of calling their sports teams after animals and insects and fishes and whatnot. In the Premier League, the members of whom you can see at the other end of the above link, there's the Newcastle Falcons, the Bristol Bears, Sale Sharks, Leicester Tigers, and of course there's Wasps. Gloucester just call themselves Gloucester but there's a big old red lion on the shield they promote themselves with.
Such creaturely ruminations aside, the one big fact that all rugby civilians should be aware of is who the most famous Newcastle Falcon has so far been. It's this guy.