I've been feeling down in the dumps lately, and I came to realise that the permanent photo on my computer wasn't helping. It was of a boarded up house in Brittany, and it was there because that seemed appropriate for the times we are all trying to live past. But, because it was so appropriate it was also deeply depressing, just like the times we are all trying to live past, and it was making those times, for me, even worse.
So, I changed the photo to this: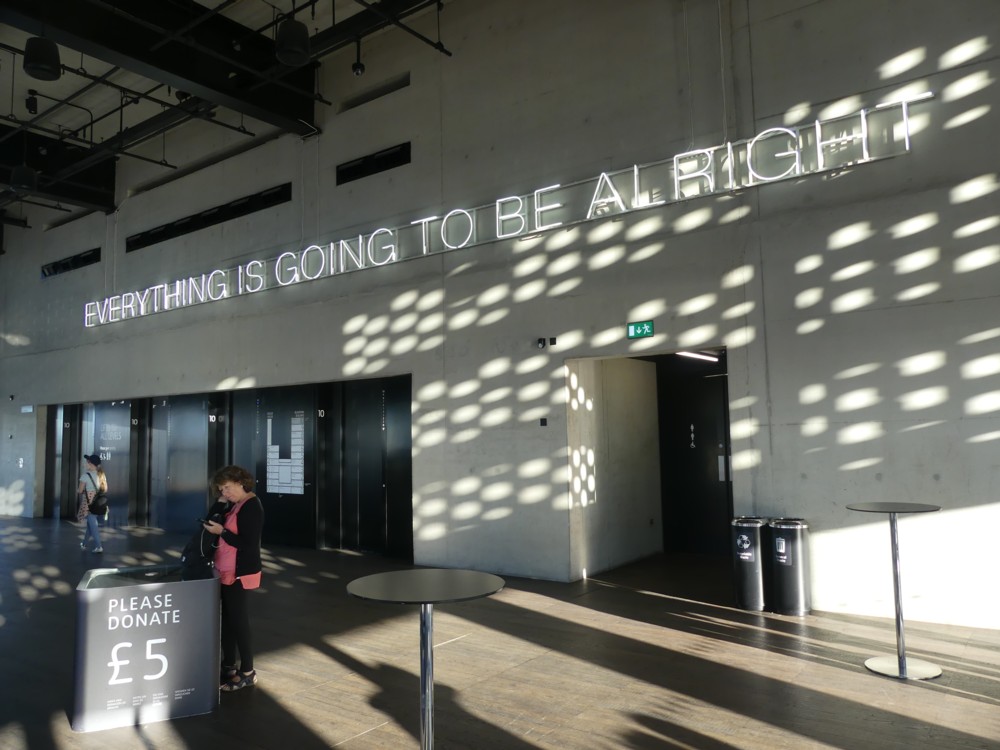 That's quite a proclamation there, I think you'll agree:
EVERYTHING IS GOING TO BE ALRIGHT
This sign is still, so far as I know, to be seen in one of my favourite spots in London, which is the top of the Tate Modern extension. I must have photoed literally thousands of photos up there, and in a lot of them the evening sunshine is bouncing about in there in highly confusing ways, what with all the glass partitions there are there. The above photo, one of many I have photoed of this slogan, is chosen so as to be clear what's going on. Some of the others are major puzzles, I can tell you, but this one is simple and readable. You know where you are with it.
This slogan was installed in Tate Modern in 2018, it having previously been elsewhere. As prophecies go, let's just say we've all seen better, and it's meant to be ironic. But despite its comically extreme inaccuracy, I have found it to be strangely soothing, and a great improvement on the boarded up house.
So numerous and complicated have been the photos I have photoed in this place that I haven't known how to display them. The answer is just to make a start, and keep on doing it. More to come, I (almost) promise.
TATE MODERN IS CURRENTLY CLOSED. I really miss the place. Most of what's in it always looks very ignorable, so I mostly ignore it, but I do like this sign.