Even as I write, they are showing a Premier League soccer game on the telly, and more to the point, at the BBC Website. Which means I can go back and watch goals without all the tedium in between, and also pause things, when instead of blokes just kicking a ball, they show something more interesting, like this: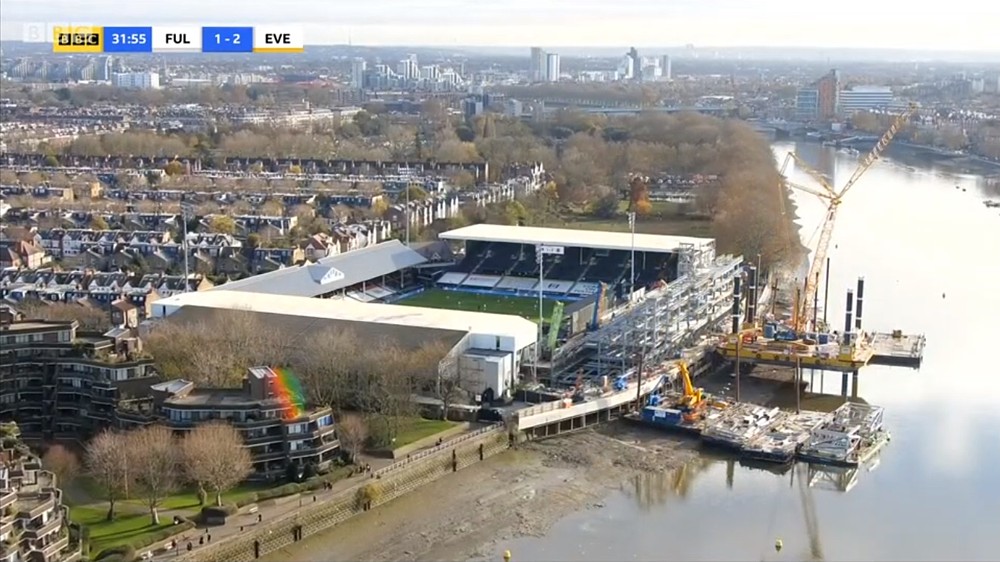 Fulham are at home to Everton, and I can't help suspecting that they are 1-3 down at half time because the people running the club have more pressing matters on their minds than how well their team is doing. They are building a big new stand. You can tell how seriously they are taking the job by the fact that they are prepared to have two platforms sticking out over the River, just to hold all the associated building stuff, presumably because there is nowhere else nearby to put it.
We are way out west, with Central London off to the left as we look.
With cricket and rugby, I find the routine stuff that happens during games interesting, probably because I actually spent longish periods of time when I was a kid trying to do these things myself and realising how hard they are to do right, especially passing in rugby, which the pros now expect to get right every time. But the regular moves of soccer, the kicking, the passing, the tackling, I find boring. I never bothered with this, because I was a goalie, so this never really came alive for me. The goals I like, or when the goalie stops a goal. And the more distant views as above I also like, for totally different reasons. So I really like being able to keep the visuals of a soccer game going in the background, and then when something of interest happens, to pick those moments out for myself, which you can do on the internet, but not when it's on old school TV.
Yesterday, my team, Spurs had the sort of game they have in recent years tended to lose, or to draw disappointingly, namely a home game against a genuinely top club. For all their bizarre heroics in a recent European Cup (getting to the final), Spurs have never in recent years been any better than a best-of-the-rest team rather than a truly top team. But yesterday's game, if they could only win it, would suggest true topness. So, yesterday, I had three very nice surprises. The first was when I learned that Spurs had gone one up, against Manchester City, no less. Second, even better, was when I later learned that they had gone two up. Then, best of all, they conceded no goals themselves towards the end when Man City were pressing to get back into it, and closed out the game. This is top team stuff. If Spurs can beat Chelsea at Chelsea next Sunday, then they really will start looking like a top team, and I might start paying them some serious attention.
Fulham 2 Everton 3, with a quarter of an hour to go. Go London Fulham, given that you are not playing against London Spurs.
I support all the London teams, unless they're playing London Spurs. That's right, I support Arsenal against all other comers. This enrages Real Football Fans, which is all part of why I do it. As does calling "Football" soccer, the sneer quotes because what of Rugby Football, American Football, table football, Australian Football, etc.? I'm a Londonist, see above, way before I'm a soccerist.
LATER: Here's how they reckoned, in 2018, that this new stand would look: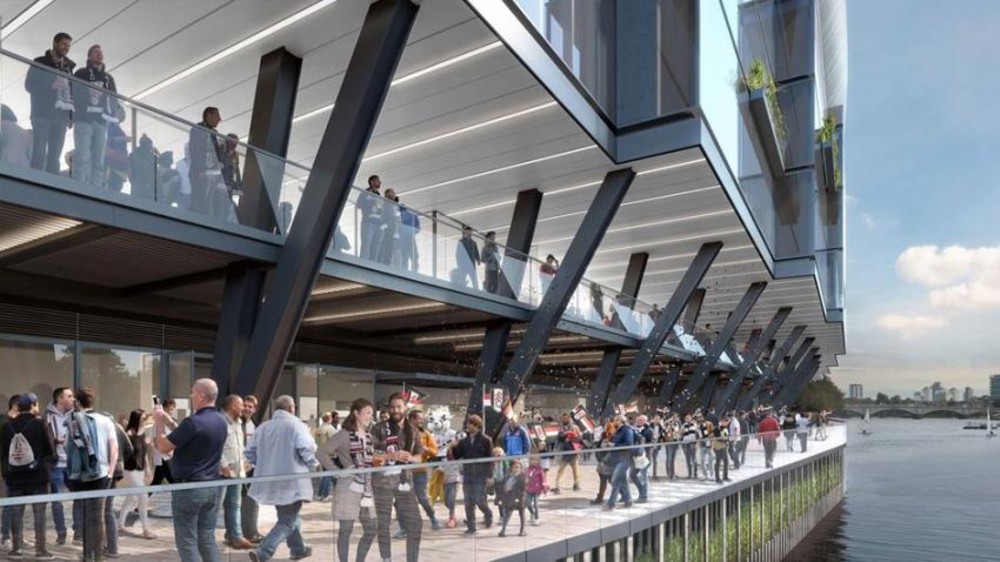 From the report below that picture:
Fulham FC will redevelop its Riverside Stand to increase the capacity at its Craven Cottage stadium to 29,600. The work will also see the Thames Path opened for the first time, for pedestrians to walk from Hammersmith to Putney Bridge.
Memo to self: When they finish this, check it out.