Spotted by me this afternoon, as soon as I set out to the Medical Centre: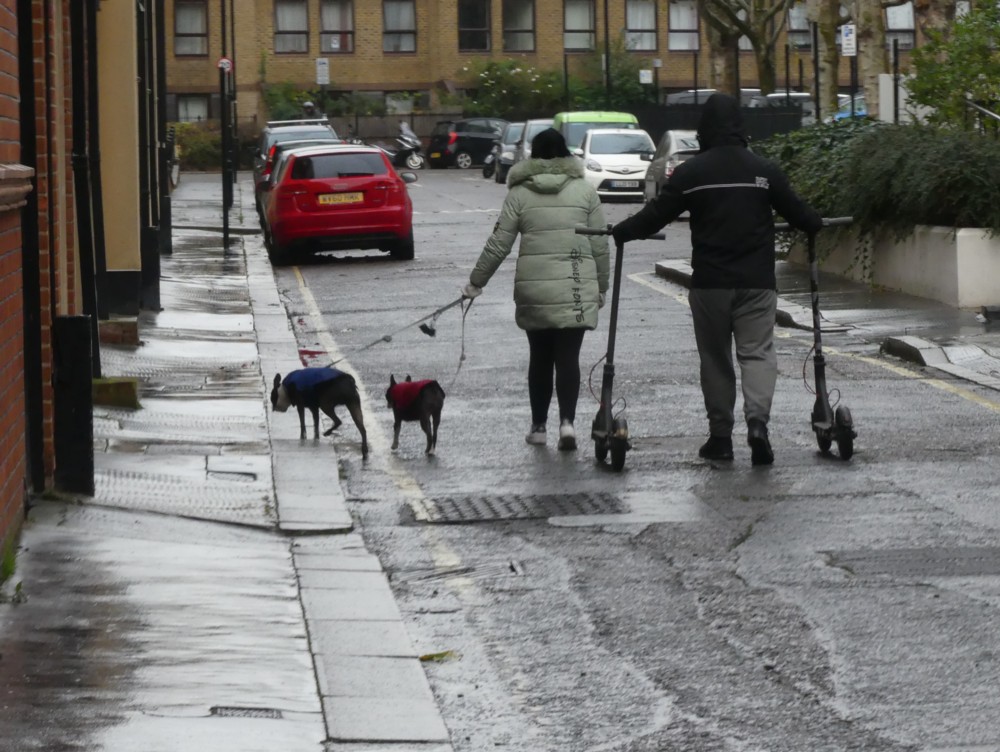 That's two dogs there, and two e-scooters. You can tell they're e-scooters rather than just scooters, because of the wires, and because what couple, with dogs, would have, you know, scooters? That they had to push along? Also, they walked right past me, and I got a close look.
This charmingly convivial scene doesn't tell us that e-scooters will survive the resumption of, if you get my meaning, London. When the traffic finally roars back, will e-scooters be safe enough for such people? I now somewhat doubt it. But maybe they'll find their niches, in the quieter and more bike-friendly bits of London, like the bit where I live, the quiet bit between Horseferry Road and Vauxhall Bridge Road and north (or is it east?) towards Vincent Square. I saw several other e-scooter drivers today, including, rather interestingly, a guy with an e-scooter which had a wider platform than usual, so he could stand with his feet next to each other, in the manner of this gizmo.
What the above photo does tell us is that there are maybe more people than is widely realised who would like e-scooters to have a future in London. This couple are not your normal e-scooter drivers, burly singleton types speeding to and from work, or with rucksacks on their backs and delivering at speed. These two look like they've settled down, and would like that settling down to include e-scooters.
Like I've been saying for months now, we shall see.