I was out briefly today in the gloom and rain, and did very little photoing. But I did photo this taxi with advert photo, at that favourite taxi haunt, the top end of Horseferry Road, where it does that weird right angle turn towards Victoria Street. I often go past that spot. So anyway, yes, taxi with advert: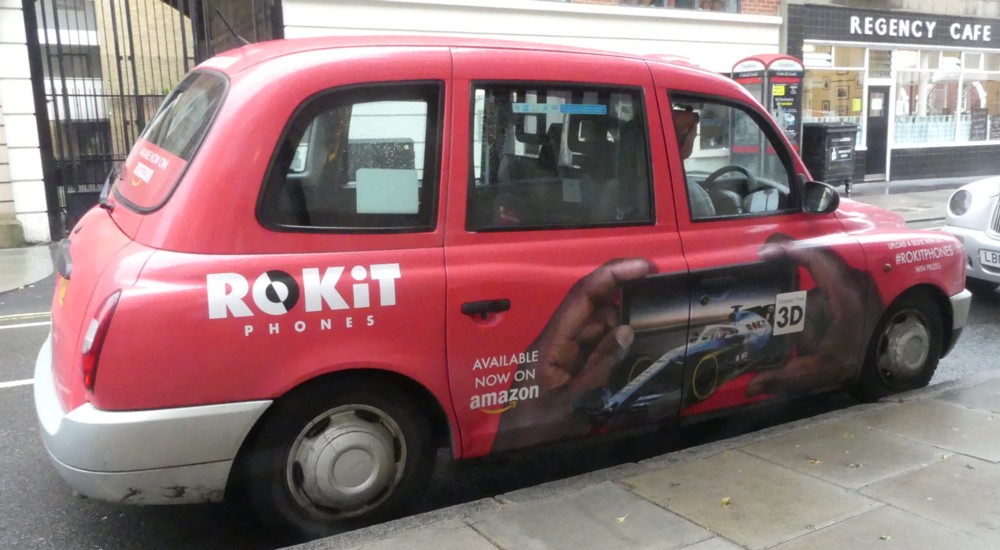 Like many businesses, the taxi with advert business has been suffering a Lockdown-induced slump. Not enough people around to attend to the adverts. Not so many taxis, because fewer people needing taxis.
But some businesses have been prospering, notably anything involving communication at a distance.
The above taxi advert is one of the few taxi adverts I've recently spotted which is both elaborate (meaning: goes all over the taxi), and recent (as in: first time I've seen it (and definitely not seen it until Lockdown got under way)).
Buy yourself a Rokit phone on Amazon, although why you'd want to do that, I have no idea. Its main feature seems to be that on it you can see a large library of nonsense in 3D, so it seems to me like a toy for unemployed morons. Which is just my grumpy old git way to say: not for me. But although the product put me right off, the advert for it cheered me up a bit.