I couldn't make these two selfies by noted Real Photographer of Yesteryear, Emil Otto Hoppé, any bigger in this posting while keeping them lined up. (Long shot: WordPress "Gallery" experts please comment with instructions.) But anyway, here they are to be clicked on, if you fancy it:
I found these photos here. On the left, 1919. Right, 1936.
The German Hoppé settled in England in 1900. He seems to have been an example of that very common historical phenomenon, a huge celeb to his contemporaries, but now a largely forgotten figure. In his day, Hoppé was on a celebrity par with the many celebs he photoed, but he is now only remembered by hobbyists of photo-history. And he nearly got blotted out of history even for us hobbyists. It was only because some Americans extracted a lot of his work from a much larger generalised collection which they had acquired, of photos done by lots of different photoers, that Hoppé was dragged out of total oblivion. Such is fame.
Learn more about Hoppé by seeing what Mick Hartley recently said and quoted from Wikipedia about him, that being how I learned about this man. Here is the last of many Hoppé photos that Hartley shows us: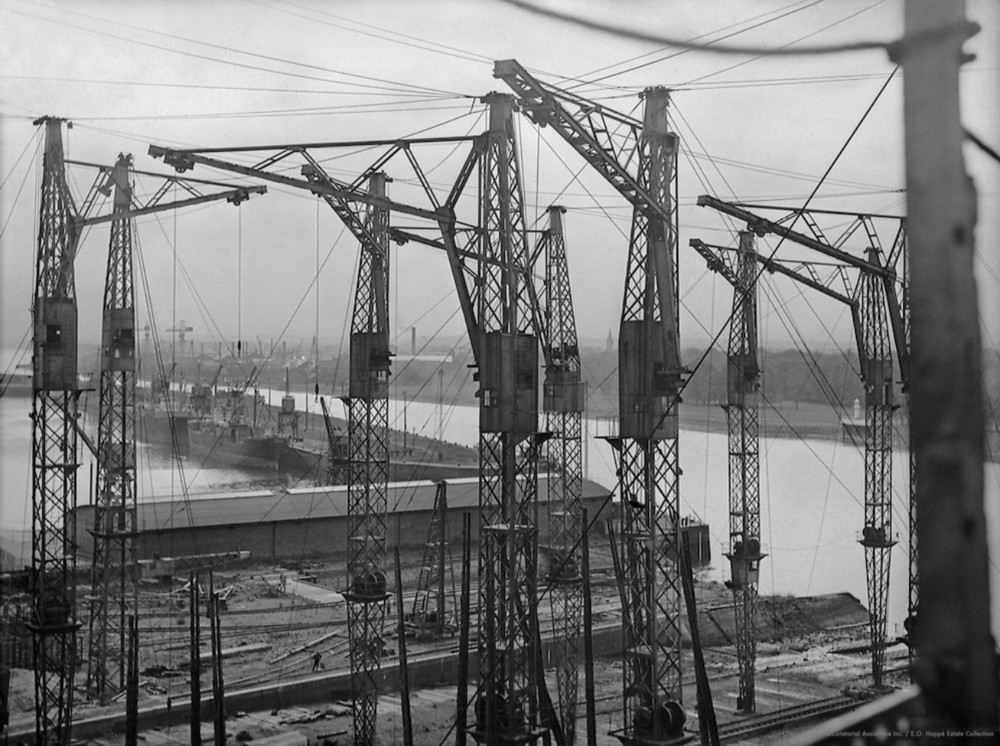 Mmmmmm, cranes. But that kind of urban picturesquery was only a part of the Hoppé story. To get a really good sense of Hoppé's place in the world and what he made of it, I recommend simply image googling him. From that, you'll get (to) the picture(s) very well.
There was a National Portrait Gallery Hoppé exhibition in 2011. Maybe soon the increasingly visual Internet will make E.O. Hoppé a household name, again.