I have recently recognised a particular sort of BMNB posting, which is a response to a story from some time ago, which I had permanently open. I didn't know why I was intrigued by the story, which is why I did no blogging about it, but I was intrigued nevertheless, which is why I refused to forget about it.
Here is one such story, concerning Uber boats in London. And there was a photo to go with this story that I particularly liked: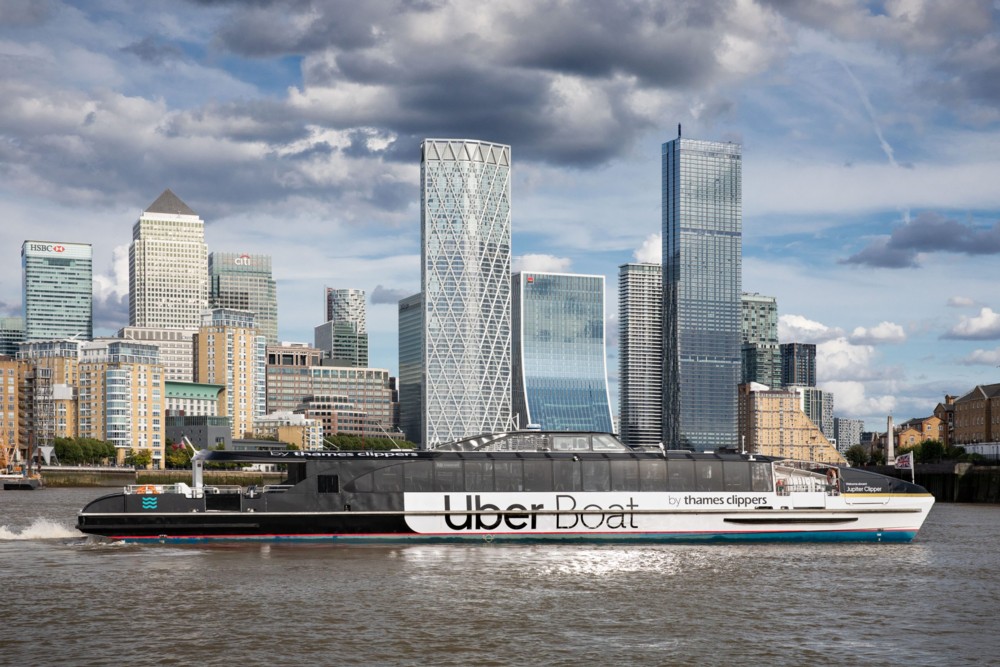 That story and photo appeared on August 3rd. I think what I liked about this story was simply that I liked that photo, with its splendid Docklands towers, recent and not so recent.
On August 16th, I was over in that part of London, and while beside the River that day, I managed to grab a photo of one of these Uber boats, with a result that wasn't as good as the above photo, but which does at least confirm that the City AM story is really happening and not something they merely passed on, which someone had adorned with a piece of photoshopping. There are now Uber boats in London: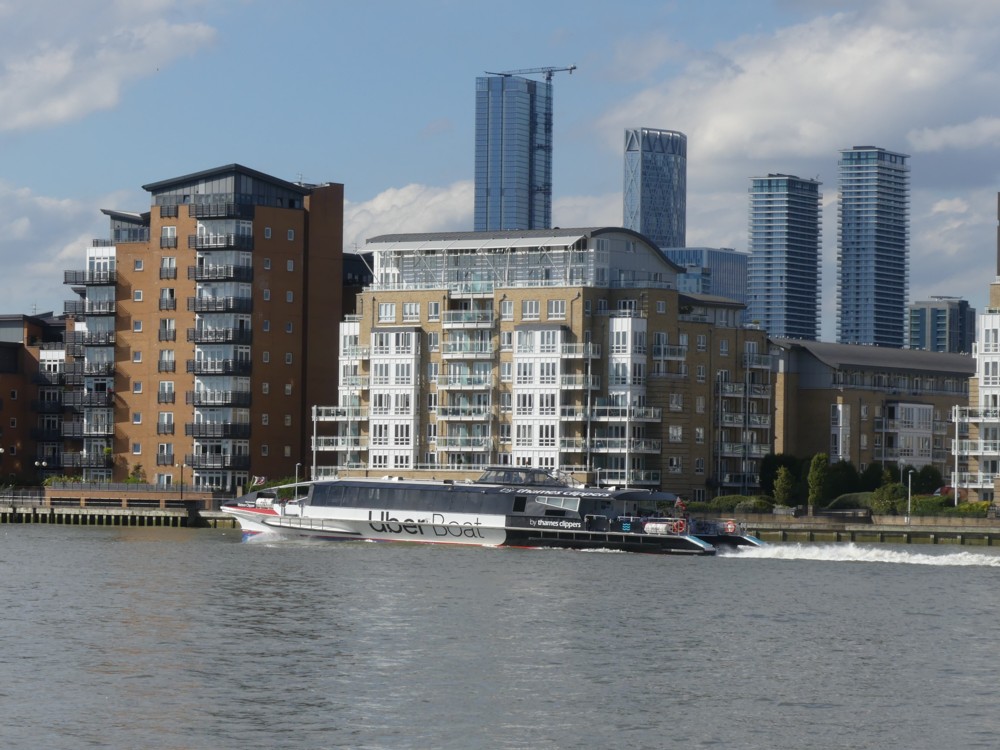 Same part of London in my photo, as I say, but less showy buildings in the background. Also, my lighting was more lugubrious.
However, these boats are not what I'd call real Uber boats. They are merely Uber adverts. What Uber have done is a sponsorship deal, with the people who already drive these boats back and forth along the River. They aren't adding anything aside from some cash, in exchange for Uber being painted on the side of the boats.
Real Uber boats would be boats you could personally summon with your mobile phone. They'd be small, fast, and there'd be lots of them. Fat chance of that happening any time soon.
All of which reminds me of a story I once read about a British aristocrat, circa 1920, which is based on the same sort of contrast, between what these Uber boats suggest that they might be, and the humdrum fact of what they really are. The Aristo was told by one of his senior underlings that he needed to tighten his belt and cut the household budget. A number of economies were tentatively suggested, including the idea that His Lordship might perhaps consider using fewer taxis, and instead travelling more often by omnibus. Said the Aristo: "Good idea! Have one sent round in the morning."