I have been spending part of my morning watching Somerset v Essex, courtesy the BBC. I am backing Essex because Essex is nearly London, while Somerset is nothing of the sort. And Essex are doing well. This morning they managed to get a first innings lead, which is a big deal because if it ends as a draw, they win. If you get my drift.
If you don't, it really doesn't matter, because what I really want to tell you about is a cunning logo I kept seeing, at the edge of this game, in the background: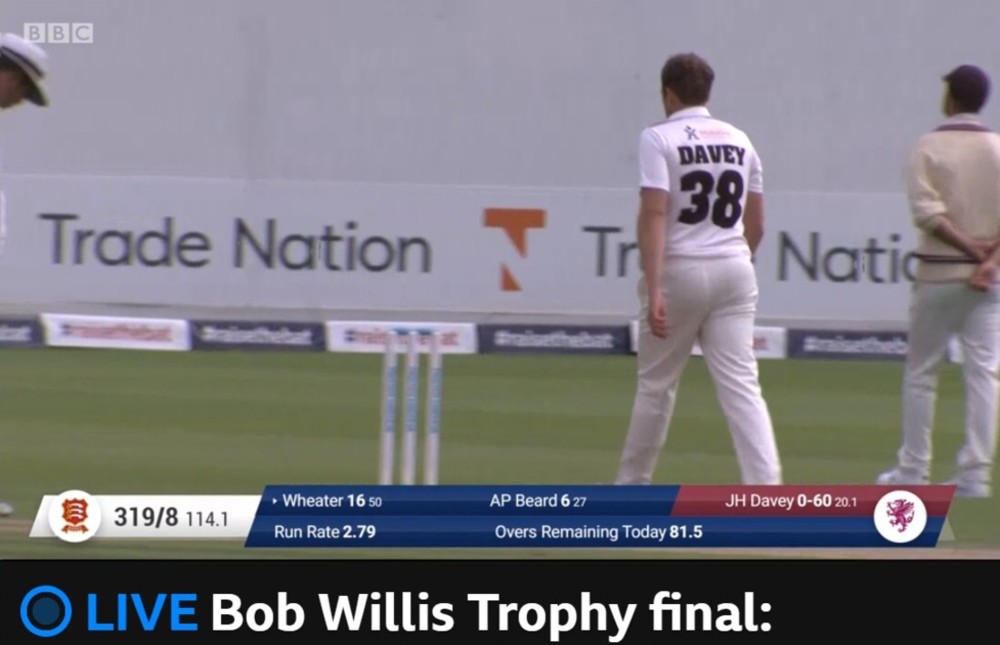 Trade Nation. TN. And I really like how they combined the T and the N there. Because of my admiration for this logo, I even investigated the product. Pass. But, investigation is all you ask from an advert. I am old. I do have savings, and spare time. Just the sort they're looking for, in other words. And although I'm not buying it I am now writing about it. Sometimes advertising really does work this well.
The internet streaming of county cricket is getting slowly but surely better, as is presumably the case with all sports just that bit smaller than big time. For county cricket, there used to be only one camera, and if the ball got hit to the boundary it went off camera and you had to take their word for it, just like on the radio. With this streaming of this game, we cricketophiles are seeing more. Soon, this will as good as regular television. At which point, the advertising spots at the ground will become that little bit more expensive.
I can remember when the internet was going to put an end to regular advertising. Didn't happen.