One of London's more impressive architectural survivals from the Brutalist era is this building: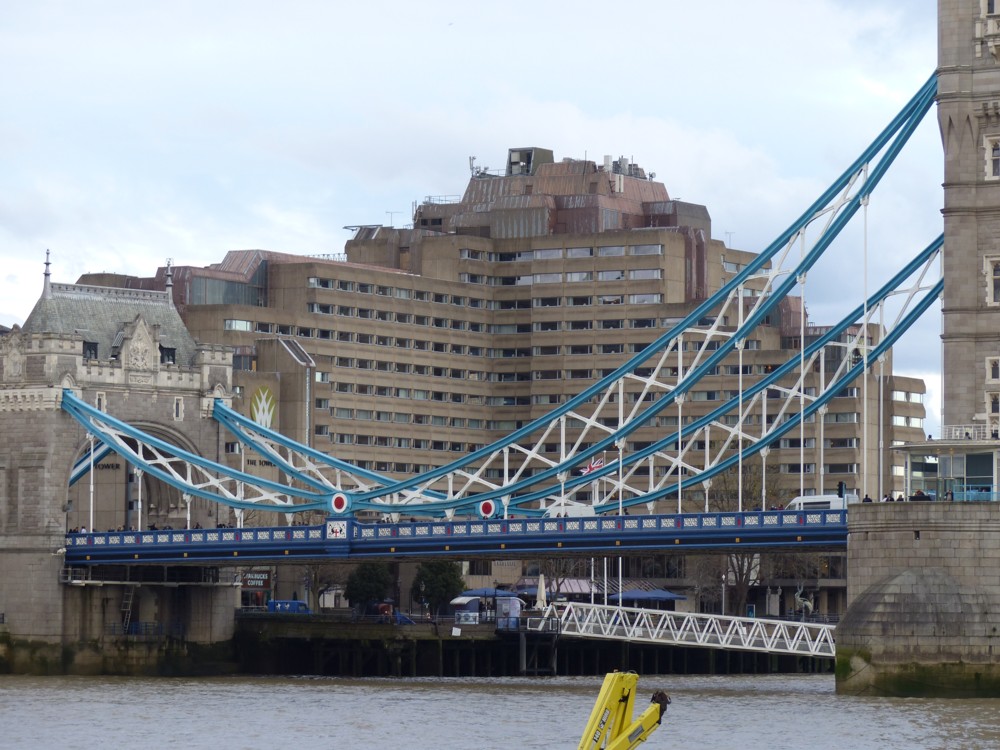 That's the Tower Hotel, with Tower Bridge in the foreground. I am fond of this edifice, not only because of its Brutalism, but also because of its impressively cluttered upper reaches, which look like this: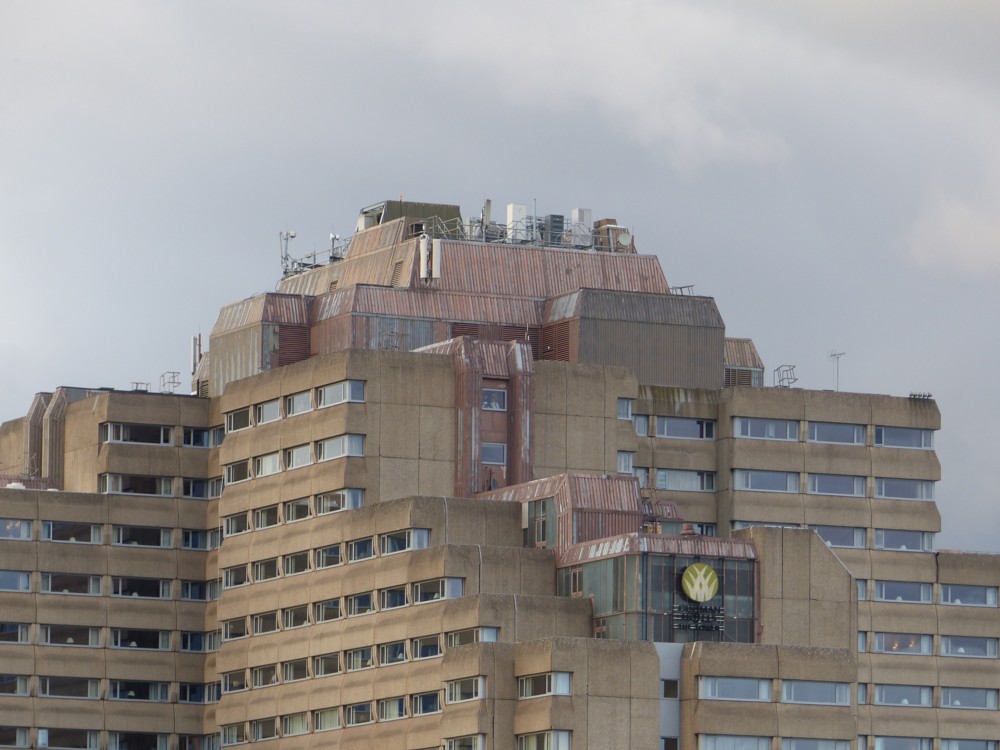 Both of the above photos were photoed by me in 2016. (What is that VW sign doing there? Never noticed that before.)
I love the combination of orthodox Brutalism in the main body of the building and anarchy on the top of it. (See also this splendid edifice of the same architectural vintage.)
I also recall that this hotel played a prominent support role in the final scene of a long ago movie called Sweeney!, which was a movie spin-off from the TV show of that name. A sinister villain played by Barry Foster is being put on a boat by British spooks, after he'd stayed the night at the Tower Hotel, which then looked quite new and "modern", not dated at all. But Regan (John Thaw) showed up and arrested the Barry Foster character for making money off of immoral earnings, and the Barry Foster character was immediately shot dead, by two other villains in a taxi, to stop him spilling any beans about even more sinister villains. (Regan was angry with the Barry Foster character because he had had a prostitute (Diane Keen) killed, and Regan wanted revenge.) All of which took place on the river bank between the Tower Hotel and the River. For some reason, this scene had a big effect on me, and a lot of the reason for that was the Tower Hotel.
The reason I mention this building is that it is a fine example of the sort of building that might go up in public estimation if it were decorated with the Magic Paint that I mentioned-stroke-invented in this earlier posting about Colourful architecture in the past and in the future. This was about how various ancient buildings, now as dreary in colour as the Tower Hotel has always been, used to be a lot more colourful, and about how similar effects might yet be contrived again, with … Magic Paint. (Magic Paint is paint that can take on any painted pattern at the flick of an electronic switch. Inventors: get busy!)
And the reason I mention this earlier posting about Magic Paint, colourful gothic cathedrals, and the like, is that someone on Facebook with quite a following has recently linked to this old posting, causing a rather gratifying spike in traffic here during the last few days. But, all I can learn from my traffic analysing page is that the link comes from somewhere on Facebook. It could well be someone I know, or know of, and therefore someone that some of my readers might know, or know of. Anyone? Maybe you, sir or madam, have just come from that very Facebook location of which I write, and can tell me who it was. That's if you feel inclined.