I grow increasingly fond of the statue of Oliver Cromwell, which is right next to Parliament itself rather than out in Parliament Square like Churchill, Gandhi, Smuts, Mandela and the rest of them.
Here, photoed on February 5th, is one of my more recent photos of this Cromwell statue: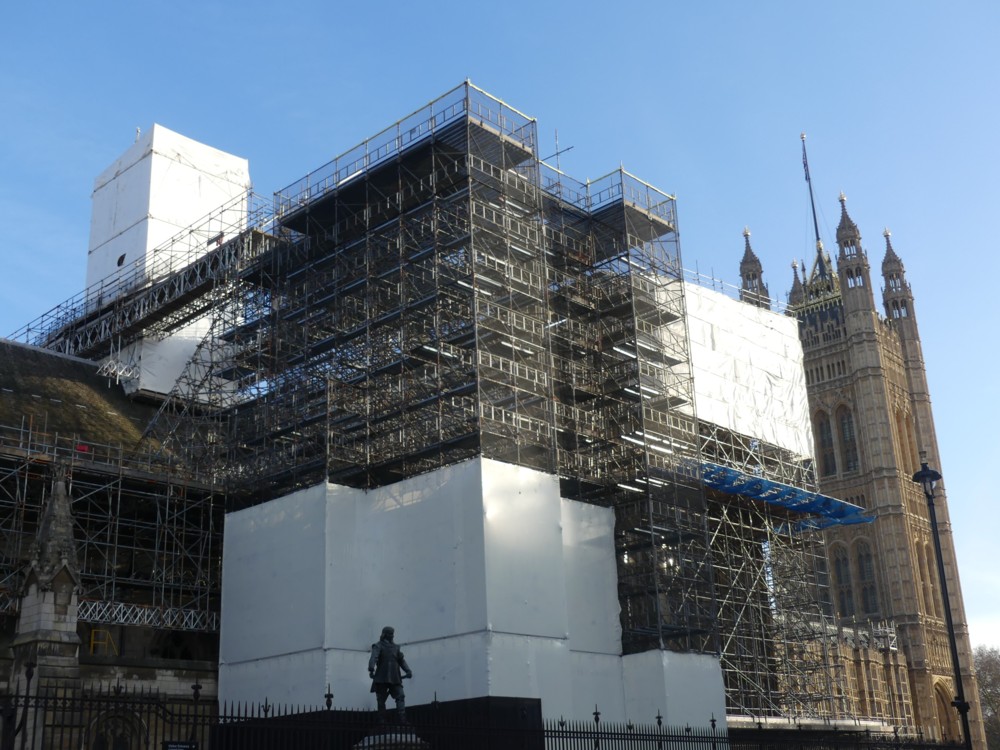 I like that because although Oliver himself is very small, he is still very recognisable, and also because he is small you get lots of context. In this case, you get Parliament, in the form of … that big tower, the other one from Big Ben.
And, you get a zillion tons of scaffolding, including scaffolding with big white sheets spread out over it, which makes for a constantly changing background for this statue.
London's Parliament is now one of the great epicentres of the scaffolding industry. This being because Parliament is sacred and must at all cost be preserved. Yet, it is collapsing, both inside and out. My understanding is that it is currently being entirely rebuilt, but that this total rebuild is having to be visually disguised as a mere refurbishment. Seriously, it might well have made more sense to flatten the entire place, then rebuild it entirely, with the outside being meticulously reconstructed to make it look as if nothing major had happened.
Meanwhile, it's all a great background for Oliver. Memo to self: Dig out more photos of this statue, with varying backgrounds, and show them here.