In between the first two photos I showed in the previous posting, of and from the coutyard, and the second two, of the hair and the mugs, I also photoed this: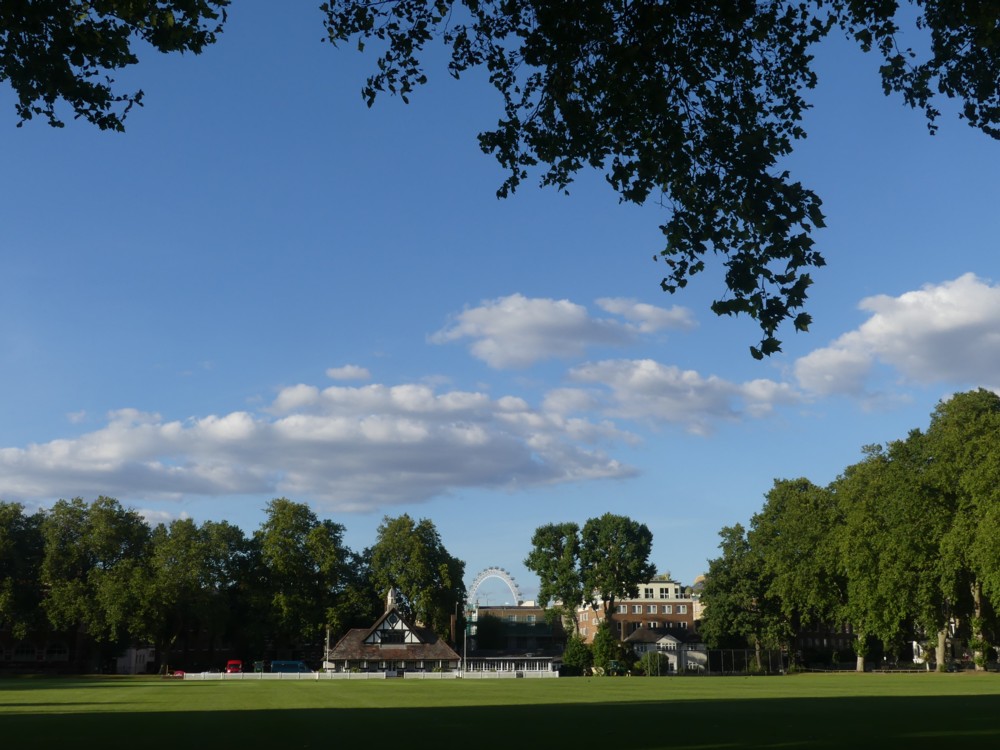 That's Vincent Square. In the far distance, the Wheel. In the not so far distance, the Vincent Square cricket pavilion. In the foreground? Cricket? There often would be at this time of year, played by the inmates of nearby Westminster School. But the Plague has kiboshed all that. Cricket is only just getting going again.
But we have had two test matches, the second of which concluded today, between England and the West Indies. It's now one all and one to go, the one to go getting going this coming Friday. More heroics for England from Stokes.
Nobody is at the grounds watching these games, but for the many thousands following virtually, on radio or on television, these are still test matches. I found it oddly soothing, when I watched the highlights on television, or listened to the radio commentary, in which regular reference was made to the strangeness of it all. Usually, the empty seats that often afflict cricket test matches not against Australia are a source of regret, embarrassment even. But for these games, there was the perfect excuse.
This hasn't been much of a posting, but I wanted something here to remember this strange summer of sport by. One of the oddest things about Lockdown was, first, the total absence of any sport, and then, the oddity of the professional sport that did resume. With all the apparatus of modern communication, but no actual spectators. The perfect reflection of what has been happening to the world as a whole. We weren't allowed to go anywhere or be anywhere, but we had no trouble keeping in touch.