I love to photo the front pages of newspapers, while in shops from which I also buy things I still want: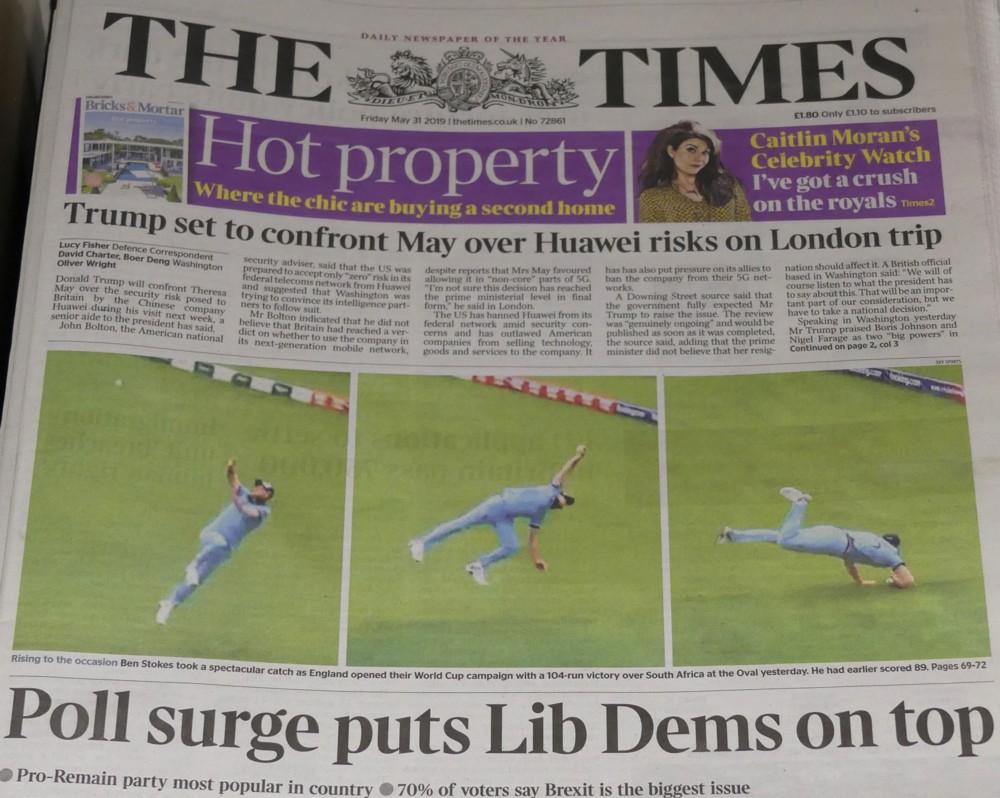 And that was the front page of The Times of a year ago tomorrow, June 1st 2019.
The headlines make interesting reading now. Trump trying to stop us getting into bed with Huawei. Bet our politicians now wish she'd listened then.
And, the Lib Dems riding high in the polls. But this was because they had temporarily managed to get most of the Remain vote supporting them. Labour eventually got most of the Remainers supporting them. Meanwhile, the Leave vote was split, but would later unite in voting Conservative.
But most important of all, to me, are the pictures in between those two headlines. That's Ben Stokes, taking an amazing catch, in England's opening World Cup 2019 match against South Africa at the Oval, one year ago exactly. Stokes only had to take the catch this way because he at first misjudged it and got himself too far towards it. But who cares?!? He caught it. Video, with Nasser Hussain's great commentary, here. England went on to win the tournament.
Now, YouTube is showing me the amazing Ashes test-match-winning last wicket partnership, at Headingley, between Jack Leach and … Stokes.
The weather now is perfect for cricket and has been for several weeks. But as of now, they still cannot do that, and we fans are having to be content with memories.