Every month for as long as I can remember, I've been buying paper copies of Gramophone and the BBC Music Magazine, "Music" being how the BBC refers to classical music.
All over my home, these magazines have accumulated in shelves and in heaps: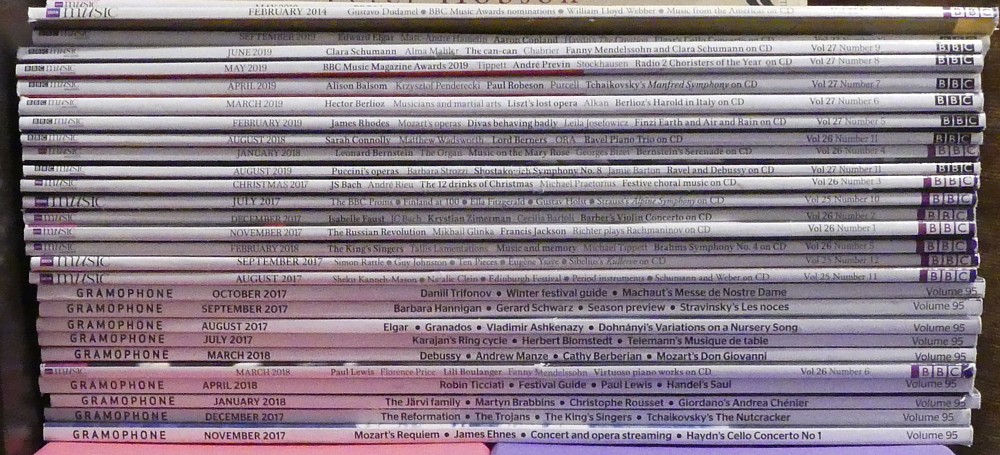 I haven't had these magazines on order, because I don't trust my neighbours not to let in burglars through the front door we all share, and because I like the exercise of actually walking to a shop and buying these magazines.
Which means that during the recent Plague, I've not been getting either of these magazines. The shops where I would have bought them have all been closed.
One of the many changes I am now contemplating in my life is: Not resuming buying these magazines. Are many people now contemplating a similar decision with regard to these or other such printed publications? Surely, they are. Are many people contemplating buying printed publications they do not now buy? I doubt this very much.
If "normal" ever returns, it will, for most of us, in big ways and in small ways, be a different normal, not least among those who publish the magazines like the ones in my photo. It's not just the obvious ways in which we will remain nervous of the Plague returning, though that will definitely happen also. It's that by being jolted into doing this for the first time, and not doing that any more, we are all now shedding old habits and being pushed towards acquiring different habits. I try to resist generalisations involving words like "we all now …", but I really do think that the above generalisations are largely right. (You need only look at the recent numbers for postings here per month at this blog, on the left, to see this kind of thing happening to me and maybe therefore also for you.)
So, habits are being dropped, and acquired. And, are you, like me, and provoked by the above experiences, going beneath and beyond such changes of habit, and asking yourself: What other habits should I now decide to shed, and decide to acquire?
After all, and especially for the likes of me, life has just got shorter.