On June 2nd, Patrick Crozier and I had another of our recorded conversations, this time about Lockdown.
In the course of this, I refer to a photo that I did take, and a photo that I didn't take. The photo that I did take was this: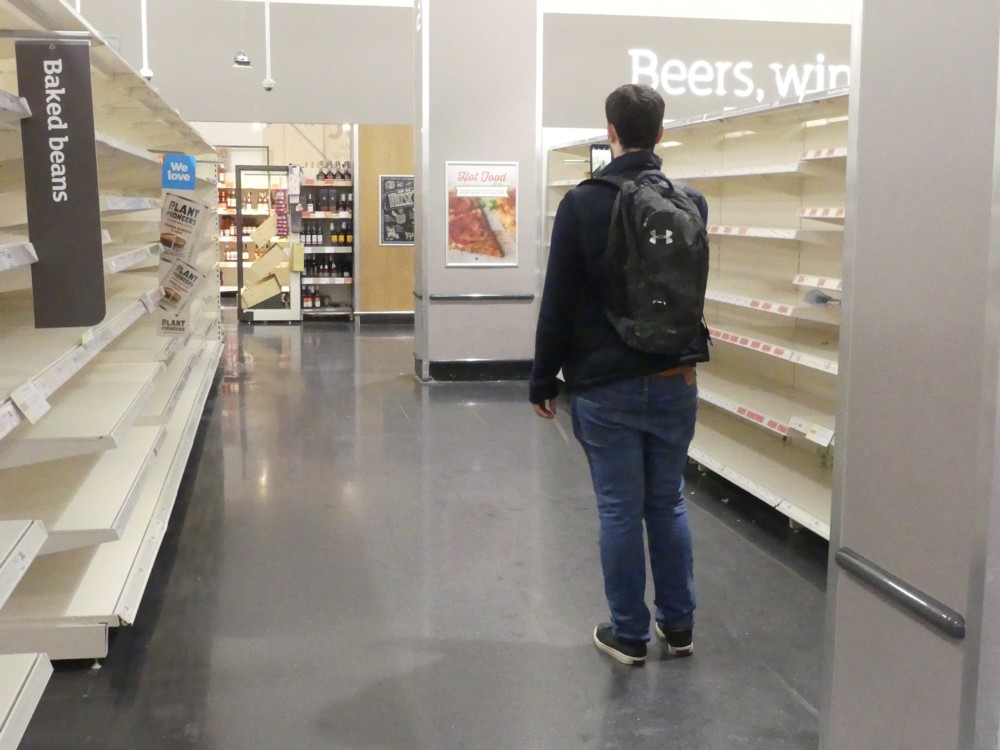 That being me, and another bloke, recording the fact of empty shelves in Sainsburys. The photo that I didn't take, but talk about with Patrick, is the one I should also have taken of how the shelves laden with less healthy food – crisps, chocky bickies etc. – were crammed with yet-to-be-sold stuff, a lot of it offered at discount prices.
Patrick, in his posting about this chat, mentions something he thought of afterwards but didn't say during, which is that what may have been going on with the crisps and bickies was not that people were shunning unhealthy food, but rather that they were shunning party food, on account of there suddenly being no parties being had. Good point. In my photo above, you can see in the distance, the drinks section. Plenty of drink still to be had also.
I remember, when I used to do chat radio, I used to regret not having said things I should have said, either because I had them in mind but forgot, or because I only thought of them afterwards. But, in due course, I realised that what mattered was what I did say. If that was reasonably intelligent and reasonably well put, then I did okay. People wouldn't say: Ooh, but he forgot to mention blah blah. They would merely decide whether they liked, or not, what I did say.
Well, this time around, I think there was a huge elephant in the virtual room that we didn't discuss, which I am sure some listeners would expect us to have at least mentioned. Sport. As in: There hasn't been any! Patrick and I are both sports obsessives. He is a Watford fan. But he has had no Premier League relegation battle to warm his heart during the last few months. I love cricket, not just England but also Surrey. Likewise for me: nothing, despite some truly wonderful weather at a time when it's often very grim. But, not a single sporting thing, other than ancient sportsmen reminiscing about sports contests of yesteryear on the telly. Yet we never mentioned any of that. Since a lot of the point of our chat wasn't to yell at politicians and scientists, hut rather just to remember the oddities of our own lives now, this was a major omission. We talked, as we always do whether that's the actual topic or not, about war, this time in connection with the question of which economic policy attitudes will prevail during whatever attempts at an economic recovery start being made in the months to come. Yet sport, the thing that has replaced war in so many people's lives, got no mention by us.