A lot of my postings are puzzles. What's this about? That kind of thing.
Well, what's this about?: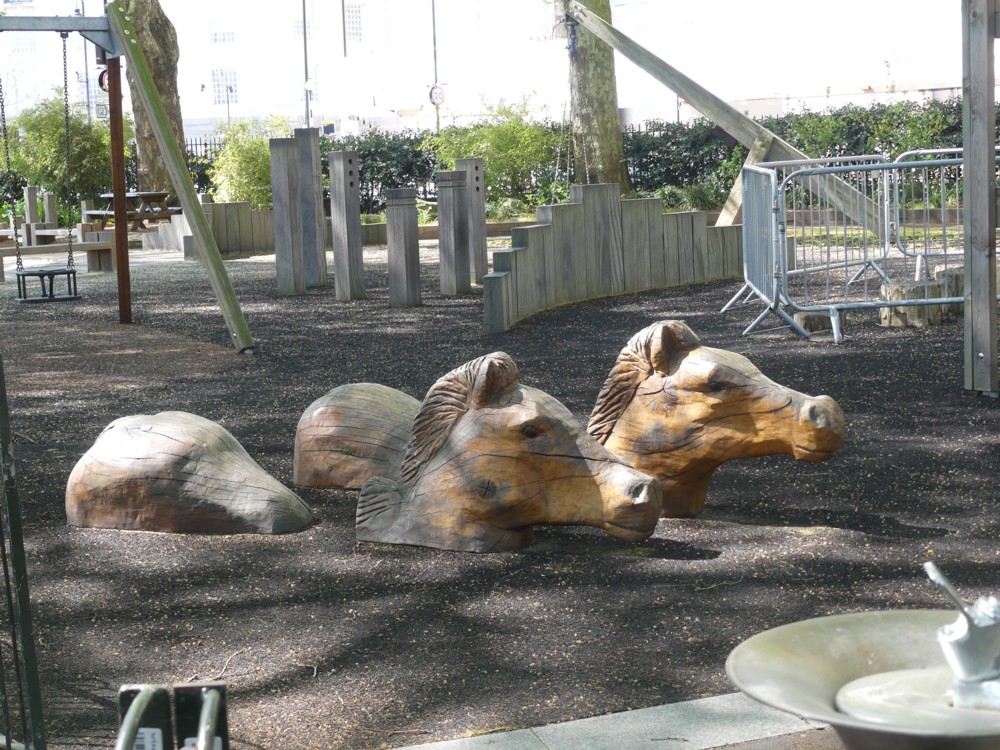 That's another photo I took last Sunday, the day I also photoed that reflection, and all those cyclists. A single photo-expedition, supplying me with many days worth of reflection, of the in-your-brain kind. Suddenly, in these strange times when venturing out of doors is so discouraged, my normal modus operandi is making more sense than usual.
Photoing children's playgrounds is not a habit of mine. Single old man, of eccentric demeanour and dress, taking photos. Of a children's playground. Not a good look these days. But this playground is now locked shut and empty of humans, so I reckon having photoed these two horses won't ruin my life. We'll see.
But what are these horses doing? The playground in question is at the far end of Victoria Tower Gardens, just upstream from the Houses of Parliament, so I had plenty of search words to stuff into The Internet. And it became clear that these horses refer to a nearby horse ferry, the one that Horseferry Road is named after. The playground is Horseferry Playground. But this creation is not grand enough to be easily learnable about. The Internet kept wanting to tell me about these two horses. But not the ones I was looking for.
As for Horseferry Road, let Wikipedia explain:
The road takes its name from the ferry which existed on the site of what is now Lambeth Bridge. Owned by the Archbishop of Canterbury, the ferry was an important crossing over the Thames, from Westminster Palace to Lambeth Palace.
Presumably the horses dragged the ferry across, at a spot where there was also a ford, i.e. a part of the river where you could walk across at low tide. Or, horses could. Something like that. But why can't you just row a boat across, anywhere on the River? Or did people ride the horses?
The spot where these horses are to found is next to the northern end of Lambeth Bridge, which is of course also the southern end of Horseferry Road.
Horseferry Road does its right angle kink very near to where I live, but it never occurred to me to wonder why it's called that. This is London. Things have strange names. If you spent your time wondering about every strange name of everything strange sounding in London, you'd never be able to do anything else with your life. In France, all the street names are explained, on the spot, with elaborate explanatory signs. Not here.