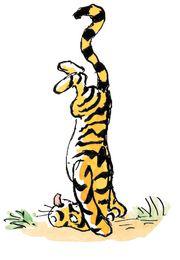 Way back in the Spring of last year, when the Brexit battle was still raging away in Parliament and when Theresa May was still the Prime Minister, Patrick Crozier and I did a podcast on this subject. A point that Patrick made very strongly was how the Remainers, presented with the opportunity of BRINO (Brexit in name only), instead were busily engaged in snatching defeat from the jaws of only somewhat modified victory. Since then, the Remainers carried right on doing this.
As Guido Fawkes explained gleefully in a posting a few days ago about the most visible and organised of the Remainers. These "Tiggers", as Guido calls them, continued to trash any possibility of BRINO. And then they all got ejected from Parliament, leaving the field clear for actual Brexit, or something a lot like it, to proceed.
This posting of Guido's is worth a read and a ponder, unless you were yourself a Remainer and can't bear to think about it all. Thus is history made by the winners. And also bungled by the losers.
I found the picture there, on the right, by scrolling down here. A lot.