My home is too dusty, and that's partly because vacuuming with an uncordless (cordful?) vacuum cleaner is not fun. So, I don't do it nearly enough. There is a big push on to get us all to buy cordless vacuum cleaners, and I told my friend that I wanted one too, and could she help? She did. Upshot, a new but very mildly obsolete Dyson V6, which was much admired by all who intennet-reviewed it, at a considerably reduced price, refurbished and guaranteed by Dyson itself. It arrived this afternoon, thanks to a nearby post office.
I've already done a bit of cleaning with it, and although it is rather noisy, it is clearly going to get more used than the old vacuum cleaner with its electric wire all over the place everywhere and its tediously long pipe connecting the bit that does the dusting to the clunky old mothership but still not nearly long enough to avoid having the lug the damn machine around when I am vacuuming.
But the thing that really impressed me was this: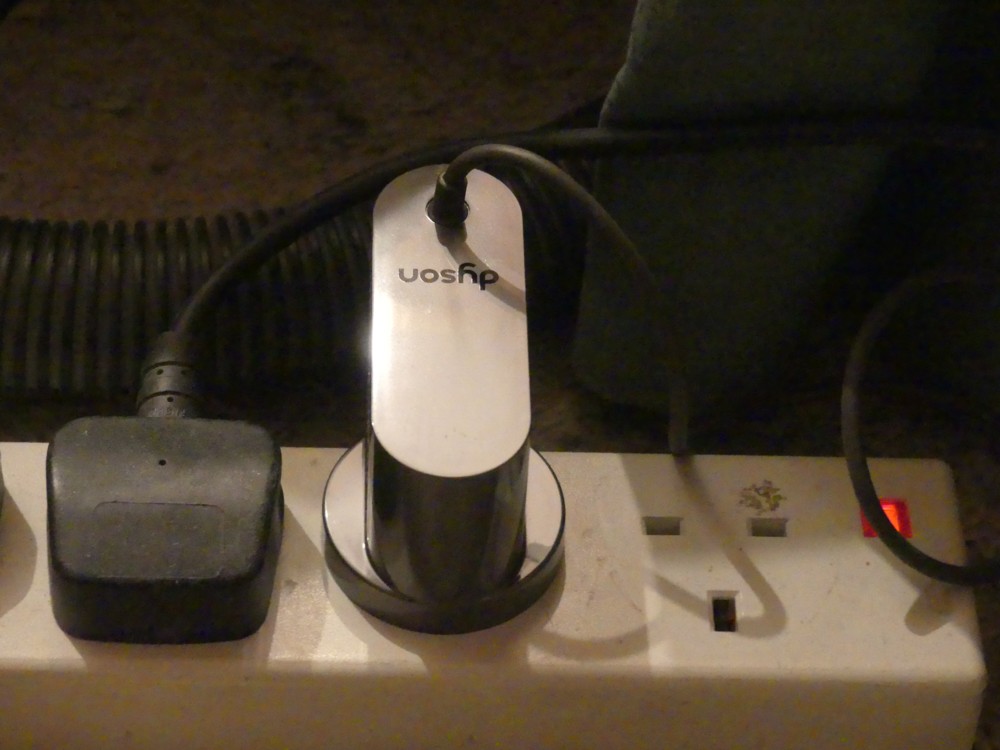 That's the adapter, for recharging this new gizmo. That's the plug and the wire that makes this new wireless vacuum cleaner actually wireless, when you're actually vacuuming with it. And it is highly likely that this adapter/recharger will remain completely recognisable as the recharger for my vacuum cleaner. It even has "Dyson" written on it.
Most such contrivances look like these ones: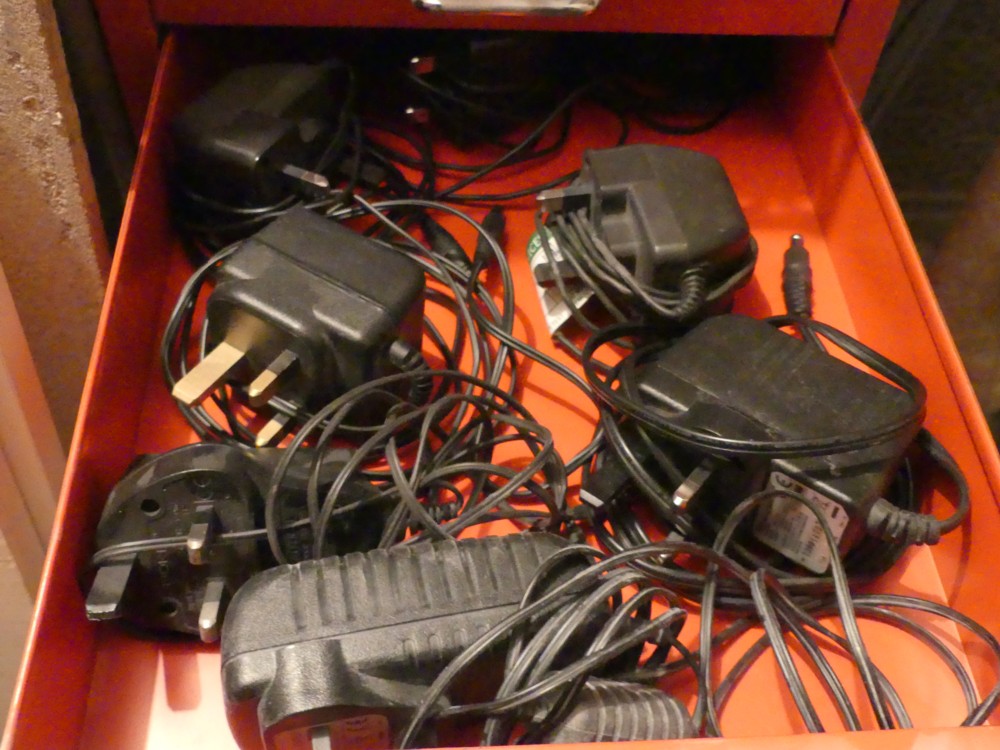 That's a photo I also took today of the drawer were I keep some of my many no-longer-used adapters. (I have others.) I fear to chuck out any of these because who knows when I might turn out to need one of them? These things can be hellishly expensive to replace, because the internet can detect your desperation and it prices accordingly, and anyway, when you want to find the right sort of adapter you want to get your hands on it now. But, once any of these get separated from the original object of their attentions, it becomes pure guesswork which one is the right one. Or rather, it becomes a skill that I personally don't have. I have friends who could probably help me with this nonsense, but it's still nonsense.
But this Dyson adapter will continue to identify itself as the adapter for my Dyson vacuum cleaner. It's a weird not-quite-black colour, the exact same weird not-quite-black-black colour as its gizmo. It is a very individual shape, unlike all the other regular-black adapters in the above drawer. Best of all, it says Dyson on it.
I'm impressed. This suggests to me what already feels like it's true for the gizmo as a whole, which is that this Dyson V6 has been very well designed, with every aspect of its design having been thought about carefully.