Via Twitter, and something called Map Porn, I found my way to this world map drawn by Ahmed Muhiddin Piri in the 16th century: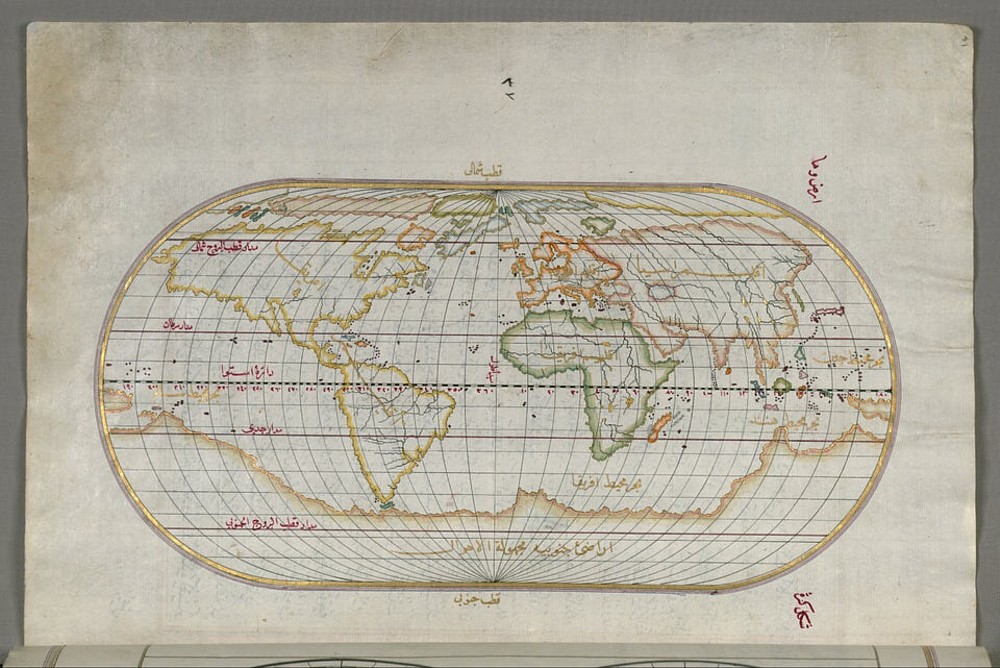 Yet I can only find one other reference to it on the www, in the form of a print of the above which is for sale, here, where it's described as a "Fine Archival Reproduction". So far as I can work it out, this is a bodged together guess about a map that "Ahmed Muhiddin Piri" (aka "Piri Reis") did create, but which only survives in the form of a small fragment. We know he knew enough to have created such a map. So, hey, we did create it. But I could be completely wrong about this, because I'm still trying to get my head around it all. Perhaps this is a copy of a real map. Maybe the internet is full of descriptions of it, which I merely failed to find.
The reason I'm interested in this map, or the maps that enabled this map to be made, is that it illustrates how much more they knew about the geography of the world in other parts of the world than Europe. When Europe "discovered" the rest of the world, this wasn't Europeans discovering a primitive and poverty-stricken place, which only started getting rich after they'd discovered it. What the Europeans discovered was lots of places far richer than Europe, like India and China. And that's just what the Europeans were trying to do. Just because they also "discovered" such places as Australia and North America, which were poorer, doesn't mean that their basic motive was to conquer the world. No, what the Europeans were trying to do was get connected with an already thriving world, from which they could import mystical luxuries like spice, and from which they could learn, but which they were stopped from doing, by the conquest of the Middle East by Islam. So, the Europeans decided to go round. Round Africa. Round the world, by going west. (That being why the West "Indies" got called "Indies". And why the people we now call Native Americans were know for many decades as "Red Indians". Still were, when I was a kid. And still are, by some.)
The European economic breakthrough that made its presence felt in the late 18th century was, globally speaking, something of an end run, as Americans would say. As I learned from that book I've been enthusing about by Steve Davies, Europe remained disunited, developed modern guns and never stopped developing them, starting winning wars against the likes of Indians (real ones, in India), then went from inventing and improving guns to inventing and improving everything else and thus unleashed the Industrial Revolution. Europe only got out in front rather late in the story. Oh, it was special. But so were lots of other places.
As the above map illustrates. Or, I think it does.
And maybe it also illustrates something else. Interestingly, the one big thing it gets wrong, the thing only people nearby then knew about properly, was Australasia. Rumours about northern Australia made people think that Australia was part of what we call Antarctica. New Zealand? Again, locals on boats in islands to the north presumably knew about it. But people like Ahmed Muhiddin/Piri Reis, and his various informants? They had no idea.