I love the City of London Boundary Dragons, and I am pretty sure that the photo below is my favourite City of London Boundary Dragon photo that I have ever photoed: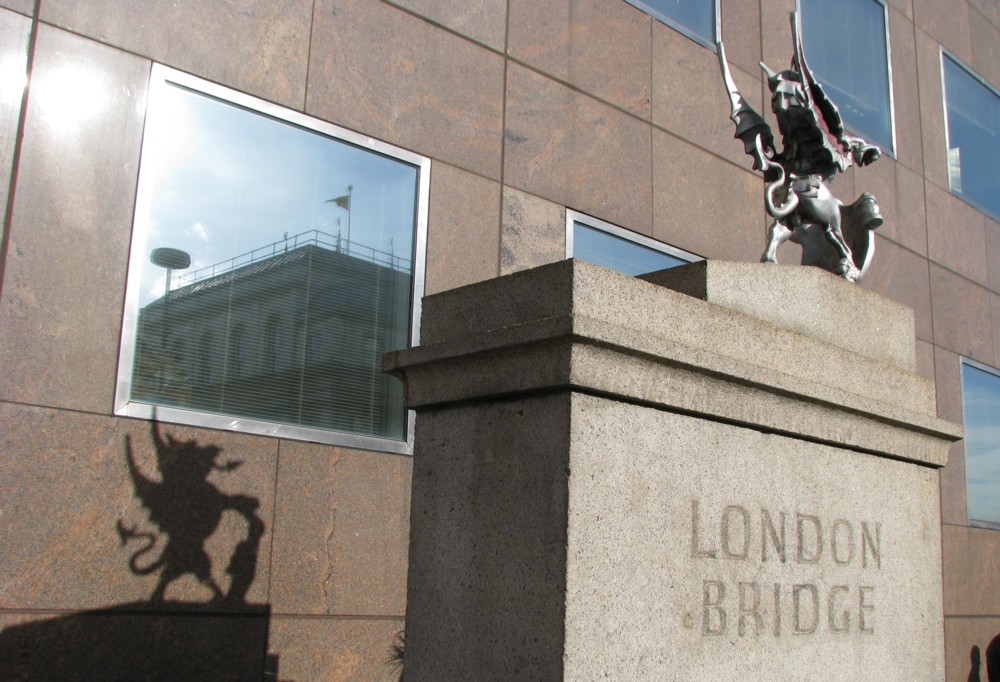 That is one of the two Dragons on the south end of London Bridge. I photoed this photo on August 12th 2008.
When a strong shadow and weirdness are involved, the Thing itself is usually clear, but the shadow is weird. But in the above photo, the Thing is weird. And the shadow makes everything clear again. Which is an effect that I especially like. And I think we can tell from the framing that I noticed this at the time. This was not a fluke, except in the sense that this effect was there to be noticed and I had the luck to notice it. What I mean is: I did notice it at the time. It didn't just happen to show up in a photo that I photoed for other reasons, or for no reason.
And what of that building reflected in the window? I rather think that may now have been obliterated, to make way for The Boomerang. Memo to self: go back and do the same photo again, preferably at the same time of day. On August 12th 2020 perhaps? But even without the shadow, a different (or maybe the same) reflection would be worth a go.