In August I wrote here about the Helter Skelter that never was, in a posting that featured how it looked when they started (as they then thought) to build it. Well, in the course of rootling through the archives looking for a very different image, I came across several graphic after-echoes of this building. Even though it never got built, this non-building quickly achieved "iconic" status.
Here was the original idea (with apologies for all those hard-to-avoid patches of shininess), which I photoed at the Building Centre, which is in Store Street just off Tottenham Court Rd, in 2010: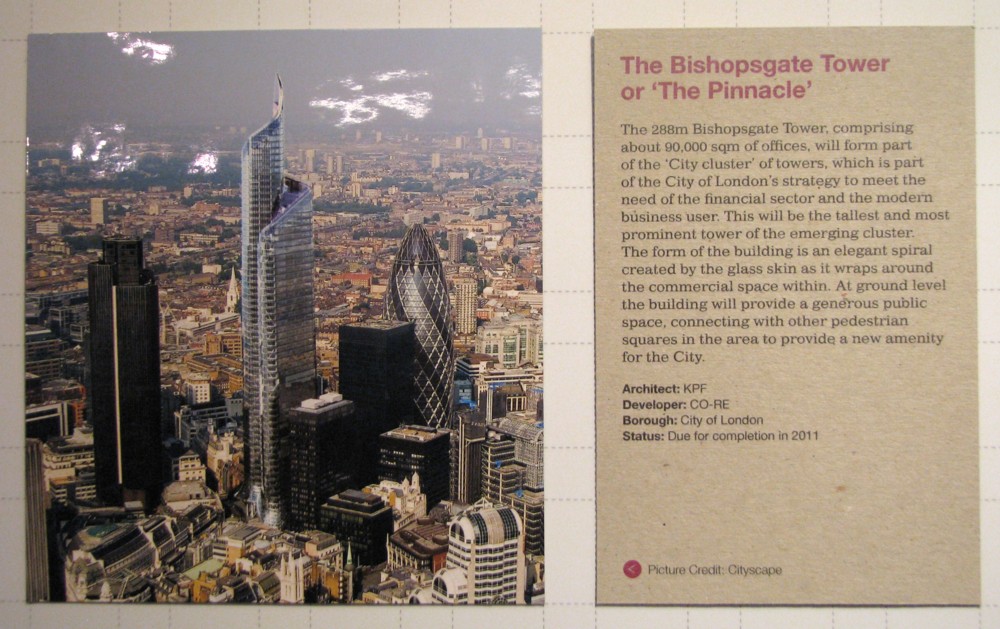 Note how they were then unsure about whether to call this Big Thing the "Bishopsgate Tower" or "The Pinnacle".
And, at the bottom of the verbiage on the right there, it says:
Status: Due for completion in 2011
But I photoed my photos of the early stages of "The Pinnacle" in November 2012. By then, London had decided that this Big Thing wasn't going to be "The Pinnacle", but rather the Helter Skelter, which is what it remains today, despite never actually having been built.
Soon after then, building ceased, and they started wondering what they could manage to do on that site, preferably without destroying those early Pinnacle stumps.
Nevertheless, in the big ongoingly updated model of London that they also have at the Building Centre, I took this photo of the City Big Things bit of the Model, in the summer of 2013. The Helter Skelter was by then known to be doomed, but it had yet to be removed from the Model …: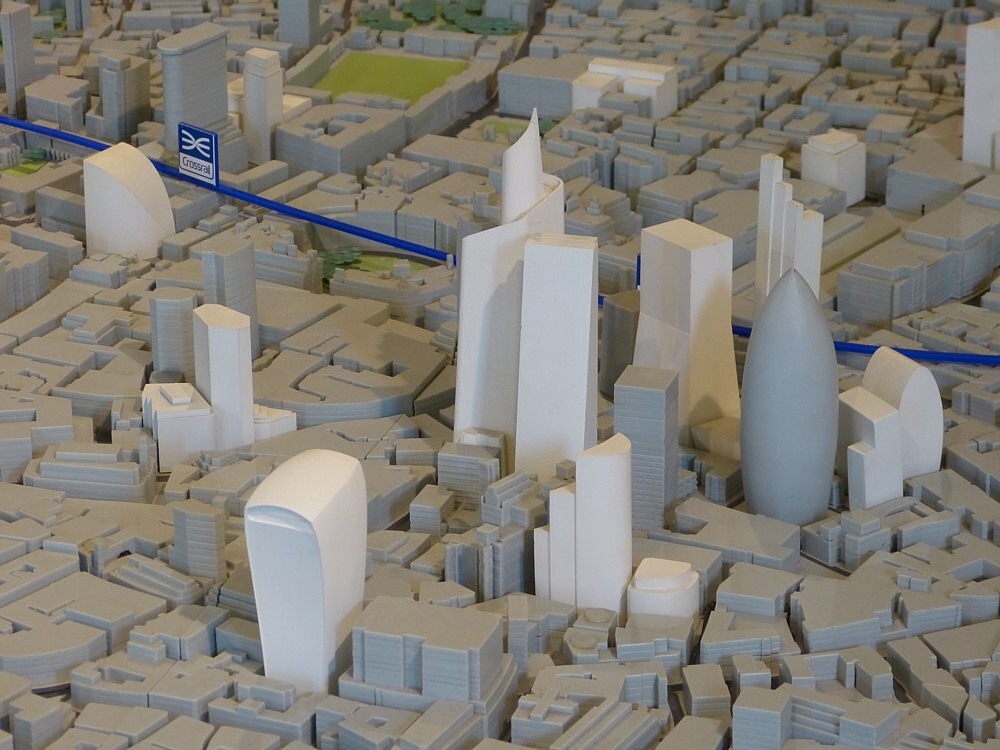 … , mainly, I guess, because they then had no clear idea what was going to go there instead.
The Helter Skelter is now long gone from this Model, because eventually they did decide what to put there instead. Now an even Bigger Thing is very nearly finished: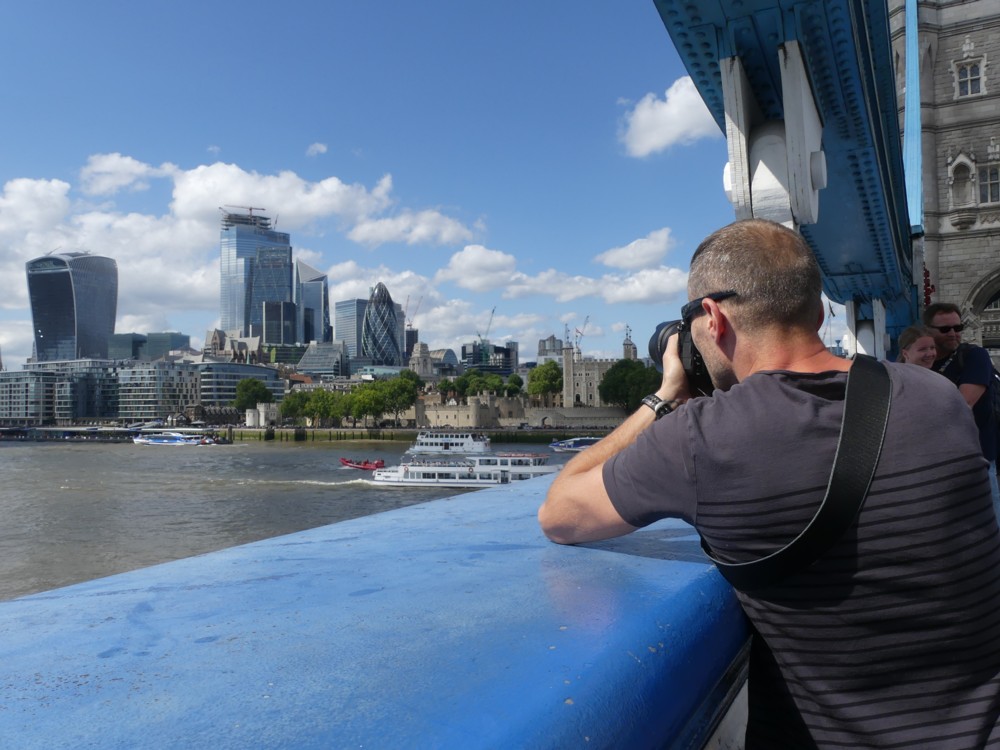 The Biggest Thing in that photo, photoed by me from Tower Bridge, and which also includes another photoer, is now called "22 Bishopsgate", what with it being such a Lump that it doesn't deserve a proper London name. But I am sure some suitably insulting moniker will be agreed upon by London for this Lump in due course, perhaps involving the word Lump.
Meanwhile, the Helter Skelter lives on, still, in 2019.
Here is a photo I took in Bermondsey this summer, advertising beer: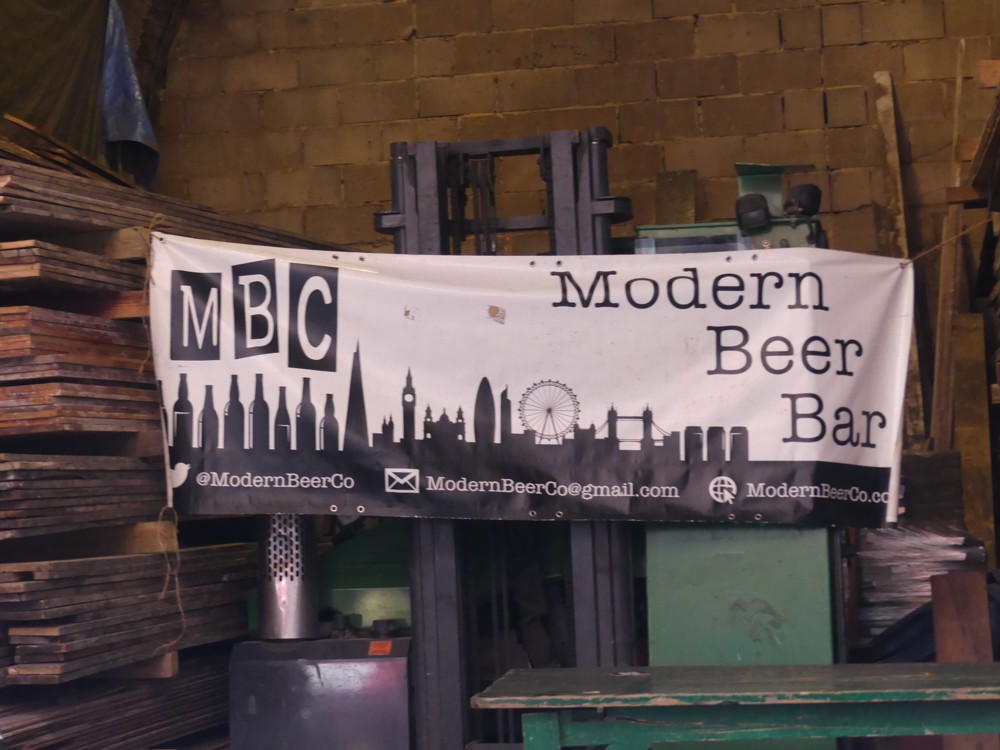 There's the Helter Skelter, right in the middle, between the Gherkin and the Wheel.
And here is another even better relic of the Helter Skelter. This shop window graphic is a walk away from where I live, in Vauxhall Bridge Road. I keep expecting this graphic to be altered, but every time I go by this enterprise, there it still is, and there it remains, unless it has been updated during the last day or two: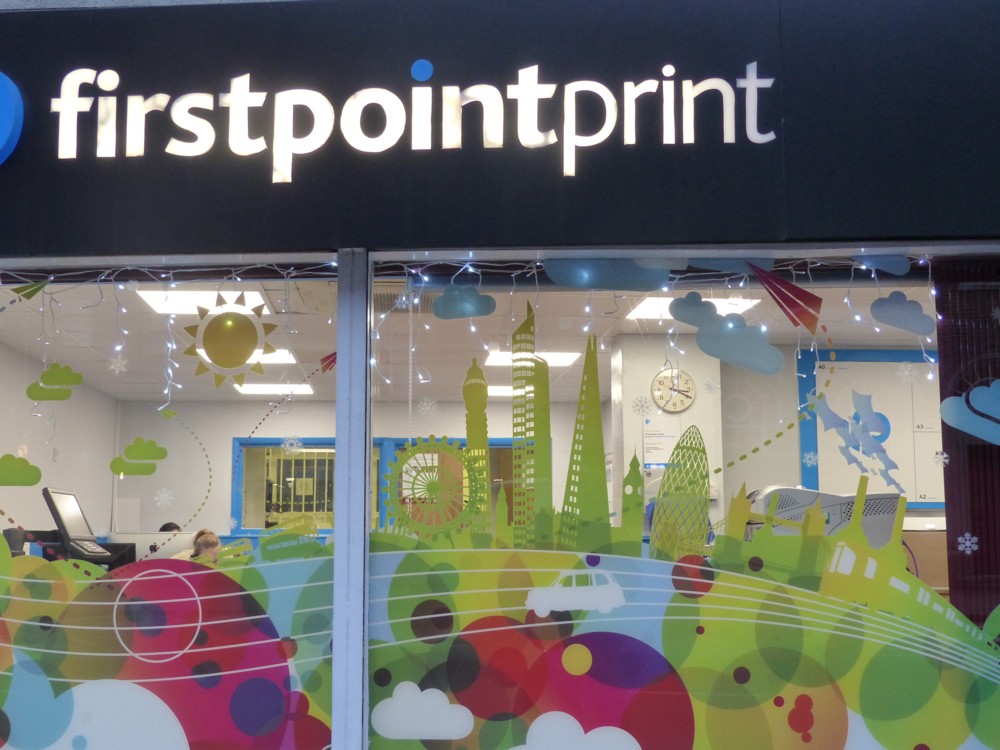 Again, the Helter Skelter, between the BT Tower and the Shard.
How long will these relics last? I will certainly be keeping an eye on that last one, because I go past it every time I go shopping for food.