QUITE A LONG TIME LATER (June 2020): I see from my site stats info that a trickle of people seem now to be reading this posting. So let me now correct it. It turned out that only the very top of the Big Ben scaffolding had been removed. I wrongly thought, when I wrote what follows, that this meant it would soon all be gone, but in fact the dismantling then went no further. At the time of this addendum, most of the Big Ben scaffolding remains in place. Apologies for the error.
Here's a photo I took from just upstream of the Blackfriars Station entrance. It is of one of the many weird alignments you get, from the fact that the River Thames is not straight, but full of twists and turns.
Here we are, on the north side of the Thames, looking through the Wheel, which is on the south side of the Thames, past one of the rectanguloid lumps attached to or near to the National Theatre, also on the south side, towards … Big Ben. Big Ben on the north side. Big Ben smothered in scaffolding: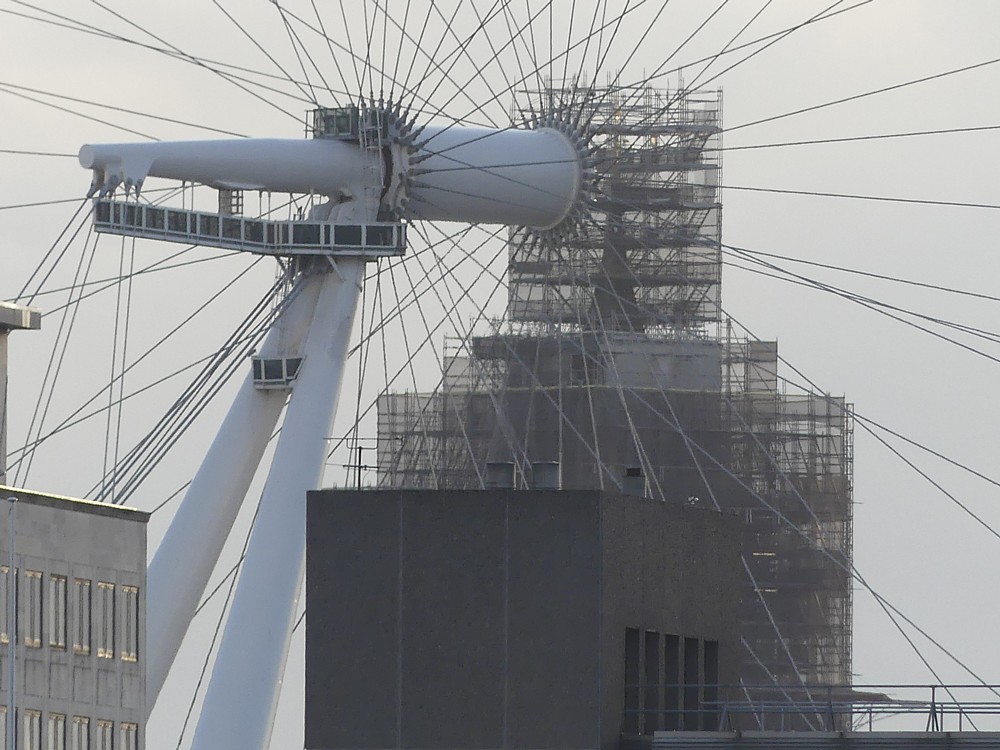 The reason I mention this photo now (aside from the fact that I like it) is that today, I learned from Guido Fawkes that this scaffolding has now started to disappear:
As was announced by Parliamentary Authorities last week, Elizabeth Tower has begun the prolonged process of shedding some of its cladding. To the palpable relief of tourists who have experienced years of photographic disappointment …
When Guido says "Elizabeth Tower", he of course means Big Ben. And, also of course, I loved all the scaffolding around Big Ben, and have numerous photos of it taken from all sorts of different places and angles.
For the last year or two I have found myself connecting this scaffolding with the battle to accomplish Brexit. Time standing still, or some such thing. I had a sort of bet with myself that when the scaffolding came down, Brexit would finally happen. (I favour Brexit, having voted for it in the referendum.)
But now, it seems the scaffolding will be long gone before Brexit occurs, if it ever does. Although, on my television, they're still advertising Brexit as going to happen at the end of this month. Maybe it will happen then, but what do I know?
Concerning these latest delays to Brexit, my favourite internet posting by far has been another one at Guido Fawkes, more recent than the one linked to above, concerning a malfunctioning advert.
For my more serious Brexit opinions, listen, if you can stand the idea, to this conversation between Patrick Crozier and me, which I reckon still makes pretty good sense. Although, if you're a Remainer, you should probably give it a miss.